TRQ Struts vs Monroe or OEM: A Comparison
Stylethority is reader-supported. When you buy through links on the site, we may earn a commission.
I've received several reader emails about comparing TRQ to Monroe (and OEM suspension). It took me a few weeks, but here we are: let's talk about them.
If you're unfamiliar with TRQ, these guys are relative newcomers to the entry-level suspension scene. A definite step above Chinese knock-offs, they rival Monroe's lower-priced struts or shocks.
TRQ struts (see storefront) are comparable to the entry-level Monroe RoadMatic.
TRQ is not on the level of performance and quality you'd get with Monroe's Quick-Strut line (check examples).
If you're short on time, here's a quick comparison before I explain why…and discuss the OEM part too.
Product
Image
Monroe Quick Strut

Vastly improved corrosion and rust resistance.
Re-designed strut mount allows for superior steering response.
Smoother ride feel due to more polished body sway prevention design.

Check Prices & Fit
Product
Image
TRQ Struts

Great bang for your buck compared to other lower-priced alternatives.
Simple, no bells-and-whistles design. Gets the job done well on lighter applications.
Not a no-name brand. Connected to an established US retailer (1A Auto).

Check Prices & Fit
Don't worry – I'll also talk about the two brands' shocks, aside from strut assemblies. You can use the Table of Contents below to navigate my post.
Important note: TRQ has zero information on the mechanics of their strut assemblies online. I used the kit my friend has installed on his Dodge Durango as a reference regarding strut body, design, and features.
TRQ struts vs Monroe:
Know your competition
The newcomer versus the classic. That's how TRQ has positioned itself, with a heavy focus on strut assemblies and only a few shock absorber options.
First things first: a big 'packaging' difference is that TRQ only offers full kits (here's a popular one). With Monroe, you can pick a single strut part, but TRQ ships only in pairs or a whole set of fours.
More importantly, though, let's talk about the design.
As I said, TRQ struts rival Monroe's entry-level RoadMatic. These are direct OE replacement struts aimed at budget drivers. Nothing too fancy: just decent struts that restore the ride height and return some smoothness of the ride feel.
No bells and whistles, just a basic product that works. Performance-wise, here's how I'd rank the TRQ vs Monroe vs OEM struts: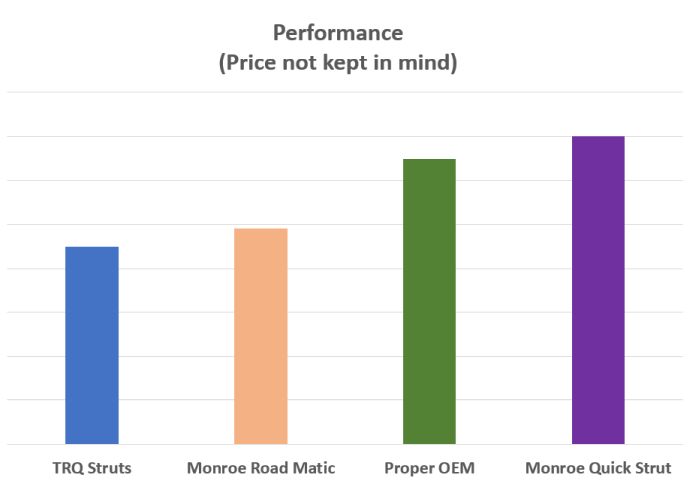 So, the valid question is: why is this gap in performance?
Monroe's Quick-Strut assembly is on top due to several design improvements. To list the four more important ones:
Better corrosion and rust resistance due to the enhanced coating.


–

Better anti-fracture/anti-stress resilience due to the improved strut rod.


–

Vastly improved steering response due to the re-designed strut mount.


–

Smoother ride feel due to the better vibration/body sway control.
Neither of these is present in TRQ's strut design. The best thing is the price point between TRQ, Monroe's RoadMatic, and the Quick-Strut isn't that shocking, either.
Product
Image

Price-to-Performance Winner

Monroe Quick Strut Assemblies

Not THAT much more expensive than TRQ alternatives.
Overall significantly more durable due to several design improvements.
Pretty much the easiest installation/assembly process there is.

Check Prices & Fit
As far as OEM goes, I rank it above TRQ and RoadMatic and below Quick-Strut. Why? Well…
TRQ vs OEM:
What does OEM actually mean?
I ranked OEM like this for a simple reason:
OE manufacturers have specialized in the particular application your vehicle needs. As such, they go above entry-level options such as TRQ and Monroe's lower-cost production line.
At the same time, OE struts lack extended rust protection and similar perks you'd find with higher-priced aftermarket parts.
It does matter on a vehicle-by-vehicle basis, though. When discussing TRQ vs KYB, I've pointed out how the latter is superior when it comes to Japanese cars.
OEM brands differ. KYB has a lot of Honda, Toyota, Lexus, etc. applications (I've talked about this too). Some US vehicles have Monroe on them, and others' suspension is based on Bilstein.
The issue here is price, normally. Swapping out your struts/shocks with another OE kit can cost a hundred or two more than decent aftermarket options.
In this sense, TRQ options can be 30-70% cheaper than OEM counterparts. A perfect solution for the following buyer profile:
–
Budget-minded
No preference for premium perks
Mainly focused on daily commutes/highway driving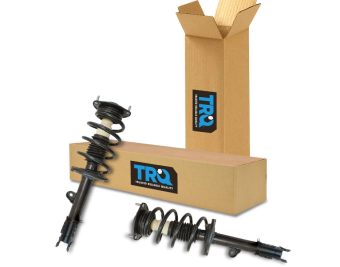 TRQ Sedan Strut Kits

Affordable, decent performance in convenient bundles. Optimal for city driving and commuting on your average road infrastructure.
TRQ vs Monroe shocks:
A clear winner
This is more of a niche issue with these two brands. Mainly because Monroe has an extensive line of all kinds of shock absorbers, while 90%+ of TRQ's output is based on strut assemblies.
Once again, TRQ competes with Monroe's entry-level options. As such, the brand is comparable to the OESpectrum line (check a top seller). This product focuses on basic shock absorber design and performance in most applications.
TRQ has nothing on more specialized options like Monroe Gas Magnum that support towing, larger wheels, and other heavy-duty applications. If you're curious about how Monroe shocks differ, you can read my Monroe benchmarking post.
In any case, in general I'd simply stick to Monroe shocks when it comes to this specific suspension component. TRQ needs to expand its portfolio to be able to compete in any way.
Product
Image
Monroe Gas Magnum

Specifically designed for heavier applications (trucks or vans).
Bigger oil capacity due to piston & rod design improvements.
Lives up well performance-wise when it comes to rougher terrain or light towing needs.

Check Prices & Fit
Monroe vs TRQ manufacture:
Any notable differences?
Alright, so I've talked about this but TRQ is a part of 1A Auto, a major US retailer. However, the manufacturing of these struts is not based in the US.
TRQ follows what other entry-level brands like Detroit Axle do in terms of logistics. The parts are outsourced (ranging from China to Taiwan to Mexico) and are then assembled in local American facilities. Much like DA, TRQ also uses its parts in full suspension kits – I've discussed this in my Moog vs TRQ post.
That said, Monroe itself has been outsourcing quite a bit of its production too. Only some of the higher-end suspension options follow a more local process.
For a lot of other Monroe options, you see similar outsourced manufacturing. Tenneco has been shifting a lot towards Mexican manufacturing for the past decade, and Monroe is a testament to this.
An example: The Quick-Strut (check some reviews) is assembled locally in Paragould, Arkansas. However, Monroe notes the 'imported components' involved in the process.
I'd say the notable difference would be Monroe leaning more towards Mexico, while TRQ might be still leaning more towards Chinese or Taiwanese manufacture.
Post-purchase support-wise, I've found 1A Auto (TRQ's owner) has a myriad of amazing DIY videos, though. Here's a funny, yet informational one:
I'm actually grateful for Stylethority's readers reminding me about these two brands. It somehow slipped my mind to discuss their differences, despite talking about numerous other suspension options.
In any case, the conclusion is quite straightforward:
TRQ lacks any premium strut options and focuses on lower-priced kits that simply do the job alright. In this, the brand is still a significant improvement over previous knock-off options such as Sensen struts.
Monroe struts offer several quality improvements that bump their price by some 15-20%. This, however, might be more than worth it for heavier applications and harsher weather conditions where you live.
TRQ vs OEM is a bit tricky. On some applications, it's not worth it, but in others, it's a total bargain.
Commuter cars and sedans are one niche where I think TRQ is a great contestant to OEM solutions. Another very specific example that pops up is Chevy Suburban shocks – a unique application where I feel Monroe has lagged behind in recent years.
If you've had any experience with TRQ compared to Monroe or your OEM suspension, let me know in the comments. It would help other readers too, as info on this particular 'match-up' is quite rare to find anywhere on the web.
Cheers!