King vs Fox Shocks & Coilovers: Main Differences
Stylethority is reader-supported. When you buy through links on the site, we may earn a commission.
King and Fox are no strangers to extreme suspension enthusiasts. Firmly rooted in the high-end shocks/coilovers segment, these two companies nevertheless approach things differently.
Let's talk about them. The most common benchmark you'd see is Fox vs King 2.5 coilovers. I'd like to discuss the broader picture between those two brands, though.
My social circles involve people using both, mostly their 2.0 or 2.5 products. Here's my friend running these Fox 2.0 IFP shocks on his Wrangler: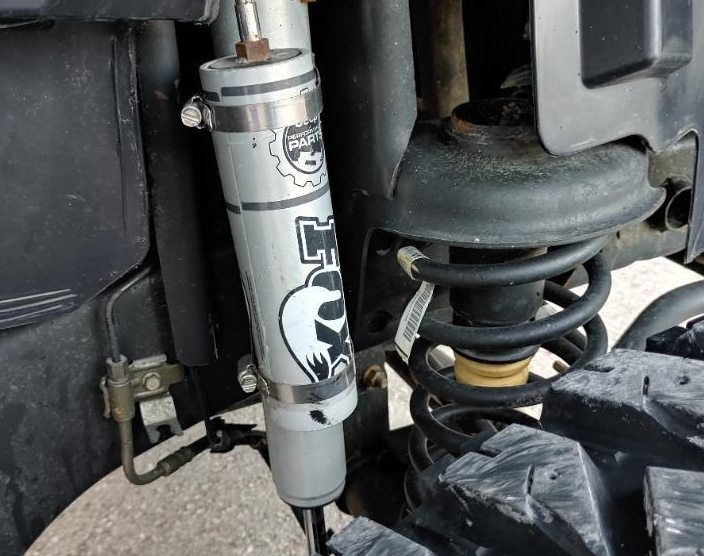 This is his third modded rig – on all of them he's been running Fox. On the contrary, my uncle swears by his Tacoma's King setup, with its smoother ride feel, and blue-beauty suspension aesthetics.
Is one better than the other? I can't flat-out say yes, because it depends on the application. However, I can firmly say that Fox has better hardware:
Fox shafts/rods are tougher and withstand more abuse: Gravel, rubble, anything more extreme.


–

Fox uses higher-rated oil that minimizes shock fading: Better for dedicated off-road/desert rigs.


–

As far as adjusters go on the 2.5 family: Fox DSC covers a wider compression spectrum. This translates to more vehicle applications/terrain handling options. King adjusters offer cushier ride feel and are the best for lighter-use truck setups on moderate terrain.
All of these points and more will be talked about in a bit, but here's a quick comparison table first:
Product
Image
Fox Shocks

Tougher hardware components better suited for Salt Belt states/extreme conditions.
Higher-rated oil for better lubrication and versatility in high temperatures.
More expensive across the board as a trade-off.

Check Price & Fit
Product
Image

Great for moderate setups

King Performance Shocks

Perfect for the moderate off-road hobbyist who seeks balance.
Cushier, more comfortable ride feel (daily driver/light off-road) on most suspension setups.
Similar setups run slightly less expensive than their Fox counterparts.

Check Price on AmazonCheck on AccuTune
Fox vs King shocks & coilovers:
Digging deeper
A lot of other people have talked about the differences, but I'd like to chime in. I'll be covering several factors that matter a lot when it comes to extreme conditions.
First, both King and Fox apply extra coating on their products. Fox uses zinc plating, much like what you'd see with the higher-end Bilsteins (5100,  5160, etc). King relies on cadmium plating to achieve the same results:
Namely, vastly improved corrosion and rust resistance thanks to the reinforced construction.
Things start looking different when we factor in the shafts or rods. Fox blows King out of the water with tougher, more durable hardware. At twice the hardness benchmarked at the Rockwell scale, Fox's steel withstands debris, sand, rocks, gravel, etc. way better.
While both are plated for anti-rust, this difference in piston/rod materials is a game-changer if you live in a Salt Belt state.
Product
Image
Fox Performance Coilovers

Fully ready to tackle rocks, gravel, trails, or whatever extreme terrain you want to throw at them.
Great switch between on-road/off-road in terms of control and firmer ride feel.
Aluminum heat dissipation + zinc plating + tough piston takes care of the coilover longevity.

Check Price & Fit
Shifting from the colder Salt Belt to down South, there's another important benchmark Fox covers better:
The oil used.
Fox suspension uses oil that's rated for up to 400F. Kings stick with a <= 230F option. Realistically speaking, this means you won't see shock fading even in hotter temperatures.
If you plan on extreme off-roading in a hotter state – from mud play to rock climbing to desert races, Fox shocks/coilovers will last longer than King.
Note that this applies to both the 2.0 and 2.5 family. I'm not familiar with both brands' most extreme products from the 3.0 suspension line.
Speaking of the King vs Fox 2.5 coilover options, let's talk about another big difference. That would be the adjusters.
Fox DSC vs King adjusters:
Some basics
While the 2.5 suspension family is where adjusters get used the most, plenty of people run them on 2.0 or 3.0 too.
The arena here is shared by Fox's DSC (Dual Speed Compression) adjusters and King's counter-offering which is a single-speed option.
To be more precise, Fox focuses on the switch between low-speed compression (LSC) and high-speed compression (HSC). King designs their adjusters to focus on handling mid-speed compression (MSC).
So if you were to ask me, I'd say your choice depends on your terrain/ride style preferences. As a baseline:
Fox DSC is better for towing vehicles (HSC), firmer ride feel/control in slow speed obstacles (potholes, LSC), extreme off-roading (rocks, desert dunes, curbs, HSC), and extreme conditions up North.
King's MSC approach is great on daily drivers or mild off-road rigs. If you want simplicity and are more vanilla in how you use your truck, King's great. Additionally, the MSC approach will give you a slightly smoother ride feel over the firmer Fox handling.
Note: King distributes a lot of products in smaller niche retailers. Popular options include AccuTune (catalog here) or ShockSurplus (options here).
The adjusters by these two brands function very differently, so it really depends on what you want to do with your rig.
The Shock Surplus team has a great video on this topic, I recommend giving it a watch:
Wait…Fox or King 2.0, 2.5, 3.0?
What's that?
Think of these as different generations under one (family) roof. Both companies feature several product lines focusing on a specific type of rig and riding style preference.
The casual 2.0 suspension options usually featured smooth-body IFP shocks (see some Fox examples). These are great for daily drivers or lighter off-road/dirt play. These aren't too expensive.
This includes steering stabilizer options, too. The dampers Fox manufactures are based on the 2.0 shock design and I've recommended them as a premium option on Ford trucks, for example.
2.5 shocks or coilovers add a significant improvement in terms of oil capacity. In Fox's case, the DSC adjusters also start coming into play, while King has adjuster applications on their 2.0 gen too (see some King examples).
With more oil and a fine tune-ready design, the 2.5 suspension options are better for any enthusiasts looking to play in the rocks, skip over desert dunes, or plow through more challenging trails.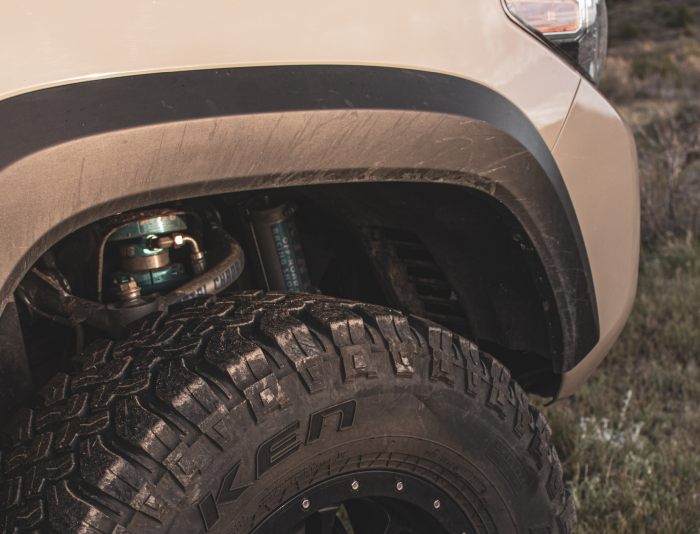 3.0 is for the wackiest off-road warriors. The shocks' oil capacity is once again bumped up, the piston size is also given an increase and special attention is paid to the product's cooling properties.
Fox and King 3.0 options are ready for extreme-grade racing in tough conditions and at higher speeds. Most people don't need this option and the price tag gets intimidating at this point.
I think we can talk about these two brands and their benchmarking against each other endlessly.
You can dig deeper in compression talk – here's a good AccuTune article on DSC. Or you can see some full setup examples like this Tundras.com post.
As far as alternatives go, there are some viable options.
Icon shocks or coilovers are in both Fox and King's league (check an example Icon Reservoir shock).
There's some serious competition coming from TeraFlex, too. I've discussed TeraFlex's Falcon shocks and they're a respectable contender, especially for the 2.0/2.5 options.
As I said, ultimately it depends on what you want to make out of your rig. Budget plays a big role, too – though if you're looking at these two brands, you probably have the money to splurge on serious suspension upgrades.
Shopping around for a full setup takes time and patience, so best of luck on the journey! In case you've finished assembling your suspension parts, let me know what you decided to run.
Product
Image
Fox Shocks

Tougher hardware components better suited for Salt Belt states/extreme conditions.
Higher-rated oil for better lubrication and versatility in high temperatures.
More expensive across the board as a trade-off.

Check Price & Fit
Product
Image

Great for moderate setups

King Performance Shocks

Perfect for the moderate off-road hobbyist who seeks balance.
Cushier, more comfortable ride feel (daily driver/light off-road) on most suspension setups.
Similar setups run slightly less expensive than their Fox counterparts.

Check Price on AmazonCheck on AccuTune