Best Shocks For Suburban 1500: Stock & Lifted Picks
Stylethority is reader-supported. When you buy through links on the site, we may earn a commission.
An absolute champion. That's how my friends and I refer to the Suburban. Let me remind you that the good ol' Chevy beast is the longest-running vehicle model in history.
80 years, 12 generations…and counting! Talk about a record.
Even champions have their weak spots, though. If your suspension's shot, here are a few recommendations for the best shocks for Suburban 1500:
➥➥ Best overall value: Nothing less than the classic Bilstein 4600. A total workhorse, these are perfect for a stock-height Suburban that needs to tackle potholes and will be carrying higher loads. Miles ahead in terms of durability compared to cheaper shocks.
➥➥ Closer to OEM: If you want something simple and affordable, these ACDelco air shocks are great. Delcos are as OE as it gets on light-load Chevy vehicles. Just keep in mind they're not as durable or heavy-duty as the Bilsteins.
➥➥ For lifted Suburban: The most optimal pick is a set of Bilstein 5100s. Improved heat resistance, better travel, and a more aggressive damping approach. Just remember not to run them on stock height 'Burban, as they're designed for lifted setups.
Product
Image
Bilstein 4600

Vast improvement over OEM in terms of handling rougher roads.
A heavy-duty, reliable shock for stock-height vehicles.
Great if your Suburban runs heavier loads.

Check Prices & Fit
Product
Image
AC Delco Specialty

Air shocks to lift your rear and deal with hauling.
Cheap and somewhat durable, made by GM/Chevy's OE supplier.
Subpar to gas shocks when it comes to potholes and rougher roads.

Check Prices & Fit
Product
Image
Bilstein 5100

The king of lifted Suburbans ready for more extreme action.
Stiffer ride feel due to the off-road valving and damping on the shock.
Zinc plated for better heat resistance and improved shock longevity.

Check Prices & Fit
Are these the only options? Not really, but when it comes to the Suburban, these are the most optimal picks if we factor in budget and performance.
Of course, there's KYB, Monroe, Gabriel, and Rancho. All of these can work, but in my opinion, the Suburban doesn't jive as well with them. An exception might be the KYB Monomax which is a decent alternative to the Bilstein 5100s.
There are many brands I'd advise you to steer clear of, too. Cheap knock-off no-name brands such as Oredy, Luftmeister, etc. are a no-go. Rough Country's N3 shocks are also way worse than other budget suspension options.
If I had to mention some cheaper OE-style alternatives, it'd be TRQ or Detroit Axle. Both are entry-level options that rival ACDelco's kits and unlike the Delcos, they're gas-charged (not air shocks):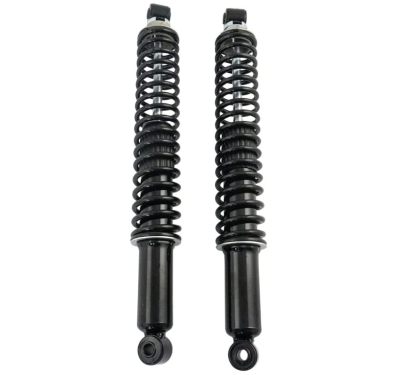 TRQ OE-Style

The most optimal alternative to more affordable/medium-grade shocks like the Delcos. This TRQ kit fits 2000-2014 Suburban 1500 models. Great for their price.
Significant improvement:
The Bilstein kings
Sometimes people ask me whether Bilsteins are overhyped. After all, they're usually the go-to recommendation if it comes to full-size SUVs or trucks alike.
And my answer is no, they aren't overhyped. In a world of cheap outsourcing, Bilstein still takes care of their shocks in-house, splitting production between Europe (Germany) and the US.
Let's start with a focus on stock-height Chevy Suburban setups. The best value suspension option here is none other than Bilstein 4600.
As I said before, this is a heavy-duty shock. It blends the passenger comfort of a daily driver with the tougher stuff like heavier loads or even modest towing capacity.
While it rides slightly firmer than OEM shocks, it does so to tackle potholes and blasted road infrastructure better. A slightly gentle, durable, and dependable shock absorber option that fits the standard profile of a Suburban driver.
Is it more expensive than OE replacements? Yes, but not drastically so. A definite upgrade worth investing a few dozen bucks more into.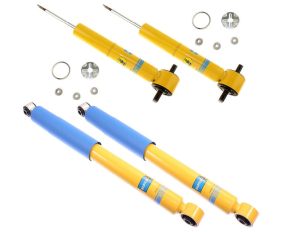 Bilstein 4600 ('07-'14 Suburban)

The best improvement you can get on stock Suburbans. Massive improvement for potholes or cranky roads, and longer warranty than cheaper options.
–
What about the Bilstein option for lifted/off-road Suburban owners?
–
We're looking at the good ol' 5100 shocks here:
So, zinc. It's healthy for us, but it's also healthy for a shock's ability to dissipate heat and remain durable in extreme situations.
You won't see zinc plating with Delcos, Monroe, etc. You'll see it with Bilstein 5100s and it's one of the reasons why people plug these into their off-road vehicles.
Keep in mind that these ride significantly firmer/stiffer than 4600s. The valving and damping are calibrated for extreme conditions, so don't expect a soft ride. Also, remember these are not made for stock vehicles; they pretty much require a lifted setup.
A bestseller with a reason, the Bilstein 5100 is a staple for more aggressive Suburbans.
OEM-style affordability:
Several options
It's no secret the post-Covid economy's shot. Inflation impacts both me and you, and I understand people who want to save some bucks on aftermarket parts.
Cheaper doesn't always equal crap. Brands like the classic ACDelco or newer budget-tier brands such as TRQ or Detroit Axle are decent alternatives:
ACDelco options – this one fits '00-11 Suburbans; the newer gen '08-14 is supported by this specific set.


–

TRQ options – this set of TRQ shocks covers '00-14, in other words, two Suburban gens in one application.


–

Detroit Axle – check some of these. As a whole, DA covers a lot of the newer '14-'22 Suburban models.
The odd ones out here are the Delcos. These are air shocks (not gas-charged absorbers). On one hand, this means they're easier to adjust to different load weights.
On the other, they're not as durable and have a worse impact on the shock mounts. Still, ACDelco is a GM-affiliated manufacturer as I've pointed out in my ACDelco comparison post.
If you won't be hauling a lot or need a raised rear, I'd honestly skip on the Delcos and go for another budget option.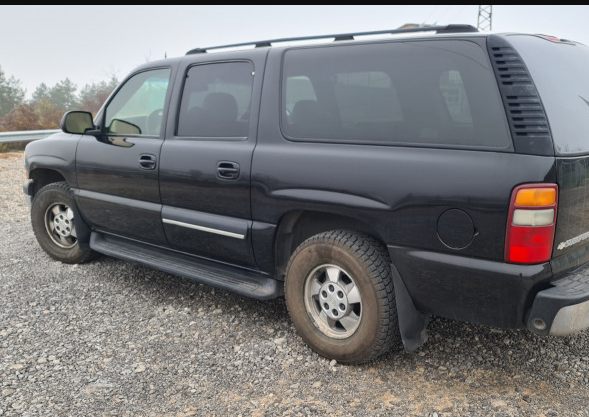 TRQ or Detroit Axle is simply a step ahead of the usual OE-style knock-offs you see online.
In the case of TRQ, at least they're backed by a reputable American retailer. Another option is Gabriel, but I prefer them on other Chevies such as Colorado.
We're talking about a clean-cut, no-frills approach to OEM shocks here. Acceptable ride quality, decent durability, and most often it's Mexico as a place of manufacture.
It's a slight downgrade from other budget-friendly, but still more expensive options like the Monroe OESpectrum (I've written about them in my Monroe vs Bilstein post).
Both TRQ and Detroit Axle also offer a better warranty than those 1 or 2-year warranties you see with typical Chinese copycats.
For their price, they're the best bet on aftermarket suspension for Suburban owners who are on a tighter budget.
Product
Image
TRQ OEM-Style

A definite step ahead other entry-level knock-off brands.
Simple, but effective and durable gas-charged OE shocks.
Better warranty than most competitors at the same price range.

Check Prices & Fit
Product
Image
AC Delco Specialty

Air shocks to lift your rear and deal with hauling.
Cheap and somewhat durable, made by GM/Chevy's OE supplier.
Subpar to gas shocks when it comes to potholes and rougher roads.

Check Prices & Fit
DIY corner:
Is it that hard to change Suburban shocks on my own?
The Chevy Suburban 1500 design isn't the toughest nut to crack when it comes to DIY suspension replacements. It might take a few hours (and require a few tools you should have lying around your garage anyways), but it's perfectly doable.
In other posts of mine, I've praised TRQ's abundance of DIY resources. The brand comes in handy here too, as they have this great video on swapping out your shocks.
Note: Keep in mind this video showcases the process on a 4WD Suburban. 2WD is built slightly different, so you might want to look elsewhere for a complete guide-through.
Hopefully, that painted a pretty comprehensive picture of some of the best shock absorber replacements for your Chevy Suburban 1500. As I mentioned, a lot of these picks can be applicable to the heavier 2500 Suburban version too.
Bilsteins are pretty much a staple on most modern full-sized SUVs or trucks. The 5100s in particular are something I've recommended for Chevy's heavier Duramax trucks.
I don't usually care much for ACDelco. Normally, I'd recommend Monroe or KYB here – as I've done in my post on Ford SUVs.
However, considering we're talking about Chevy/GM here and they're an OE supplier, they're a better fit. In my opinion, Delcos are a good addition among the budget options if you're not comfortable with newcomers such as TRQ.
Let me know about your experience with Suburban suspension. Which brand of shocks did you choose to use as a replacement? How satisfied are you with the overall ride feel/performance?