Curt vs Draw Tite: The Two Hitch Giants
Stylethority is reader-supported. When you buy through links on the site, we may earn a commission.
You don't really need to be an outdoor fanatic to slap a proper hitch on your vehicle. How about we consider this a modern-day convenience?
Cliched intros aside, Curt and Draw Tite have dominated the hitch market for decades. There still are a few misconceptions about the differences between them, though.
The biggest takeaways are the following:
Curt hitches are UV resistant. This is due to the Grade A specific coating that Draw Tite lacks.


–

Curt has the Adjustable Series ball mounts (check top seller kit), flexible in terms of height and weight dimensions. On the other hand, Draw Tite's Hidden Hitch series comes with fully concealed receivers.


–

Curt hitches are entirely made in the US; Draw Tite outsources their hitches to Mexico making them cheaper in $$$.
Before I continue, let's see a few popular hitches from both brands:
Product
Image
CURT Class III Hitches

The only fully UV-resistant solution. Dirt, dust, corrosion/rust resistant too for added longevity.
Flexible design to accommodate anything from ball mounts to tow hooks, bike racks etc.
No drilling required and 100% Made in the USA.

Check Prices & Fit
Product
Image
Draw Tite 75238 Hitch

Neat wiring-friendly bracket included. No drilling or welding required for an easy install.
Moderately tough: up to 7000 lbs of towing capacity (WC).
Corrosion and contaminant resistant, but more susceptible to UV light.

Check Prices & Fit
Product
Image
CURT 45900 Kit

Can be reliably used with any Class III to Class V hitch depending on your needs.
6" drop to 5 1/4" rise; 10k to 14k lbs capacity.
Reinforced coating that's a grade above competitors allows for extra durability.

Check Price & Fit
An important thing to remember
I have to emphasize this: you don't always have to go big. I see so many people gunning for Class IV or Class V hitches despite their vehicle limitations.
Look, yes, Curt hitches have a larger towing capacity. At Class V, their Xtra Duty goes up to 17000 lbs. Draw Tite caps at 15000 lbs.
Why would this matter if your vehicle caps at less, though? Take a 5th gen Toyota RAV4, for example.
Even with the off-road trim, it goes up to 3500 lbs. At most, you're looking at a low-end Class III hitch setup like this one (Curt) or this best seller (Draw-Tite).
Nifty tip: If you need to tinker around with exhausts, consider these Lisle removal pliers. Isolation mounts will be a piece of cake in under a minute.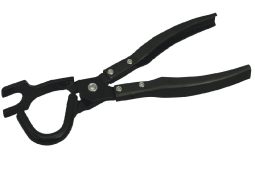 Lisle Exhaust Hanger Removal Pliers

A godsend to help you in dealing with exhaust parts or isolation mounts. Cheap and durable, cuts the time you have to spend on hitch DIY by a lot.
Curt vs Draw Tite hitch:
Two points of note
Let's talk more about what makes each brand stand out.
As I pointed out earlier, there are two main advantages to Curt hitches:
The higher class coating (Grade A) vs Draw Tite's Grade E coating that lacks UV-resistant properties and isn't as durable.


–

The made-in-the-USA tag.
The first one is especially important if you live in areas with cold and harsh weather. Salt on the road will easily read to corrosion, so the Grade A coating kicks in nicely.
The same applies to Southern states where the blazing sun will cut through non-UV-resistant hitches.
Product
Image
CURT 60692 Hitch Kit

Perfect for heavy trucks like Silverado 2500/3500, Ford F-250/F-350 etc.
Extra secure & reliable: two safety chains anchors, forged reinforced steel, and powdered coat finish.
Comes with a storage case so you can move the kit around with zero hassle.

Check Price on Amazon
Some people don't care about the Made in America tag. I'd like to elaborate that the local manufacturing from Curt comes with one more perk:
The brand's hitches are made in the old-school tradition of dipping to achieve coating and reinforcement. In other words, true craftsmanship.
In comparison, most other brands go for electronic coat and reinforcement applications.
These tidbits aside, both brands powder coat their hitches. You have reduced ground clearance with both setups (in ordinary situations) too.
Accessories-wise, Curt definitely has a bigger variety of ball mounts (check examples). The same applies to controllers, wiring options, and other hardware complementing the hitch itself.
Three design differences to consider
Obviously, both Curt and Draw Tite have extensive product line-ups. I'm not only talking about the Class I throughout Class V hitch ratings.
Here's the first difference:
Some Curt setups mount to vehicles with proprietary horizontal bolts. Draw Tite features extra options for cars or trucks with vertical bolting systems.
In general, always check the mounting holes on your vehicle so you don't get the wrong hitch.
A second point: Curt has more products where the hitch frame tube has closed ends.
This reduces the risk of contamination (water or other agents). At the same time, the receiver tubes are open on both sides so pollutants like dirt don't get stuck in your hitch.
Last but not least:
The specialized series both brands have are important.
Curt's Adjustable Ball Mount series has been a bestseller for a reason. Covering SUVs, trucks, or even smaller trailer/RV setups alike, its flexibility in height and weight is a godsend.
The anti-rattle and weather-resistant features are the cherry on top.
Draw Tite's convenience-oriented response is the Hidden Hitch series. These concealed receivers will stay behind your vehicle's bumper for full convenience. As such, they won't affect your car's ground clearance as standard hitches.
The drawback here is that Hidden Hitch is available only for a limited amount of vehicles.
What about Curt or Draw Tite vs Reese?
I'm going to tell you something that might surprise you:
Reese is actually owned by Horizon Global, the company that owns Draw Tite. As such, Reese is also designed in the US but fully outsourced to Mexico in terms of production.
Additionally, a lot of ex-Reese product lines have been rebranded to Draw Tite over recent years.
As far as I know, the only standalone Reese product right now is the brand's fifth-wheel hitches.
So this question also reverts back to the initial Draw Tite vs Curt hitches debate. Reese shares a lot of manufacturing and design common points with Draw Tite to stand out.
Alright, look, this can vary a lot depending on your setup. In some cases, you need to move around your mufflers too. I've seen that with Flowmaster setups, for example.
As I mentioned before, consider getting a pair of removal pliers like these to make the job easier. I recommend Lisle because they've been my go-to for other DIY stuff like pitman arm pullers.
Obviously, some vehicles will have it easier than others. I mentioned RAV4 – a relative of mine had an easy job on his 3rd gen Toyota.
With some trucks, it might be harder, especially if you run a custom exhaust setup like a Borla on a Silverado 2500 or something.
Hopefully, I helped out, even if a bit. Hitches are dime a dozen, with the most common one being the 2" receiver opening and a Class 3 rating.
Both Curt and Draw Tite have an extensive lineup covering all your towing needs. From smaller-scale options for SUVs to full-blown towing monsters like custom setups for trailers or motorhomes.
(Speaking of motorhomes, you can check out my RV suspension recommendations too).
In general, I recommend you cross-reference Amazon and Etrailer for prices and configurations.
Overall, if you live in an area with harsher weather conditions, I recommend you go for Curt most of the time. The better overall construction with several weather-resistant factors will make sure your hitch doesn't buckle for a longer time.
If budgeting is a concern to you, you can still go for a Draw Tite or Reese. These are still high-class hitches that have been market leaders for quite some time. You'll miss out on some extra perks, but they're still above knock-off options.
Which of the brands are you running on your setup? I'd be glad to hear about the details, so let me know what you run on your SUV, truck, or RV.
Product
Image
CURT Class III Hitches

Fully UV-resistant, as well as dirt, dust, contaminant and rest resistant too.
Flexible design to accommodate anything from ball mounts to tow hooks, bike racks etc.
No drilling required and 100% Made in the USA.

Check Prices & Fit
Product
Image
Draw Tite 75238 Hitch

Easy to install, no welding or drilling DIY needed. Wiring-friendly bracket included.
Up to 7000 lbs of towing capacity (WC).
Corrosion and contaminant resistant, but more susceptible to UV light.

Check Prices & Fit