Expert Tips: Best Struts for Toyota Camry, Avalon & Corolla
Stylethority is reader-supported. When you buy through links on the site, we may earn a commission.
Toyota has nailed sedans and compact cars down to a T. The company's vehicles are reliable, affordable, and not pretentious at all when it comes to maintenance.
Mileage is a cruel mistress, however. Eventually, you'll find yourself looking at strut replacements. Here's a quick list of the best struts for Toyota Camry, Avalon, and Corolla.
I've included precise recommendations based on your vehicle's years.

Best struts for Toyota Camry & Avalon
97-01 Camry/95-03 Avalon: This KYB Strut-Plus fits the bill if you prefer tighter, firmer control over your vehicle.


–


If you want to ride smoother, this Monroe Quick-Strut is a great alternative. Just keep in mind that instead of 95-03 Avalon, the Monroe fits only 97-03 models.


–

2007-2011 Camry/2007-2012 Avalon: Both are covered by this Monroe Quick-Strut 172307 (front right, search serials 308, 309, 310 for the others).


–


Want a firmer ride? A KYB alternative would be these SR4113 KYB struts, but they only fit the 07-11 Camry.


–

2012-2017 Camry: For newer models, you can consider swapping the KYB Strut Plus for Excel G struts. This Excel G gas strut fits the 2012-2017 Camry SE, as well as the 2015-2017 XSE and Hybrid SE models.
Product
Image
Monroe Quick Strut

Great for softer rides and comfortable dampening.
All hardware included for easy installation.
Closer to OEM ride feel than some KYB counterparts.
For 07-11 Camry or 07-12 Avalon you need parts 172 307, 308, 309 and 310.

Check Prices & Fit
–
Best struts for Toyota Corolla


–



1993-2002 Corolla: Surprisingly, this set of MostPlus struts performs really well. I'm wary of knock-off brands usually, but this one is the best bang for your buck on older models.


–

2003-2008 Corolla: Again, another budget brand has done its job decently. This Detroit Axle assembly works well; if not, I'd recommend a KYB alternative.
On newer Corollas, I recommend you to go KYB:
–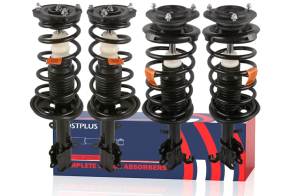 MostPlus Strut Assembly

A decent budget set of struts for older Toyota Corolla. Nothing spectacular, but does the job well for the price.
There are two important notes of interest here.
Note #1: Who makes the OEM Camry struts? That would be KYB. The same applies to many Avalon models and several Corolla gens.
Note #2: The Camry and Avalon share the same suspension internals across their generations. As an example, this KYB Strut-Plus assembly will fit both a 97-01 Camry and a 95-03 Avalon.
In general, pick KYB or Monroe if you want quality:
KYB for slightly stiffer rides and better cornering.
Monroe if you prefer a smoother ride and softer dampening; great if you commute on better-preserved road infrastructure.
From the knock-off brands, Detroit Axle, Oredy, and MostPlus are acceptable. People asked me about Bilstein – they don't make struts for any of these Toyotas.
Now that the recommendations are out of the way, let's dig a bit deeper into some specifics. What can I say more about KYB, Monroe, or all these other knock-off alternatives?
Product
Image
KYB Strut Plus Assembly

Provides a firmer ride control with better cornering.
Thicker struts and brackets ensure optimal wheel alignment.
Better choice for roads with more potholes or bumps.

Check Prices & Fit
Aftermarket struts for Toyota:
What are the actual differences?
The strut replacements for Toyota Camry, Avalon, or Corolla I mentioned here involved a few different product lines. It's not only about the difference between brands (KYB, Monroe, Detroit Axle).
In some cases, it's the difference between a brand's internal product lines too.
Let's discuss these matters.
First – as I specified, on many Toyota vehicles you'd see KYB as stock struts. While aftermarket KYB options mention they restore the 'original' OEM feel, that's not quite true.
In many cases, Monroes achieve a closer stock ride.
Why? Simply because they provide a softer dampening. Some prefer smoother driving, and that's fair. Others (like me) dislike those deeper 'dip downs' whenever you encounter bumps.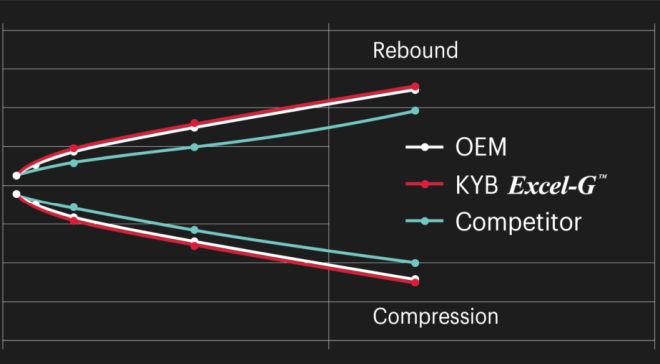 KYB strut assemblies have one very specific feature. Compared to branded or knock-off alternatives, their struts have thicker bodies and brackets.
This helps with optimal wheel alignment, hence the better cornering a KYB Strut Plus assembly will provide.
All Excel G aftermarket replacements are slightly stiffer so they deal with potholes, and let's face it, the decaying road infrastructure across many areas.
I also mentioned product line differences under the same brand. You won't see this with Monroe that much, but KYB can be confusing about their specific applications.
Take Strut Plus vs Excel-G as an example.
Many people don't realize that KYB Strut Plus kits include Excel-G struts. The difference is that the assembly also includes coil springs (properly tuned), the mounts, and an insulator.
You also get a bearing plate and all needed hardware so you can perform a simple DIY install.
Why did I recommend the Excel-G struts on newer Camry or Avalon models?
Simple: more recent means that while your struts were blown out, your hardware is probably in a better state. In this case, you can save some money and go for the struts only, instead of paying more for the whole package.
Product
Image

Better for newer Toyota makes

KYB Excel-G Struts

Affordable & well calibrated for optimal fit.
Teflon-coated piston bands ensure better mileage and durability.
Wheel alignment that exceeds OEM struts.

Check Prices & Fit
To DIY or not to DIY:
That is the question
Strut replacement isn't the easiest of tasks, but it's not the hardest either. I'd assign it a medium difficulty with a timeline of 1.5 to 4 hours depending on your experience.
Without a doubt, getting a strut assembly speeds up the process by a lot. You get a snugglier fit and easier installation not only because you've got all the hardware ready. No, another big factor is that all of this hardware has been calibrated by the manufacturer itself.
In any case, if you decide to DIY, there are quite a few video guides on the web. One I particularly like is this guy's strut replacement on a 2012-2017 Camry:
The process is similar for older Camry models. And, as I mentioned, Toyota has got the car maintenance science down to a T.
This means you'll have a moderately easy time with both the Avalon (basically the same process as Camry) or replacing the struts on your Corolla.
Toyota trivia time:
Are Camry, Avalon & Lexus ES the same?
As close as it gets, really – and especially if we're talking about older vehicle years.
A 1999 Toyota Camry and a 1999 Avalon would have the same struts. Even in the late 00s, you'd see the same – a 2009 Camry will have the same aftermarket replacement as a 2009 Avalon.
Today isn't any different either, at least in terms of suspension. Avalon's biggest differences have always been the larger fuel tank and the bigger trunk space. The Avalon is perfect for highway cruising with some company, the spacious backseat really makes a difference.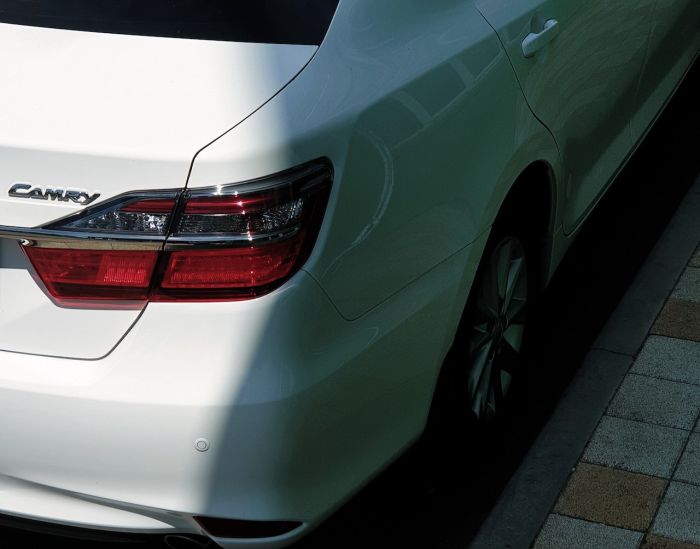 Here's a fun fact: up to 1989, Toyota hadn't started manufacturing their premium Lexus brand. In the beginning, the first Lexus from the ES family was basically a hardtop Camry.
The first Lexus ES300 editions also resembled a slightly more upscale Camry with better sound insulation and more luxurious interior materials.
In fact, as I point out in my article on Lexus struts, the early generation ES300 from the mid-to-late 90s shared the same replacement parts as the Camry and Avalon.
Over the past few years, however, the ES series has started distinguishing itself more and more from its Toyota brother.
And there it was, a small fact of trivia to complete this post! From the knock-off brands I mentioned, I also have a guide on Detroit Axle parts – though it's on other components such as tie rod, control arms, etc.
Let me know what you yourself consider the best strut replacements for your Camry, Avalon, or Corolla.
Is your vehicle older gen or a newer model? Sometimes this makes a difference in the applicable fitments; not really that many brands for older Toyota series' strut assemblies. It's usually KYB or Monroe all the way down, as I've pointed out in other Japanese car-focused posts like my Honda suspension guide.