Monroe Reflex vs Gas Magnum: Key Differences
Stylethority is reader-supported. When you buy through links on the site, we may earn a commission.
Alright, so I don't think there's any doubt that the Reflex and Gas Magnum are Monroe's most popular shocks. I've seen them used in many vehicles, mostly by people who want affordable suspension that still works fine.
Let's not kid ourselves: these are two completely different shocks. I'll explain how and why in this Monroe Reflex vs Gas Magnum post.
Though I have to say, I'm much more fond of the Gas Magnum we've seen deal with heavy-loaded trucks: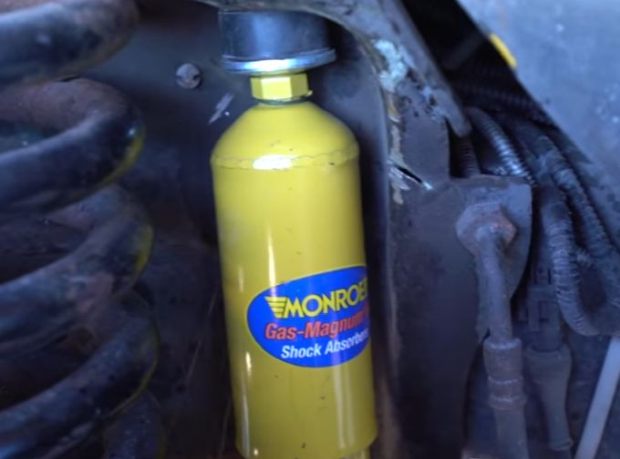 So, anyways. Before I review them further, here are the fundamental differences:
➥➥ Monroe Reflex: These shocks are for SUVs or light trucks only. Their valving is too weak for towing, hauling heavy stuff around, or harsher off-road action.
There's a reason why the Reflex is a part of the 'Restore Your Ride' suspension lineup. They're an OEM replacement.
➥➥ Monroe Gas Magnum: More heavy-duty, these shocks are perfect for mid-sized or full trucks. The increased oil capacity allows them to smooth out heavy loads or work efficiently with light towing.
Part of the 'Carry The Load' series, the Magnums ride smoother than Reflex when the vehicle's loaded. On unloaded cars, they'll ride stiffer.
Product
Image

For heavy-duty trucks & vans

Monroe Gas Magnum

Affordable option for enhanced truck/van suspension.
Double-sized reservoir has increased oil capacity to deal with heavier loads and rough terrain.
Rides smooth on full loads; will be harsher on empty-loaded vehicles.

Check Prices & Fit
Product
Image

For SUVs, Light Trucks & Sedans

Monroe Reflex

OEM-style suspension for SUVs, light trucks or passenger cars.
Comes with improved automatic damping response to harsh road conditions.
Insufficient for heavy loads, will sink at the rear if you tow with it.

Check Prices & Fit
Monroe Gas Magnum review:
The heavy-duty pick
So, as I said, I've seen these work wonders for many drivers. Why would they be better for trucks or even RVs/vans compared to the Reflex, though?
Why would you be able to do more hauling or even light to medium towing with the Gas Magnum?
There are two main reasons.
The first is the enhanced rod design. Unlike the Reflex, you have a heavy-duty, fully nitrocarburized rod paired up with an iron piston that's been sintered. This combination improves the rod's resilience and allows it to last longer and carry more.
The second factor is the size of the reservoir (also called a 'reserve tube'). Gas Magnum shocks have a substantially larger 2'' reservoir. Basically, this means more oil capacity; and a bigger oil capacity means you receive damping on heavier applications.
In other words, this increased amount of oil held helps the Gas Magnum deal with heavier loads in the truck bed. It also allows its optimal performance with light to medium towing.
If you tried to do the same with the Reflex shocks, your vehicle's rear will probably sink.
The Magnums were born for vehicles such as Silverado 2500 / 3500 (or the equivalent GMC Sierra), Ford F-250 or F-350, Dodge Ram 2500 or 3500, and similar trucks.
They vastly outperform lower-priced newcomers such as TRQ (my comparison post) or Detroit Axle.
The drawback is that your truck/RV will ride stiffer if unloaded. It's due to the valving calibrated for heavy-duty applications. On properly loaded vehicles, however, the Gas Magnum will ride substantially smoother than a Reflex shock.
Product
Image

For heavy-duty trucks & vans

Monroe Gas Magnum

Affordable option for enhanced truck/van suspension.
Double-sized reservoir has increased oil capacity to deal with heavier loads and rough terrain.
Rides smooth on full loads; will be harsher on empty-loaded vehicles.

Check Prices & Fit
Monroe Reflex shocks review:
Lighter, but not weaker
I don't like people calling the Reflex 'weaker' shocks. They're simply valved for a specific application; it's by design and fits a specific market niche.
In any case, the Monroe Reflex aims to be an improved OEM ride feel shock. It stores your stock suspension and introduces several key improvements to your SUV or light truck.
One of these is Monroe's proprietary ASD valving. Basically, this is an automatic damping response to any road impacts you'll encounter. This response sharply reduces your vehicle roll and provides a smooth 'rebound'.
Now, keep in mind that Reflex shocks will feel slightly stiffer than your OEM suspension. Even the existence of Monroe's hydraulic lockout mechanism won't make them ultra soft: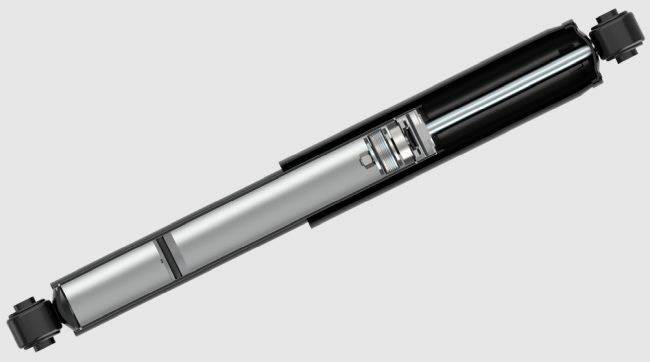 The lockout simply adds extra softening in situations where you extend your vehicle's suspension to maximum levels.
As I said, Reflex shocks will ride smoother than Gas Magnum on unloaded vehicles. For heavier loads, though, they'll feel rough and your vehicle might jerk too.
Keep in mind that Monroe is also slowly phasing out the Reflex in favor of the updated OESpectrum line-up. I've provided more info on that in my post on Bilstein and Monroe suspension options.
This affordable shock is perfect for vehicles like Chevy Suburban or Tahoe, GMC Yukon; it's also a great suspension option for Ford Expedition or all those 1500 trucks (Silverado, Dodge Ram, Ford F-150).
A lot of the Japanese SUV varieties also gel well with the Reflex.
I've seen some people use them for towing, but they weren't designed for that. You can do it, but it'll shorten the shocks' lifetime and you'll compromise your vehicle's rear side eventually.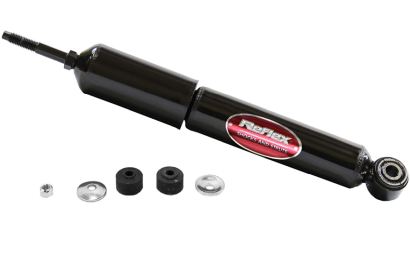 Monroe Reflex

OEM-feel shocks with several improvements. Rides firmer than stock, but also reacts better to uneven road conditions. A very affordable take on light truck suspension too.
I hope my post was short but to the point.
In all fairness, neither of these is a high-end suspension option. However, not everyone wants to shell out that much cash for a Bilstein – be it for their off-road truck or for their motorhome.
Not to mention that as I've discussed in some sedan suspension reviews, Bilstein or Rancho don't even make sedan struts.
As long as you stick to what these Monroes were designed for, though? They should perform more than alright. Remember:
Monroe Reflex for SUVs, light trucks, and commuter/passenger cars.
Monroe Gas Magnum for mid-sized or full trucks that will tow/haul in their truck bed.
Additionally, the Gas Magnum can perform decently in light off-road situations too. The Reflex won't really do much.
I'm not a huge fan of the Gas Magnum for extreme terrain, to be fair. There are better options at a similar price, including coming from their competitor KYB.
However, if it's the Gas Magnum steering stabilizer (not the shock absorber), I've recommended it as a cheap solution for Jeeps to solve their wobble worries.
Let me know if you have any additional questions about the two Monroe shocks! You can also learn more about all of Monroe's suspension options on their official site.