TRQ vs KYB Struts: Which Is Better For What
Stylethority is reader-supported. When you buy through links on the site, we may earn a commission.
Over the past ~5 years, TRQ gained some popularity in the entry-level aftermarket suspension niche. Obviously, comparisons to established brands were bound to happen.
In this case, we'll be looking at TRQ vs KYB struts.
The main consideration is which KYB struts exactly. KYB bases its assemblies on the cheaper Excel G struts or the more premium Gas-A-Just.
Online info on the TRQ struts (see TRQ storefront) is shockingly scarce. I had to check the ones on a friend's Durango. From what I saw, their design copies the Excel G, with several downgrades.
Here's a quick overview:
Product
Image

Best pick for Japanese cars

KYB Strut Plus (Excel G)

Thicker strut body and brackets for increased durability.
The true OE replacement preference for Japanese cars.
Better cornering rates and vastly improved stopping distance.

Check Prices & Fit
Product
Image

Budget pick (Decent for US vehicles)

TRQ Strut Assembly

Decent suspension on a great price & limited lifetime warranty.
Slightly simpler, no-frills design that 'gets the job done' and not much more.
Assembled & distributed by a major US retailer instead of a no-name brand.

Check Price on AmazonCheck Price on 1A Auto
TRQ struts vs KYB:
Target audience differences
Alright, so I've discussed this in separate posts, but to remind you again: KYB is the OEM manufacturer on a lot of Japanese vehicles.
Excel G is basically a buffed-up version of many Toyota, Honda, Lexus, etc. stock struts. It's a stiffer version with improved wheel alignment, better cornering, and advanced oil sealing.
What I mean here is that the most optimal pick for any Japanese car won't be the TRQ struts for sure. That would be the KYB with struts like this.
Even if both say OE-ready, the true OEM successor is the company who produced stock suspension in the first place.
That said, TRQ strut assemblies are a decent choice for American-made vehicles. This is why you'd see some generally favorable reviews on their US strut applications.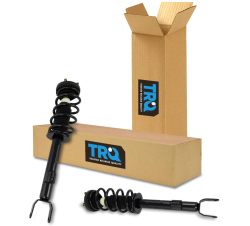 TRQ Struts for Dodge

A very nice, affordable option if you want struts on Dodge Challenger, Charger or other Dodge models. Read the reviews to see what people have to say.
The friend with the Durango I asked, by the way, is the same guy running TRQ ignition coils. He said he's generally content with the struts too.
The frustrating part is I can't find any extra info on how these shocks are calibrated, valved, designed…Literally anything!
In comparison, with KYB you get anything from tables on compression/rebound rates to a full list of detailed strut features.
Ride feel, synthesis with your braking system, how do they accommodate larger tires, and similar important aspects.
For example, even before grabbing a set of Excel G, you know the brackets and strut body are thicker than standard. This helps them remain sturdy and rigid. It also supplements other perks like the reinforced piston rod.
What I assume is the following:
TRQ struts are a competitive response to other entry-level suspension manufacturers such as Detroit Axle.
Even compared to the cheapest KYB Excel G struts, TRQ is 20-30% cheaper. The struts emulate some of KYB's features and cut down on the more premium ones to save costs.
The result is a 'springy' new suspension that will feel decent enough for non-picky car owners.
Now, if we're talking TRQ vs KYB Gas-A-Just assemblies…no shot.
This particular KYB product is miles ahead of TRQ. Larger tire support, reinforced monotube design, and starkly improved damping capabilities are just a few reasons why.
I've written more on the Gas-A-just in my KYB comparison post. Just know that as far as TRQ is concerned, any TRQ assembly is subpar to KYB's premium strut assemblies.
Product
Image

Extra durability & performance

KYB Strut Plus (Gas-A-Just)

Drastic improvement over any TRQ assembly for Chevy/GMC trucks.
Improves stopping distance, introduces better steer correction and wheel alignment.
Based on a monotube shock design. Corrosion-resistant & better at oil spread out.

Check Prices & Fit
Of course, there's the price. TRQ is substantially cheaper, which leads us to the next section…
Who makes TRQ struts & where are they made?
TRQ strut assemblies are made by 1A Auto, from what I've seen. Up until a few years ago, they were mainly distributed on the retailer's own website. Since then, their Amazon, CarID etc catalog has been expanding.
I've pointed out before that KYB has a complicated supply chain system. KYB struts have an equal chance to come from Mexico, Japan, China, Turkey, Taiwan…Even the US, actually.
The only thing we know about TRQ is that their struts are assembled and tested in Massachusetts. Obviously, this doesn't mean that they're made in the US. Otherwise, the brand would state so directly.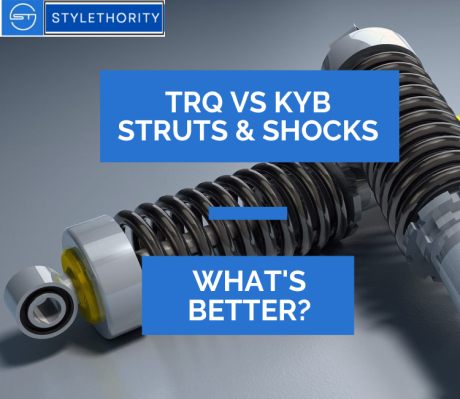 So at this point in time, I'd assume TRQ struts are made either in the popular China or Mexico production spots or perhaps Taiwan.
With a limited lifetime warranty, however, it's obvious that the brand has trust in its struts. Otherwise, TRQ would slap a 5-year warranty and call it a day.
It's not something limited to TRQ, either. In my post comparing these guys to Monroe, I explain how the latter often employs a similar outsourcing strategy.
One thing I want to commend TRQ for
As much as there's scarcity on the actual design, valving, and performance of their shocks or struts, TRQ excel at something important:
Installation guides.
That's right, over the past few years they've been absolutely great with posting DIY strut installation videos on YouTube.
For example, check this one. It showcases how to replace the strut assembly on a 2003-2009 Toyota 4Runner:
What I mean is that even if you skip on the TRQ struts for your vehicle, you can check out their channel. It'll surely help you in figuring out the DIY suspension process.
Concluding the KYB vs TRQ debate
As I said, if you have a Japanese vehicle, just grab KYB. It doesn't even have to be the more premium suspension options; the cheap Excel G will be better than TRQ anyways.
For other cars, and especially US-based ones, TRQ assemblies are a decent alternative. Just keep in mind you'll be getting a slightly watered-down version of KYB struts to make up for the price difference.
That said, TRQ has been gaining traction. Especially with the economic downturn, a lot of people prefer affordable, entry-level suspension options.
In this sense, I fully see TRQ catching up to other popular brands filling this economy suspension niche. An example of such a brand is Detroit Axle – I've written about how they've been competing with Moog in some segments.
I envision both TRQ and Detroit Axle would slowly displace the no-name junk brands that offer shocks or struts with reduced warranty. For me, that's a good thing. Just for the sake of God, guys, update your information and improve your marketing efforts!