Sensen Struts/Shocks Review: Not Quite the Buy
Stylethority is reader-supported. When you buy through links on the site, we may earn a commission.
A few years ago, Sensen's struts and shocks were an alright buy. They were inferior, but way cheaper Monroe or KYB knock-offs promising OE-style suspension.
This Sensen set is a good example of what the brand's all about.
Things have changed a bit, though. Sensen has fallen behind better knock-off alternatives. One of those is Detroit Axle (check top-rated struts). Other competitors like TRQ have also popped up.
I'll elaborate more in this Sensen struts review, but first here's a quick comparison with the brand's two biggest competitors:
Product
Image
Sensen Struts

Basic strut design that focuses on OE-style ride emulation.
Acceptable for commuter cars or highway driving; bad with tougher roads.
One of the better examples of the 'first wave of knock-off brands'.

Check Prices & Fit
Product
Image
Detroit Axle Struts

Kits often come with extra hardware such as sway bars or tie rods.
The widest range of OE-fit vehicle applications from all knock-off brands.
Overall better value for the price you'll be paying for entry-level suspension.

Check Prices & Fit
Product
Image
TRQ Strut Assembly

Decent suspension on a great price & limited lifetime warranty.
Assembled & distributed by a major US retailer instead of a no-name brand.
Basic strut sets with no extra hardware or bundle components.

Check Prices & Fit
That said, Sensen still has its uses on niche applications that lack entry-level suspension options for cheap. Volkswagen, older Audi or BMW models, and some Mini Cooper applications are just a few examples.
Time to get to the meat of this post. Use the Table of Contents to navigate whichever part piques your interest the most.
Sensen struts & shocks review:
The basics
The best way I'd describe Sensen is 'an important participant in the first wave of Chinese knock-offs'. This started in the mid-10s on several online retailer platforms.
Basically, Sensen imitated what established suspension brands did. To provide more affordable prices, however, the brand cut away any premium features.
The result is a simple, barebones design with the bare minimum needed for OE-style suspension.
Sensen struts and shocks feature decent spring rates and compression, but their rebound rates are subpar. This means a lack of firm control over rougher roads, unlike OGs like KYB's struts (see examples).
Additionally, the barebones design affects several important hardware components. Those that matter the most are the bushings and strut mounts.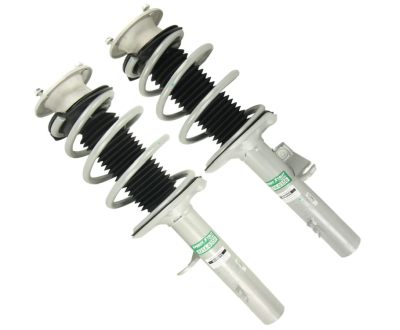 Sensen Speed Struts

A very basic take on affordable suspension. Finds some good niche uses on underserved applications (BMW, Volkswagen). A bit lackluster for vehicles covered by other budget brands.
On Sensen's site, you'd see the bushings being made with 'proprietary rubber'.
What does this even mean?
Skimping on the bushings is pretty bad. It essentially guarantees your struts will be quicker to rattle and start being noisy due to bushing deterioration.
In this sense, Sensen struts were/are an alright budget take if:
You'll be sticking to light commuting and highway driving.
–

We're talking about an older beaten car with 180k+ miles on it. You're not picky about simply fixing the abhorrent wear-and-tear your vehicle has and you don't want to invest too much in maintenance.


–

You're driving a vehicle that lacks other cheap suspension options – some BMW makes, and other European-based cars which Sensen covers. 
More on the niche perks of Sensen a bit later. I've heard some people say Sensen is actually OE on some budget Volkswagen cars and other entry-level European cars. I have no official source to back this up, and sadly in my social circles, nobody drives such rigs.
Falling behind:
The new competitors
So, I mentioned the first wave of Chinese knock-offs. The demand was there – plenty of people went for cheaper suspension to fit their budget needs.
Which pretty much guarantees the market will evolve.
Enter what I'd call the second wave of Chinese knock-offs. Very good examples of this are Detroit Axle (DA) and TRQ, which are currently the most popular takes on budget struts.
Here are two things they do better:
➥➥ Better local QA/assembly process: Sensen, DA, and TRQ mainly outsource to China for their production. However, DA and TRQ put a significant focus on performing quality checks in their North American facilities.
What you get is a hybrid between outsourced/local manufacturing processes. It's a step up from what a lot of first gen knock-off brands did. This leads to slightly better quality on anything from strut rods to hardware such as bushings or mounts.
➥➥ Economies of scale: As the current entry-level knock-off market leaders, DA and TRQ have become cheaper as a whole than first gen options. Not only this, but they cover an extensive line-up of vehicle applications.
Detroit Axle is especially popular because of all-in-one kits like this bundle. The brand often includes hardware like sway bars or tie rods in its strut kits. This combines affordability with convenience; many people don't like searching catalogs for stray parts.
As I've elaborated in my TRQ review, these knock-off brands still aren't comparable to icons such as KYB or Monroe.
However…if you want affordable, OE-style struts? These two are currently the best take on knock-off suspension.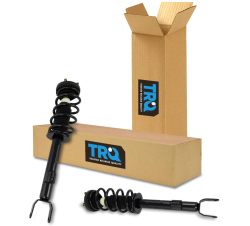 TRQ Strut Set

A very nice, affordable option if you want struts on US vehicles specifically. Some kits are OK for foreign (Japanese or European) cars too.
Sensen vs KYB; Sensen vs Monroe struts:
Any semblance?
It's obvious that Sensen has modeled some of its products after the classic suspension brands.
If I'm to be exact, I believe the brand took significant inspiration from Monroe more than KYB.
Sensen's Speedy Struts obviously hint at Monroe's Quick-Strut product. The design basics are quite similar, as well as the desired end goal of this take on suspension.
Unfortunately, the Speedy Struts fall short of Monroe. I've written about this in my Monroe vs OEM review, but the Quick Strut has some important extra perks.
Anti-rust/corrosion coating, enhanced strut rod, buffed body sway control mechanics…These are only a few design improvements.
As a cheaper alternative, Sensen's Speedy struts can't afford to have these benefits by design. Which leads to them potentially leaking out or fracturing in tougher road conditions.
When it comes to KYB comparisons, perhaps the closest resemblance is Sensen Loaded Struts vs KYB's Excel G. What the Gs do better here is the compression/rebound rate balance and cornering capabilities.
Additionally, in my Excel G vs OEM post, I've elaborated on how KYB is an OE supplier for many Japanese cars. This pretty much means you'll be downgrading your suspension quite a bit if you slap Sensen on a Honda or Toyota, for example.
That said, Sensen's struts are at a serious discount compared to branded assemblies. If you're on a budget, you can give them a go…don't expect world-class results, though.
Niche applications:
When are Sensen struts any good?
You might've missed it, but earlier I mentioned that sometimes Sensen is an acceptable (or the only obtainable!) way to get cheap suspension on some vehicles.
The car applications I was thinking about are some European cars like BMW, Volkswagen, or even some older Audi models. Bilstein struts are obviously the best here, but they're expensive.
So quite often the cheapest take on these are Sensen struts (check some strut kits). This video showcases installing a set of Sensen FS-SS Struts on a BMW 318i:
Aside from these niche applications, however, I don't think Sensen struts or shocks are your best option.
A few years ago, maybe. Now?
Plenty of other cheap suspension brands have bumped up their quality and/or provide cheaper alternatives. Aside from what I mentioned here, there's my FCS review too for another bargain bin option that performs better.
The entry-level-suspension-on-a-budget market is very competitive. In this heated race, you can't afford to slack around too much.
Hopefully, Sensen will get a wake-up call, because more competition means better quality. Yes, even at the lower tiers of strut replacement brands.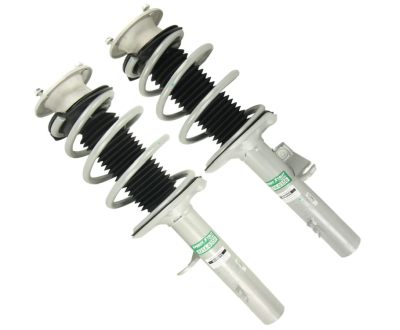 Sensen Speed Struts

A very basic take on affordable suspension. Finds some good niche uses on underserved applications (BMW, Volkswagen). A bit lackluster for vehicles covered by other budget brands.