Best Struts For Honda Accord & Element: What Works
Stylethority is reader-supported. When you buy through links on the site, we may earn a commission.
Just a few weeks ago, we were swapping out the struts on a friend's 8th gen Honda Accord. A 2010 silver beauty, its time for a suspension overhaul had come.
We slapped a pair of new KYB struts on it. I'll show them a bit later in today's post.
First, I'd like to discuss the best suspension options for Honda Accord and Element. Different as they are, these two Honda cousins share a similar logic in aftermarket parts.
➥➥ Best struts for Honda Accord
➥ 8th gen ('08-'12) & 9th gen ('13-'17) Accord
KYB is the OE on several Honda generations. This KYB Excel-G fits 2008-2017 Accord makes. It provides the best cornering capabilities, strut durability, and very solid vehicle control.
If you prefer the ease of strut assemblies, this KYB Strut Plus fits '08-'12 Accord.
For a cushier, softer approach to damping, you can consider Monroe. This Monroe Quick Strut fits 2008-2012 Accord. For the 9th gen, the Monroe 172874 is the right part.
Product
Image
KYB Excel-G

Sturdier body and teflon-coated piston for long-term durability.
Firmer control with better cornering and vehicle discipline over potholes.
Pretty much the OEM-ready brand for both Accord and Element.

Check Price & Fit
➥ Older Accord generations
For the 7th gen (2003-2007), you have the same choices. KYB's 340066 Excel-G is on the front; the 340063 strut covers the rear.
If you prefer a mellower ride with less stiffness, the correct Monroe is this 172123L Quick Strut. Supplement it with the 172123R. Great for highway cruising, but just OK for potholes or cobblestone roads.
For cheap '98-'02 Accord options, check this Detroit Axle kit. While nothing too spectacular, DA struts provide a decent bang for your buck if you're tight on money. This bundle offers the same for the 7th gen 2003-2007 Accord.
➥➥ Best struts for Honda Element
The Element is single gen which makes it easier to find the correct replacements. The rear OE struts on all Elements are made by KYB. The fronts are 50/50 between KYB and other Japanese makers.
Thus, I'd recommend you consider these Excel-G struts. They cover all 2003-2011 Element trims (DX, EX, and LX). As a crossover SUV, the Element benefits even better from KYB's improved vehicle control.
In case you're still worried it'll be too stiff of a ride, this Monroe 171101L assembly is the best alternative. Great price and the usual stellar performance, though they're weaker at the rear.
If you're on a budget, you can consider knock-offs. This CompleteStruts kit fits the bill but adjust your expectations for a 'just alright' performance. I'd stick to quality as the Element is more demanding.
Monroe Quick Strut

Great if you plan to focus on highway driving and better road infrastructure. Smoother, softer approach to aftermarket suspension on your Element.
As usual in my posts related to Japanese cars, I have to clarify why I vouch for KYB so much. It's simple:
When it comes to many Toyota/Lexus and Honda/Acura car makes, KYB is actually the OE suspension supplier.
This is why we got the same on my friend's car, too. We went for Excel-G based complete strut assemblies as his original mounts were shot: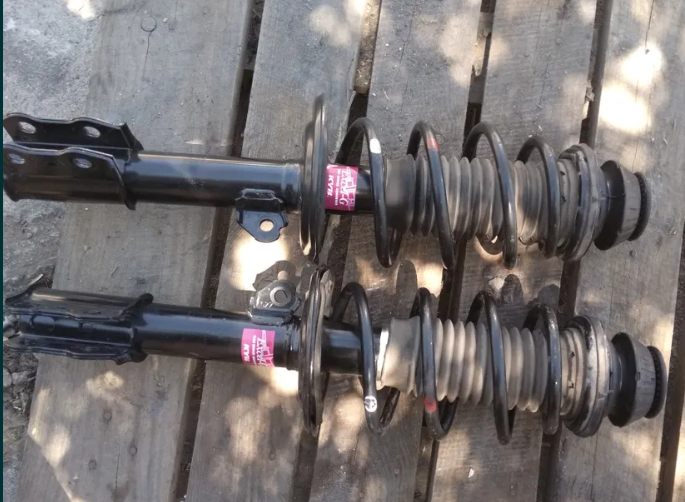 The debate between naked struts and strut assemblies is a tough nut to crack.
If your OE mounts are still intact, I'd advise you to keep them and get naked struts. Just re-use the OE mounts, as they're usually better than the ones on 'quick' and 'ready' strut assemblies.
I'd recommend you stick to household names for both car makes, by the way, especially on the Honda Element. If your car's a shitbox you keep around for fun, you can consider ultra-budget options such as FCS struts.
On your daily driver, though, I'd steer away from that. Let's discuss the optimal choices in extra detail.
Best struts & shocks for Honda Accord:
Aftermarket picks
I said 'shocks', but realistically, most of the Accord gens run on struts or strut assemblies.
The Accord isn't as taxing as the Element when it comes to its overall suspension needs. This means that while I recommend KYB, you can have a similarly pleasant experience with Monroe's options.
KYB is still a direct OE replacement, though. In my post comparing the Excel-G to OEM, I pinpoint several important improvements KYB has over usual struts.
The thicker strut body is one you'll care about if you have to drive over some serious potholes. Just remember that Excel-G is calibrated to ride +10-15% stiffer than OE suspension.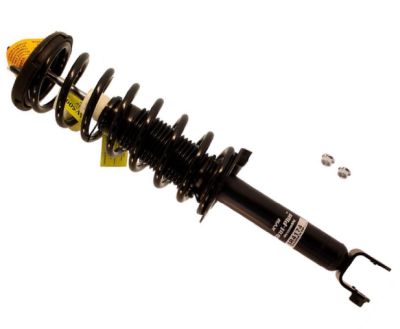 KYB Strut Plus

KYB's best strut assembly for the Accord. Easier to DIY than naked Excel-G struts. Thicker body for improved durability, awesome cornering, and extended rear support.
Over the past few years, Monroe's been getting some flack for the quality of its kits. I agree to some extent, but also want to point out that it depends on the vehicle.
In general, I feel Monroe's Quick Struts for the Accord (check some examples) have kept their quality.
Still, their damping is laxer than KYB. It guaranteed a cushy ride on well-maintained roads, but on rougher infrastructure, you might have that slightly 'sinking' feeling.
Monroe Quick-Strut

KYB's softer alternative. Keeps up the general quality (just a notch below). Amazing for daily drivers and better road infrastructure. Hits that cushy ride feel spot some of you crave.
Last but not least, I know some of you are tighter on $$$. There are a lot of pretty crap knock-off brands (yes, even for knock-offs).
I've recommended Detroit Axle for car makes that follow a similar logic – like the Lexus suspension options. This brand covers older vehicles extensively, and the Accord isn't an exception.
While still a knock-off and inferior to any KYB or Monroe strut, Detroit Axle provides acceptable performance for the money. Their kits and customer support are a step above the usual cheap suspension.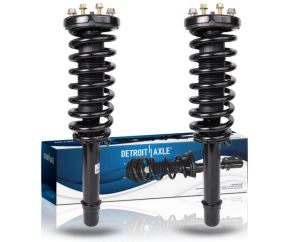 Detroit Axle Struts

A cheaper alternative to Accord suspension. Does the job decently and that's just about it. An improvement over the typical Chinese knock-off brands, that's for sure.
Best struts for Honda Element:
Accurate suspension
Why accurate?
Well, as I mentioned, the Element is a single-gen model. However, some brands decide to split their parts into 2003-2007 and 2008-2011. It's frustrating.
KYB doesn't do that, thankfully. This Excel-G fits every single Element trim and year under the sun for your peace of mind.
To re-iterate, the Element is slightly more demanding than the Accord in terms of suspension. Some people use it for heavier loads, road trips…Anything a crossover SUV, be it compact, can help with.
In this sense, KYB's firmer damping, tighter control, and sturdier strut body are all things you want to have around.
The brand's struts offer better rear support when braking and minimize the noise/rattling which Element rears are prone to on emptier loads.
Product
Image
KYB Excel-G For Element

Tighter control and damping live up to the more demanding needs of a crossover SUV like the Element.
Impressive rear support when braking.
Basically, a buffed up, firmer version of Element's OE suspension.

Check Price & Fit
Alternatives do exist, of course.
Once again, Monroe is the biggest runner-up with this Quick Strut assembly. The fight isn't as equal as with the Accord.
I find Monroe's softer damping approach to not work as well with SUVs, in all honesty.
It's still a great option, considering all other picks are pretty much knock-offs. I haven't seen a Bilstein option for the Element in a long while, if ever.
Speaking of knock-offs, this CompleteStruts bundle is a cheap option. I don't fully endorse it – for me, a hundred more bucks for full suspension is worth the peace of mind.
Not everyone has the $$$, though. If you're in a pinch, the CompleteStruts kit offers an acceptable ride feel at a lucrative price. I'm not sure about longevity, so double-check the reviews.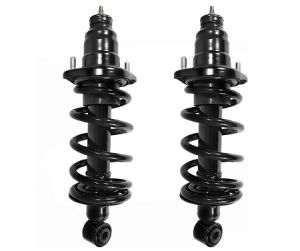 CompleteStruts Assembly Kit

A cheaper take on Element suspension for those in a pinch. Cookie-cutter knock-off manufacture with no bells and whistles. Does the job okay-ish if you're tight on $$, though.
DIYing it up:
Aftermarket struts installation
One of the main reasons why people prefer strut assemblies is the added ease if you're DIYing things. You might've noticed how a KYB Strut Plus is more expensive than the naked Excel-G struts. The same applies to Monroe.
Even a strut assembly doesn't mean you have to skip on some important installation practices, though.
Here's a good video coming from KYB, showcasing how to put Excel-G struts on an older Honda Accord. There's no sound, but the walkthrough is very detailed:
I tried to be as comprehensive as possible when discussing the best struts/shocks for both the Accord and Element.
While other options exist, I do believe KYB and Monroe are pretty much at the top when it comes to that sweet price-to-quality ratio.
For a deeper dive into their line-ups, you can check my KYB round-up article. I also talk about Monroe's sedan and truck shock options.
Most of both brands' product lines aren't focused on the Accord or Element, however.
I'd say the biggest decision you have to make here is:
Naked struts or full-blown strut assemblies?
The latter is a more expensive option that offers ease of installation and an all-in-one solution. The former is more economical and frankly, some craftier car owners prefer to do everything from scratch.
Whichever you decide to pick, remember to let me know in the comments. In the meantime, my friend is enjoying his KYB to the maximum 🙂