Best Shocks for Ford Excursion & Expedition: Handpicked
Stylethority is reader-supported. When you buy through links on the site, we may earn a commission.
I wish we'd seen more of the Ford Excursion. The 5 years between 00-05 weren't enough for this fantastic SUV giant.
Luckily, that's not the case with the Expedition. And – not sure if you agree, but a lot of people tout the Ford Expedition EL/MAX model as Excursion's indirect successor.
In any case, today I'll be talking about both models' suspension options. There are some important nuances to discuss.
Summed up in short, starting with the best shocks for Ford Excursion:
➥➥➥ For a lifted Excursion: I recommend you a set of Bilstein 5100. These shocks ride firmer, but they're custom-valved for lifted vehicles. Heat-resistant and also very durable too.
➥➥➥ For stock Excursion: You have two choices. Get this Bilstein 4600 set for an OEM-like ride and a more durable shock body.
If you're on a budget, consider Monroe Gas Magnum. A full set of these costs as much as two Bilstein shocks. However, you'd find them too soft and mediocre for anything else than highway driving.
What about the best shocks for Ford Expedition?
➥➥➥ For standard Expedition shocks: I recommend the Bilstein 4600 shocks again. Great mix between on-road and off-road performance, a comfortable ride, and enhanced longevity.
➥➥➥ For Expedition struts: Expedition models can be serviced with replacement struts too. If you prefer a quicker and easier suspension installation, consider this option.
As Bilstein doesn't make struts, you need to pick between either KYB or Monroe:
Frankly, the Bilstein 4600 is the most optimal pick for both vehicles. 4600s are the choice for light trucks or SUVs due to the production quality and on-road/off-road versatility.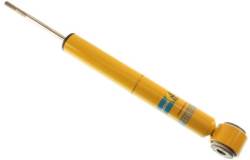 Bilstein 4600 Shocks

The best value shock replacement for both Excursion or Expedition models. Improved, OEM-style ride and better performance on pot holes, speed bumps or heavier loads.
Best shocks for 2000-2005 Ford Excursion
Hands down, the Excursion is one of the coolest older Ford makes to put a lift kit on. You can't really slap stock height shocks on a lifted vehicle, though.
Why?
Because stock height suspension will be hitting your top seal, ruining the shock's body.
A set of Bilstein 5100 is the best choice here due to these shocks' adjustability and lift-specific valving.
Besides, the 5100s are zinc-plated. Basically, this means they're extra-reinforced to deal with debris, gravel, and the hazards of extreme terrain. The zinc coating also improves their heat dissipation potential, thus leading to a longer shock life.
Quite a few owners love their shiny chrome looks too: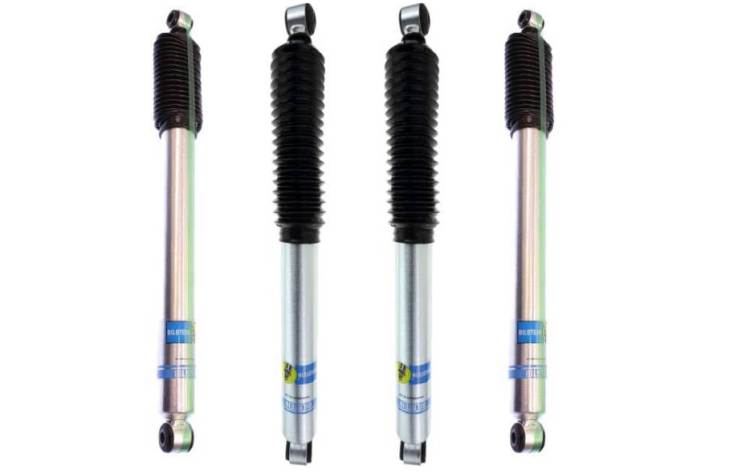 That said, the Bilstein 5100 rides stiffer. On heavier loads, though – and off-roading involves some heavy setups quite often, you will feel the shocks getting smoother. They're perfect for towing with your Excursion too.
In case you dislike the Bilstein 5100 Excursion shocks for some reason, alternative choices could be Skyjacker or Rancho shocks.
Far from all Excursion / Eddie Bauer Excursion owners want to throw their vehicle to mud play, though.
For those of you looking for tamer shock replacements for your Ford Excursion, there are a few choices.
The first one is the Bilstein 4600 set I discussed earlier. Unlike their 5100 brother, the 4600s focus on versatile comfort. These are designed to perform well on highways, over potholes, or even in very light off-the-road situations.
While not as smooth as OEM, they nevertheless focus on a mellower ride feel. Driving won't feel rough on lighter loads, and the improved 4600 tube design can deal with heavier loads with ease.
This kit of rear shocks fits all 2000, 2001, 2002, 2003, 2004, and 2005 Ford Excursion applications.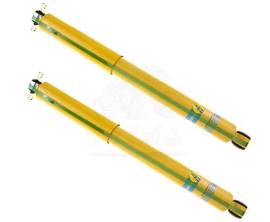 Bilstein 4600

More durable, more versatile shocks that deliver a comfortable ride. Great for higher loads too.
Now, some people have tighter budgets for their suspension replacements.
In this case, consider alternatives like the Monroe Gas Magnum shocks. I admit I'm not the biggest fan, but for the price range, these are the best cheaper shocks for Ford Excursion.
While not as durable as a set of 4600s, the Gas Magnum still emulates the OEM ride feel well. If you plan on sticking to highways or simple urban commuting, this is a more than decent pick.
On heavier loads, you might start feeling the Magnum sinking slightly compared to more upscale shock replacements, though. Easy to install too.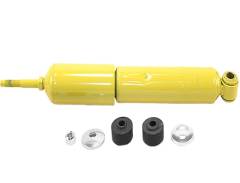 Monroe Gas Magnum

Cheap shocks that imitate how OEM Ford Excursion rides feel. Great for highways or cruising, but slightly lackluster otherwise.
Best shocks & struts for Ford Expedition
Unlike the Excursion, Ford Expedition has a perk for its owners:
You can service the vehicle with both shocks or strut kits, depending on your preference.
The difference is quite simple. Strut assemblies are quicker and easier to install because they come with all the hardware included. However, not all manufacturers go for struts. Bilstein, for example, doesn't make any.
Shock replacements for Expedition
I know KYB MonoMax and other options exist, but for a full-sized SUV beauty like the Expedition, I'd always go Bilsteins.
Much like the Excursion, the Bilstein 4600 for Expedition are shocks specifically designed to fit your SUV and deliver a comfortable ride. Especially compared to alternatives like the MonoMax, they feel smoother.
It's a personal taste, but I also like the yellow-on-blue shock body they have going on: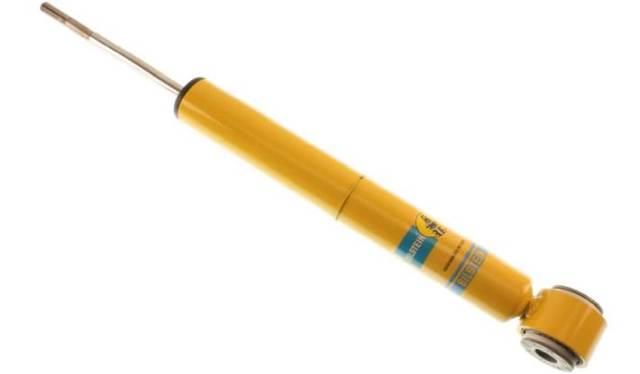 The 4600s are the superior choice for dealing with anything from speed bumps to potholes. Road obstructions are dealt with without the vehicle sinking, and with a proper rebound.
Important:
As I said, the best runner-up alternative would be KYB MonoMax shocks.
There are also knock-off brands like Sensen, Oredy, or similar. I'd steer away from them, they're cheap manufacture bound to break after a few thousand miles.
Strut replacements for Ford Expedition
As I pointed out earlier, Bilstein doesn't manufacture struts. Not only for the Expedition – I'm talking about any vehicle application.
If you prefer to have struts installed on your Expedition SUV, you're looking at KYB or Monroe replacements.
The difference is simple: KYB struts are better at cornering and sharper turns. The Excel-G struts in the Strut-Plus Expedition kit feature better wheel alignment.
The benefit of Monroes is the smoother, commuter-friendly ride. If you're searching for something that feels more like your OEM ride, then a Monroe Quick-Strut is the better choice.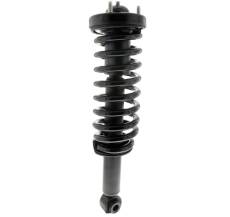 KYB Strut-Plus

Better ride control, cornering, and wheel alignment. Slightly stiffer than the Monroe counterpart.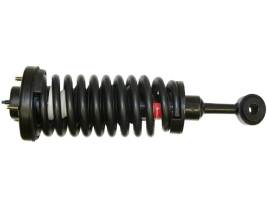 Monroe Quick-Strut

Perfect for your daily commute. A smoother ride feel that's closer to how your OEM Ford was.
Other strut options exist too, but these are the same knock-off brands I discussed earlier. You can save a few dozen bucks by going with them, as they're ultra cheap.
Whether they'll stand the test of time, though? That's a question without a definite answer, and the odds aren't looking great.
At least with KYB or Monroe strut replacements, you're getting proper quality from brands with decades of history behind their manufacture.
DIY or no DIY:
Replacing your Ford's shocks or struts
With the prices of aftermarket replacements creeping up, quite a few people decide to ditch the mechanic and DIY their suspension woes.
Should you do that? If you consider yourself average in terms of DIY tasks and you have a few spare hours over the weekend, why not?
There are many videos for both the Ford Excursion and Ford Expedition. I like this one because it has on-screen instructions and the guy approached it in the safest way possible.
This video deals with 2004 Ford Expedition struts. However, a similar process will apply to a, say, 2011 Ford Expedition too.
As one guy points out in the video, you might not need as many tools. You can skip on the Loctite and torque wrench, sure. But much like the video poster, I advise you to ensure maximum safety when replacing the suspension components.
Better safe than sorry is a life motto to me.
On the topic of DIY, make sure to also check my guide to the correct 5.4L Triton firing order. After all, if you have spark plug issues, the Expedition ran a 5.4 Triton engine until 2017.
People use some Excursion makes as a basis for their RV/camper adventures. In this case, you can check my guide on motorhome and RV shock brands or alternatively, on the two leaders in SUV camper steering suspension.
Cheers!