FCS Struts Review: Here's What to Expect
Stylethority is reader-supported. When you buy through links on the site, we may earn a commission.
When it comes to struts, knock-off brands are dime a dozen. Some pop up just to disappear in a few years.
One of the more persistent economy suspension darlings is FCS. Are these any good, considering their huge success on RockAuto or Amazon with products like this strut assembly?
My answer is: meh, very situational. Great for beat-up commuter cars, but not more.
I'll discuss the trade-off in this FCS struts review, but there are three main drawbacks:
Lower quality manufacture means you often get fitment issues. I'll give specific examples later.
The damping rates are lackluster for rougher roads/potholes.
Related to the above, they can get noisy/rattle earlier than expected.
Here's a quick table with the FCS basics:
Product
Image
FCS Complete Struts

Pretty much the crowned king of ultra-economy struts.
Basic suspension for an older daily driver focusing on commutes.
Suffers from some key drawbacks that make it lackluster for newer cars/tougher roads.

Check Prices & Fit
In short, this is as cheap as aftermarket suspension can get. I know people recommend tempering your expectations with budget struts, but I have to double down on that:
Do not expect even half of the results you'll get with Monroe or KYB struts when you put FCS on your vehicle. Especially KYB which is the most durable/best-performing option out of the three.
Specifically with Monroe, which FCS gets benchmarked a lot to, you get:
–
Better rust/harsh weather resistance for those cold/Salt Belt states (if you're in the US).


–

Smoother, more balanced damping. This is paired up with better steering response over potholes.


–

Fit like a glove on the specified OE applications. As easy of a DIY job as it can get with strut assemblies.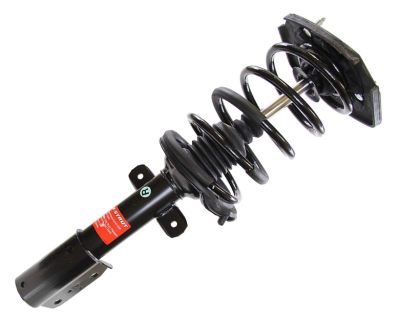 Monroe Quick Struts

Massive improvement over the basic suspension feel/capabilities of FCS struts. Several key factors which allow for a better design and subsequent performance on the road.
More on that later. In my opinion, if your daily driver is at least a decent albeit older car, it deserves something better than FCS.
Generally, it's KYB > Monroe > FCS but I'd understand you wanting to save some bucks. Even if you do, at least make sure the fronts are as high quality as your budget allows!
For those with a bigger budget, KYB's assemblies tower over FCS. One of my friends has been running KYB Strut Plus on his cars for years: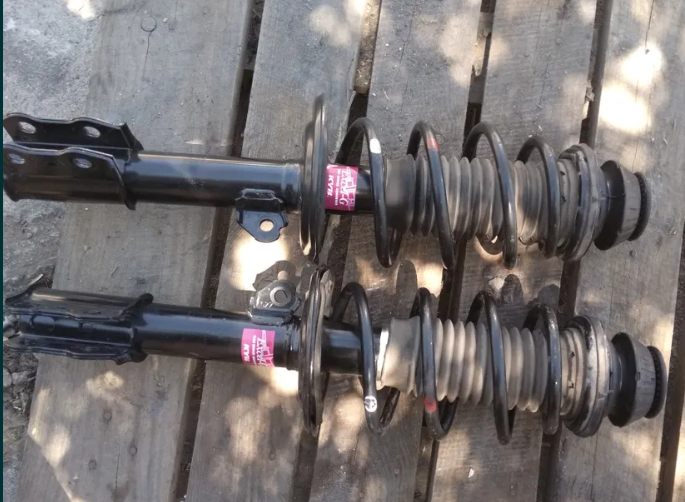 FCS Struts Review:
The gist of it
As I mentioned earlier, FCS is pretty much the poster boy of ultra-economy struts. These can run for only a few dozen bucks on some vehicle applications. It ain't getting cheaper than that.
I – like many others, have dubbed them the 'bottom of the barrel struts for beat up, decades-old cars'.
You got an early 90s Camry with 220k miles on it? A shitbox you love with all your heart, but realize it'll be time for it to go soon?
FCS struts are a good way to prepare your rig for a send-off in the next year or two. They are a step up from other dirt-cheap options like Sensen, for example.
The performance for price ratio is decent, as long as you expect a barebones approach to suspension.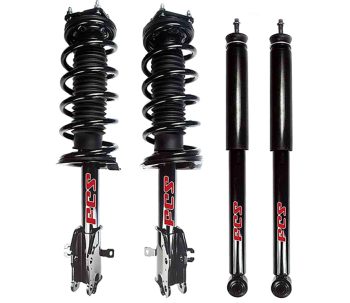 FCS Struts + Shocks Assembly

As budget as it gets. For older beat up sedans, these kits are the perfect way to ride them off into their sunset as your daily driver. Stick to commuting on milder road and weather conditions, and it's fine.
There are several factors that make FCS suspension a questionable decision on healthier, newer vehicles.
First, the overall suspension feel is lackluster. The damping rates are wonky, potholes are a pain to go through, and you don't get the 'springy' feel you'd get with better-quality struts. On rougher roads, they can get noisy/start rattling.
Second, the paint job on these is pretty awful. Any coating or paint chips off. To add to this, FCS struts aren't really great in harsher weather conditions.
The corrosion resistance on these is lackluster too. If you get a lot of salt on your roads in winter, it'll get to them quicker than slightly more expensive options.
When it comes to colder weather, some people note the FCS rides uncomfortably stiff – in this Toyota Nation thread, as well as some other community discussions.
Third, the fitment can be awkward. Even though FCS struts are said to be an OE fit, sometimes their assemblies don't align well. I've seen people mention any reasons – from ill-fitted spring height to rears bumping into brackets so you need to cut off a bit…
If you don't care much about any of these things and your focus is saving $$$, FCS is a decent enough option.
An alternative that's slightly more expensive but still budget-tier could be Detroit Axle: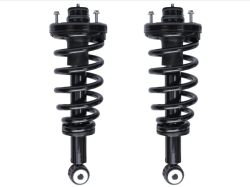 Detroit Axle Struts

Another budget take on aftermarket suspension. Improves over FCS struts with extra hardware in some kits, as well as slightly better compression/damping rates.
I've recommended both Detroit Axle and MostPlus for economy picks in my Toyota struts post, and I've mentioned them as a Lexus alternative too.
If you have the money, of course, a better option would be more established brands. Let's talk about them too.
FCS vs Monroe & FCS vs KYB:
How do they compare?
I've written plenty of stuff about the standard tier suspension of Monroe and KYB.
When you peek at car community discussions, people mainly benchmark FCS struts vs their Monroe counterparts. KYB pops up mainly when we're talking about Japanese cars.
This is pretty much because KYB is an OE supplier on many Toyota/Honda/Lexus etc. models.
Here's a quick table. It showcases the three main ways Monroe's Quick Struts shine over FCS struts/shocks:
Product
Image
Monroe Quick Strut

Enhanced corrosion and rust resistance. Perfect for areas with harsher winters/Salt Belt states.
Re-designed strut mount brings forth superior steering response.
Designed with reduced body sway in mind. Smoother ride feel and more balanced out pothole softening rates.

Check Prices & Fit
Some of these points are especially important if you're located in specific US states. If you're in the Salt Belt, the corrosion factor is a must.
One winter and FCS struts might be eaten away by your state's weather and road conditions.
While some people think Monroe has declined in quality over the past years, the Quick Struts are still miles ahead of economy options. I've talked more about them in this OE-related post.
When it comes to FCS vs KYB struts, the suspension gap becomes even bigger.
As I've noted in my KYB vs OEM article, KYB has made some important design differences.
The thicker, more massive body shields the strut from fractures. It also helps with overall wheel alignment, which translates into better control over rougher roads.
In short, we're talking about the perfect strut to plug in a daily driver you care about. Twice so if it's a Japanese car you want to service with longer-lasting, more versatile struts that offer firmer control.
Product
Image

The Gold standard of struts

KYB Strut Plus (Excel G)

Significantly tougher and fracture-resistant due to the thicker body and brackets.
Pretty much the best option for Japanese cars. OE on many models and generations.
Fantastic cornering capabilities, vastly improved stopping distance too.

Check Prices & Fit
So what about the DIY aspect of FCS?
People who like economy struts also are fond of something else: installing their new suspension by themselves. You get the double economy whammy this way, saving hundreds of bucks in the process.
As I mentioned, FCS struts are prone to some fitment issues due to their cheap construction. This doesn't mean you can't get around this by tinkering around a bit.
Here's a video showcasing the DIY installation of a set of FCS struts. The specific vehicle application here is a 16-year old Toyota Highlander with some 170k miles on it:
If you know what you're doing, the replacement job shouldn't take you more than 2 or 3 hours depending on your rig.
This is pretty much everything I can say on FCS struts. As I pointed out, these are a decent budget take on aftermarket suspension. Just remember they're best on older vehicles with high mileage.
I'd put them on a final replacement-part-routine Elantra, no issues. You'll be wasting any newer rig's potential by not going for something better performing.
Do leave a comment with your experiences running FCS' struts or shocks. It would be even better if you leave your vehicle's age and mileage so we can have some extra input.