Jeep 3.6L Pentastar: Firing Order & Cylinder Layout
Stylethority is reader-supported. When you buy through links on the site, we may earn a commission.
So, something happened with your Jeep's 3.6L Pentastar engine and it's time for some DIY work.
No worries – I've got you covered. Though I have to say, there's a surprising lack of proper diagrams regarding both the Jeep 3.6 firing order and cylinder layouts.
The correct firing order is pretty straightforward:
It's 1-2-3-4-5-6.
With 1 being at the right bank (passenger side), sitting at the front of your vehicle.
I've prepared a diagram, as well as a quick guide to which Jeep models this firing order covers.
I also have the correct OE spark plugs from Mopar. In case you need to get a pack of 3.6L replacement spark plugs, these are 100% identical to your stock ones: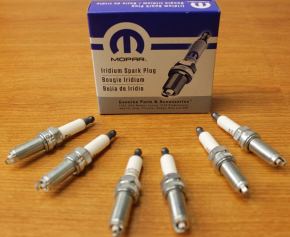 Mopar SP149125AE

Direct OEM fit for most 3.6L Pentastar Jeep models. Easy to install and long-lasting. Classic MOPAR quality on a great price.
Anyways, let's continue to the diagram.
Jeep 3.6L Firing Order:
A proper diagram
As I said, the correct order is 1-2-3-4-5-6.
It's one thing to say something; completely another to fully visualize it. Here's a diagram so you can get more comfortable with any DIY work on your cylinders: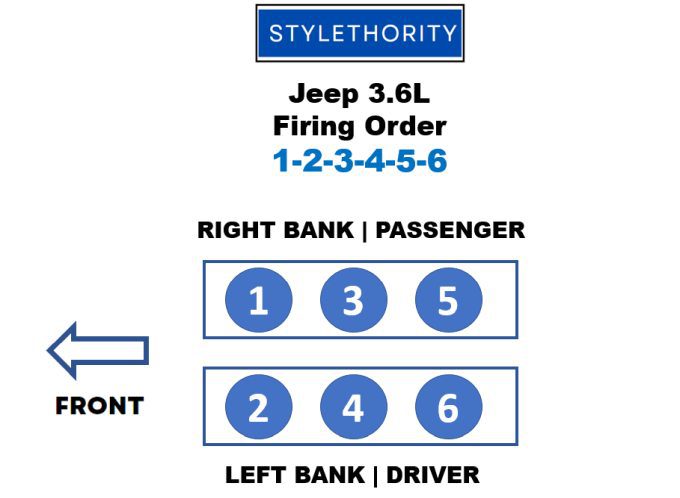 The right bank is the passenger side. It starts with 1 and then runs the other odd numbers – 3 and 5.
The left bank is the driver's side. Here you'll find the even numbers, namely 2, 4, and 6.
Remember that you look at cylinder layouts by being in the vehicle and looking forward. This is why cylinders 1 and 2 are at the very front of the vehicle, while 5 and 6 are closest to your dashboard.
What about the difficulty of getting to the actual plugs?
Well, the passenger side (right) is notably easier to do anything DIY on. You just need to undo the intake plenum, then remove the plenum and you're good to go.
The driver's side is trickier. All plugs here are under your vehicle's upper intake manifold. While it's not too complicated, doing any replacement on these would take more time than the 1-3-5 cylinders on the right bank.
Which Jeep models does this firing order diagram apply to?
Alright, so the Chrysler Pentastar 3.6L engine was introduced back in 2011. It covers a lot of other vehicles, including a plethora of Dodge and Chrysler cars.
What about Jeep, though?
Well, this diagram will prove useful to you if you run any of the following:
2011-2016 Jeep Grand Cherokee* (Laredo, Trailhawk, Limited, Overland)
2012-2018 Jeep Wrangler JK (Sport, Freedom, Sahara, Unlimited Sahara, Rubicon etc. basically everything)
2019+ Jeep Wrangler JL
2020+ Jeep Gladiator JT
*Keep in mind that in 2016, there was an updated version of the Pentastar 3.6L for the Jeep Grand Cherokee. Hence, the 2011, 2012, 2013, 2014, and 2015 Grand Cherokee have the original 3.6L engine.
From the 2016 Jeep Grand Cherokee 3.6L onward, you're getting the improved Pentastar. It features cooled EGR, a better intake manifold, improved fuel injectors, and brand-new ignition coils.
This means that the intake manifold on post-2016 models Jeep Grand Cherokee is located on the passenger side of the engine.
This does not change the relevance of this firing order diagram. Remember that a lot of the earlier Jeep models run on a V8 Hemi and the ignition coils and overall setup differ there.
What about the fit for the OE replacement spark plugs I mentioned, the Mopar SP149125AE?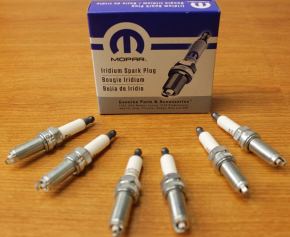 Mopar SP149125AE

Direct OEM fit for most 3.6L Pentastar Jeep models. Easy to install and long-lasting. Classic MOPAR quality on a great price.
Well, these ones generally fit both 3.0L and 3.6L Jeep applications. In particular, they're alright with:
All 2011-2022 Jeep Grand Cherokee WK
2014-2022 Jeep Cherokee KL
2013-2018 Jeep Wrangler JK
It might fit some other more special editions of Jeep vehicles, but these are the only ones listed on Mopar's site as 100% true fit.
Hopefully, this article helped you out! It's a part of my guides to Jeep maintenance. As far as the 2013-2018 Jeep Wrangler is concerned, I also have an article on the applicable steering dampers.
For all newer Jeep models which you want to prepare for tougher off-road conditions, I've also prepared comparisons between the best upscale brands for quality aftermarket parts. Check my MetalCloak vs TeraFlex comparison where I use my friend's kit as a reference point.
Alternatively, you can take a look at my RockKrawler vs MetalCloak post too.