TRQ Ignition Coils Review: Are they OK?
Stylethority is reader-supported. When you buy through links on the site, we may earn a commission.
So, TRQ. Two years ago my friend plugged an ignition coil set of these in his Durango.
He commented how he had no idea whether TRQ was any good, but the price was a total bargain. Also, a dealer had recommended these coils.
If you wondered: Yes, they've been running smoothly ever since on this TRQ kit.
I'm surprised that many people think TRQ is a new name, though. The brand's rather established in the entry-level suspension scene. It's also connected to 1A Auto; more on that later.
Let's do a quick TRQ ignition coils review. These replacements work optimally on specific vehicles. Dodge, Chrysler, Jeep and Japanese cars like Honda or Nissan are good examples:
Remember, these are not high-end ignition coils like MSD, for example. The price tag makes that clear.
However, TRQ isn't complete crap, either. They're the perfect mid-grade replacement solution.
Let's check out the make-it-or-break-it conditions with the TRQ coil packs. Are they any good or you'd better stick to higher-end stuff like Accel or MSD?
TRQ ignition coils:
Manufacturer & warranty
So, first things first – the warranty. It matters, especially when you're shelling out a couple of hundred bucks.
You can tell how much a manufacturer trusts their own products by the warranty too.
TRQ has a limited lifetime warranty.
Sure, these are mid-grade level ignition coils. However, the warranty is vastly superior to the usual 1-2 years you get with no-name brands in a similar price range.
Speaking of manufacturers, I have my suspicions that it's 1A Auto who actually produces TRQ. They've been the biggest distributor of these ignition coils for years.
You can also see other TRQ products like their strut assemblies being prominently featured in different categories on their site.
This is a good thing, as 1A Auto has been a very nice retailer for 20+ years. Way better than a random no-name brand straight out of Guangzhou, right?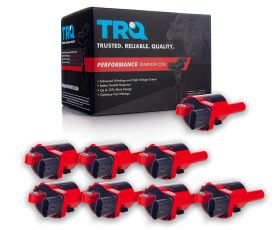 TRQ Performance Coils

The High Performance series from TRQ for Chevy trucks or muscle cars. Heavy-duty, reliable, and cool-looking with that shiny red. Optimized fuel performance too.
TRQ ignition coils reviewed:
What's in the box?
Basically, TRQ calibrates and designs its ignition coils to be a direct OEM fit. Most of the brand's kits are aimed at stock vehicles without any heavy mods going on. Look for the High-Performance series for more powerful, modded setups.
There's also convenience involved: TRQ coil packs come fully pre-packaged, with all the hardware included in a bundle. Generally, as easy of a DIY as you can get.
As I said, think of these as a mid-grade replacement option. They're not premium in any way, but still feature some cool enhancements:
Improved outer shell: The material (silicone, rubber, or phenolic resin) differs depending on vehicle application; this helps out with your boots not wearing out prematurely.


–

Energy efficiency: Designed with practicality in mind; you get a better connection with your spark plugs due to carefully calibrated resistance, voltage output etc.


–

Respectable rise times


–

On Performance series: Optimized fuel mileage paired up with improved throttle response.
For most vehicles, this is as good as it gets if you're on a budget. Aside from my friend with his Durango, I've seen a bit of Honda, Jeep and Chrysler vehicles running these with success.
Here's a video with these plugged in a 2010 Jeep Grand Cherokee 6.1 Hemi:
What these guys use is this kit I recommended earlier. It fits Dodge, Jeep and Chrysler vehicles that run on 5.7L, 6.1L or 6.4L V8 engines.
For cars/trucks like Ford, I feel sticking to the OEM (which is Motorcraft) is a better option, though.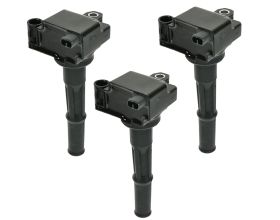 TRQ Standard Series

Direct OEM fit for V6 3.4L Toyota vehicles - Tundra, Tacoma and 4Runner. Easy to install, great performance for the price.
Where are TRQ ignition coils made?
Here's the kicker: this isn't explicitly mentioned anywhere.
So, officially, TRQ says that all of their products are 'road-tested' and assembled in their R&D facilities located in Massachusetts.
Assembly and testing are one factor; actual manufacture is a completely different story.
So until I see them explicitly mentioning the country of production, I'd assume either Mexico or China. At least that's what most aftermarket brands in this price segment do.
Higher-end options such as MSD ignition coils are made in the US (Texas in the case of MSD, specifically).
Still, I assume TRQ performance ignition coils are made in higher-grade facilities compared to similarly priced competitors. The limited lifetime warranty hints at that, at least.
All in all, I feel TRQ ignition coils – and particularly their Performance series, is a bargain.
The brand has found its place, nestled right between the cheap made-in-China crap and the more established big names. You pay ~1.5x the entry-level coils and ~1.5x less than the premium solutions.
What makes them worth it are two things:
TRQ being backed up by a reputable auto parts retailer, 1A Auto.
The limited lifetime warranty you won't see with cheaper competitors.
Ultimately, it's up to you – especially after reading the reviews left by other buyers. My friend is pretty happy with them on his Durango. I've also heard other people being alright with the coil pack's performance.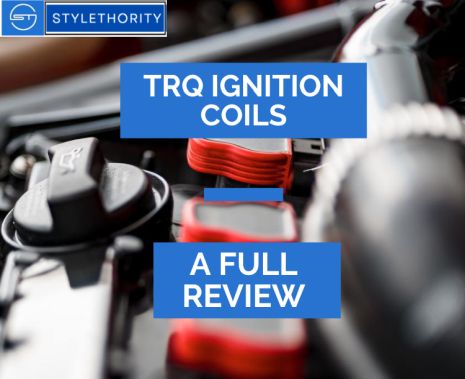 I'm way better acquainted with TRQ's suspension parts. Probably I'll make a separate review on their ball joints, control arms, and similar components. Until then, you can check my Detroit Axle vs Moog comparison if it's about entry-to-mid-level of suspension parts.
And when it comes to Jeep and spark plugs, check out my guide to the firing order and cylinders on 3.6L Jeep engines.
Let me know if you tested out the TRQ ignition coils yourself!