TeraFlex vs MetalCloak: Their Lift Kits & Components
Stylethority is reader-supported. When you buy through links on the site, we may earn a commission.
Comparing two of the most focused-on-performance, top-tier suspension brands feels a bit weird. Sure, there are quite a few differences between TeraFlex and MetalCloak.
In the end, though? Both are fantastic teams actively participating in the suspension/modding community.
I do have some observations of MetalCloak's Game Changer kits. I'm slightly more acquainted with TeraFlex setups as a close friend runs this 2.5'' TeraFlex Alpine kit.
The core of this setup lies in the TeraFlex Falcon 2.1 shocks which I'll talk about too.
Here's how they look on my friend's rugged JKU: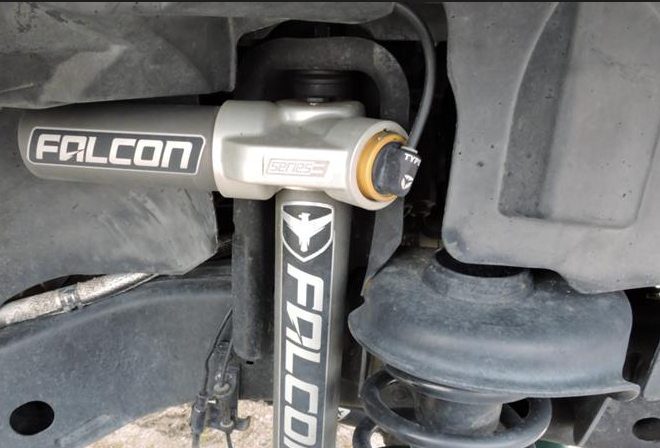 There's lots to discuss, so let's get to the juicy details.
MetalCloak vs TeraFlex lift kits:
Game Changer vs Alpine setups
First things first: Remember that you can always mix your suspension setup. Some people go all 'TeraCloak' by getting a Game Changer and slapping TeraFlex bump stops. Others use TF springs and shocks and put MC on everything else.
Anyways, while both brands offer premium suspension options, there are some notable design and ride differences.
The first thing you need to be careful with is some of MetalCloak's lift kits. The guys at MC use Rubicon as their lift height baseline. This means you get a ~1 to 1.5" higher lift than advertised if you have sportier setups.
TeraFlex is closer to the 'true' advertised height. I suggest you get the Falcon 2.1 shock kits. Falcons are like a buffed Fox 2.0 – heat-resistant and sturdy, with the added bonus of tuning. They go from Soft to Performance with the twist of a knob.
With this, TF rides however you want it to be on any terrain. You get the Soft for extreme terrain, rocks, or trails. The Performance is awesome for highway speeding or reducing your rig's head toss.
As far as MetalCloak is concerned, I recommend you get the RockSport shocks. While these are a step below Falcons (twin tube, worse heat dissipation), they are elaborately tuned and long-travel ready:
Product
Image
MetalCloak RockSport Shocks

The core of any MC Game Changer suspension kit.
Sturdy twin tube long travel shocks that are specifically valved & tuned for MC components.
Great for general extreme terrain, though not as versatile as TeraFlex Falcons.

Check Prices & Fit
Concerning the hardware/components included in both brands' lift kits, there are far too many configs to think about. In general, MetalCloak Game Changers come with 8 control arms, a pair of trackbars, and comprehensive hardware.
The biggest differentiation point is the shocks – whether you choose RockSport or not.
TeraFlex has more variance in kits. There are two types of control arms you can get, including other component 'tiers'. I really, really suggest you go for the Alpine IR setup. Will touch on this later in the post when discussing hardware matters.
Going back to my friend's 2.5" TeraFlex kit; he runs Alpine parts exclusively: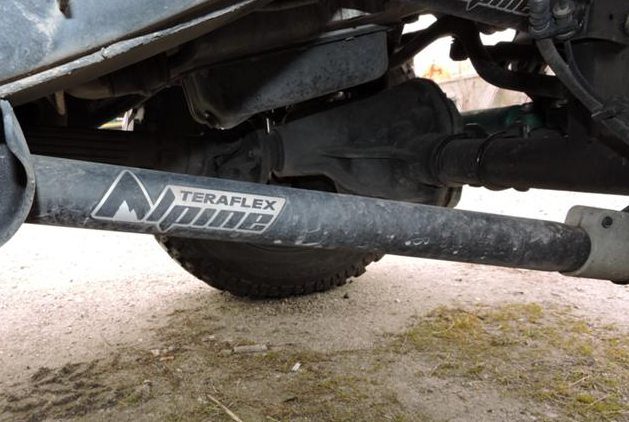 –
Look, setups and applications vary wildly. But if I would generalize based on observations, here's what I'd say about TeraFlex vs MetalCloak lift kits:
MC kits have slightly more flex to how they feel/perform.


–

TeraFlex with Falcons offers superior ride handling & ride feel on diverse terrain.


–

MC kits buff the ride height more than advertised; TeraFlex uses 'truer' benchmarks.


–

MC has sturdier under armor/armor options for more extreme rigs.


–
Both teams do as much as they can in terms of local, US-based manufacture. TeraFlex outsources more, but their rate of outsourcing to other countries is still quite low.
The hardware that matters is made in the US. Take the Falcons for example: they're 100% made in their West Jordan facility in Utah. They're pretty much on par with other premium options like King or Fox shocks.
Don't need shocks, but want more flex and a higher lift?
This TeraFlex 4" kit is a great option for that (or you can take a look around at TF's official site).
As a whole, I've done my fair share of recommending TF kits on off-road rigs such as TJ Wranglers.
MetalCloak also has a lot of kit options. The most popular one is the 3.5" Game Changer setup, but you can always shop around for others.
TeraFlex vs MetalCloak:
Control arms & hardware
Two factors to talk about here: design quality and ease of DIY installation.
MetalCloak DuraFlex control arms are simply king. I've discussed the 'Duro-' series in other posts, but what MC does with this product line is insane.
These components have warzone-grade toughness and it still awes me how the guys over at MC managed to design this hardware.
TeraFlex control arms (see Sport example) can be a hit or miss. The standard bushings their kits have are mediocre. They're basically Clevite rubber slapped on the inner metal sleeve. For Jeep owners, this is what your OE rig had and it's…well, just OK.
In harsher conditions, you'd need something stronger. Thankfully, the TeraFlex Alpine IR bushings are two steps above. While not as sturdy as MetalCloak, they are still extreme terrain-ready and a cut above other competitors.
Product
Image
TeraFlex Alpine IR Control Arms

Fantastic flex: IR means unrestricted rotation for those rocky situations.
Thicker, sturdier tube ensures they last longer than other TeraFlex options.
Easier to DIY than MetalCloak (in generic DIY situations).

Check Prices & Fit
TeraFlex Alpine components are easy as heck to install if you're DIYing it, though. MetalCloak hardware uses jam nuts which require a bit more tinkering around to slap on your ride.
The 'flex' part of DuraFlex MetalCloak offers is palpable. You'll get more articulation and a nimbler feel with your rig. MC kits offer some tremendous flex, but your configuration has to actually be able to support this.
A call to arms (of sorts)
Alright, so that's as much as I can say about MetalCloak vs TeraFlex lift kits or hardware components. I can discuss some trackbar details too, but who needs a standalone trackbar review, right?
My call to arms is to you, Stylethority's readers:
Have you run any setups from either company? What were your experiences: what did you like, and what did you feel could have been better?
There are plenty of discussions on both TF and MC on numerous off-road forums. Some of these are outdated, though – and obviously, there are quite a few vehicle applications to talk about.
So, let me know in the comments, and let's get a small collection of case studies going. 🙂
In the meantime, if your ride is a Wrangler, you can check my guide on JK steering stabilizers where TeraFlex makes an appearance again.