Best Struts for Lexus ES300, ES350 & GS300: Quality Picks
Stylethority is reader-supported. When you buy through links on the site, we may earn a commission.
Here's a surprise for you: Lexus ES300 struts often share the same fit as Toyota Camry.
How so? Well, this car's first two generations were a re-skinned Camry with a better interior. Since then, the ES300 and ES350 have slowly distanced themselves away from their Toyota cousin.
Newer ES generations often share the same aftermarket suspension. This KYB Strut Plus fits both 2013-2018 ES300H and ES350 vehicles, for example.
Let's look at the best struts for Lexus ES300, ES350, and GS300.
➥➥ Best struts for Lexus ES300/ES300h
For 1992-2001 V6 Lexus ES300: Your best option is this KYB Strut Plus beauty. Fits like a glove, but above all, it provides superior alignment to your wheels and height. Rides somewhat stiffer than OEM.


–


If you're on a budget, this Detroit Axle assembly is a somewhat decent alternative for 97-01 ES300.
For 2002-2003 ES300: The 4th

 

and last gen of ES300 involves two choices. If you want something better for potholes and firm control, get these Excel-G struts. For smoother cruising and softer dampening, you can consider this Monroe Quick Strut kit.


–

For 2013-2018 Lexus ES300H & ES350: Sharing the same internals, they benefit from rejuvenated suspension via the SR4397 KYB Strut Plus. This is the rear left, the SR4396 is rear right.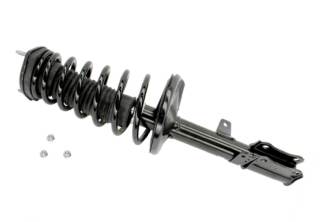 KYB Quick Strut SR4036

Most optimal replacement for 92-01 Lexus. Balances out worn-out internals with better ride control and firmer handling.
➥➥ Best strut assembly replacement for Lexus ES350
For 2007-2012 ES350: The ES350 ride benefits especially well from improved cornering and firm steering. This Strut Plus fits your rear right. Search for SR4000, SR4401 and SR4403 to complete the assembly.


–


If you prefer softer rides, this Monroe strut replacement is a good alternative. Keep in mind it only fits 2007, 2008 & 2009 ES350 models though.


–

For 2013-2018 ES350: What I recommended for the ES300H above. In other words, this KYB Strut Plus kit.
➥➥ Best struts for GS300
For 1998-2005 GS300: Excel G struts are a classic. Basically, they're the backbone of the Strut Plus assemblies. You just don't get the extra hardware with this kit of naked Excel G struts.
For 2006-2011 GS300: This is where the GS series moves onto shocks. This set of Gas-A-Just shocks will fit GS350 06-11 too. Higher quality compared to Excel G, with a more durable monotube body. They do feel a bit harder, though.
Product
Image
KYB Strut Plus Assemblies

Firmer control to restore wheel and ride alignment, as well as balance out worn-out internals.
Reinforced, thicker construction on the struts for longevity.
As close of a fit as OEM Lexus struts, easy to install.

Check Prices & Fit
Important note: Keep in mind that KYB manufactures the OEM struts for many Lexus generations.
Thus, I really recommend you either KYB or its biggest competitor Monroe. For affordable, but lower-quality alternatives you can consider Detroit Axle or FCS.
Explaining Lexus strut assembly replacements:
Why so much KYB?
You probably saw that I recommended KYB on most of the Lexus applications.
Why?
Well, I pointed out the reason at the beginning of my article. KYB is what's OEM for Lexus. Actually, not only for Lexus but for most of Toyota's vehicles too.
(Which is why I've recommended KYB struts in my Camry and Avalon suspension article too.)
If we go bigger enough, I'd go ahead and say it:
KYB – as a Japanese brand itself, makes the stock struts or shocks on a variety of Japanese vehicles.
Monroe's Quick Strut is a very potent competitor, no doubt about that. However, I feel the KYB ride better exactly because of their stiffer valving.
On older Lexus makes, the firmer damping will balance out your worn-out components. It'll also help out with bigger loads in your trunk if you're going through uneven roads.
At one point KYB consolidated its product lines and updated some of its struts. Not drastically, but I feel the brand's assemblies have improved in terms of hardware.
It's in the small details – the spring seat pitch, the reinforced brackets holding the kit together. The strut boots also feel very durable.
Both KYB and Monroe focus on ease of installation and share a similar price range. So I feel it boils down to these little details or what kind of ride you prefer.
Well, on potholes too. KYB is the superior choice if the road infrastructure in your state is in a rather dire condition. With Monroe, your front or rear might sink in too much on bigger potholes.
In the cheaper strut department, Detroit Axle has been manufacturing a lot of aftermarket parts for Toyota and Lexus. I've also written about this brand's other suspension components.
While the quality isn't quite there compared to KYB or Monroe, they are the best budget take on Lexus replacement struts.
How to replace the front or rear struts on Lexus ES300 or ES350
So I was sifting through YouTube videos to find the one which is comprehensive enough, but also present in an easy and understandable way.
I found one, but before that, I want to clarify something.
If you get one of the strut assemblies (whether it's Monroe Quick Strut or KYB Strut Plus), you're saved a lot of work.
You get all the bits and bolts that you'll need (well, you'll still need wrenches) and the fit has been calibrated specifically for your Lexus.
If you have no other choice but naked struts, you'll need a bit more work. Here's the video – keep in mind the guy doesn't have all the needed hardware as he's not using a full assembly.
Will my Lexus ride as it did with aftermarket struts?
I'll be honest with you: no.
No matter what strut replacement you get for your Lexus ES300, ES350, or GS300, things won't be the same as the factory ride. Even the closest aftermarket struts will shift away from the OEM softness. Yes, even the softer Monroe shocks.
But this is not that bad of a thing.
As I mentioned earlier, even if you grab a new set of struts (and their included components), you will need a firmer performance.
All other internal parts, especially on older Lexus generations, will be worn out. This is a key factor behind the Excel G strut design – tighter calibration to make up for wear and tear.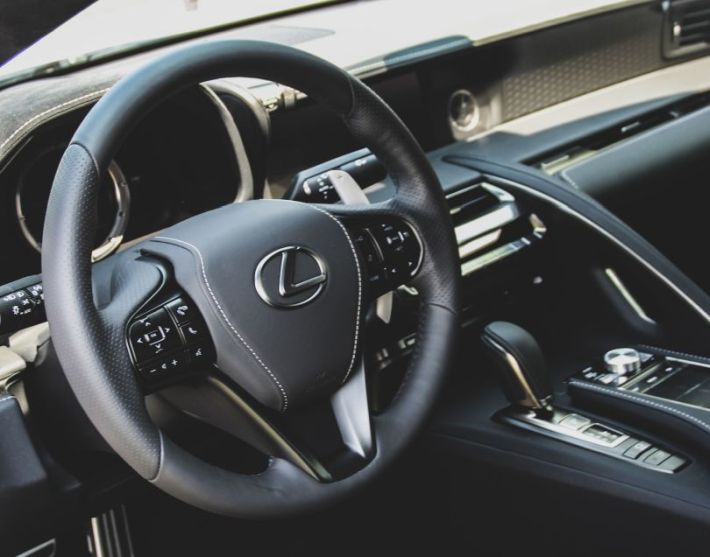 So if you go as smooth as things were with your stock struts, you won't have a good vehicle balance.
Unless, of course, you decide to swap out every single older component in your vehicle in the pursuit of this OEM utopia.
So, quite frankly, I think the increased firmness/rigidity of aftermarket struts is a blessing in disguise.
Product
Image
KYB Strut Plus Assemblies

Firmer control to restore wheel and ride alignment, as well as balance out worn-out internals.
Reinforced, thicker construction on the struts for longevity.
As close of a fit as OEM Lexus struts, easy to install.

Check Prices & Fit