Best Shocks for Chevy Avalanche & Colorado: What Works
Stylethority is reader-supported. When you buy through links on the site, we may earn a commission.
Ah, the Avalanche and Colorado. Two jewels from Chevy's wild early 00s. I feel a bit sad we could never see Avalanche's full potential – two gens were far too little.
Thankfully, the Colorado still marches on, well into its 3rd gen after very successful 2nd gen sales.
Anyways. If you're here, then your suspension's been wonky recently. Let's take a look at the best shocks for Chevy Avalanche and Colorado.
Looking at Avalanche shock options:
➥➥ Best value for stock-height Avalanche: A set of Bilstein 4600. Solid improvement over OEM handling, improved shock body durability, and tight control over uneven surfaces or crappy roads.
➥➥ For lifted Z71 Avalanche: Rancho or Bilstein. I prefer the Bilstein 5100 shocks – sturdier construction (zinc plating), better heat resistance, and Ranchos generally rust easier. Just the right firmness for extreme terrain antics.
➥➥ If you're on a budget: This set of Detroit Axle shocks. Nothing too spectacular, but it does the job on stock-height Avalanche. Miles ahead of typical knock-offs, but nowhere near Bilsteins.
What about Chevy Colorado shocks?
➥➥ Best overall for stock Colorado: I'll repeat myself and recommend you the Bilstein 4600s. For non-modded trucks, these are pretty much the standard when it comes to proper quality and performance. Long-lasting and heavy load-friendly.
➥➥ Best for lifted Colorado: Fox or Bilstein. The Bilstein 5100 (see example) is significantly cheaper and will be perfect for moderate off-road needs. In extreme cases, the Fox 2.0 is better – at a significantly higher price, however.
➥➥ Top budget option: You'd be surprised, but the Gabriel Load Carrier. Better than Monroes on a Colorado in terms of maintaining ride height and providing support on moderate loads. Great on stock height setups.
Product
Image

Best value for both Chevies

Bilstein 4600

Fantastic upgrade over OEM suspension - both in handling and ride feel.
Heavy-duty construction compared to mid-level competitors.
Compatible with heavier loads too; stock-height Chevy only.

Check Prices & Fit
The reason I'm a fan of Bilstein (and the majority of other people, too), is very simple. Plenty of companies have been outsourcing to China, Taiwan, or Mexico recently. Bilstein fights the trend by still doing everything in the US or Europe.
This includes production, assembly, and quality assurance. The price is slightly higher than mid-level competitors, but the quality and ride feel compensate for that.
How about we explore these options a bit more?
Best shocks for Chevy Avalanche:
Why these picks?
Alright, I'll be completely honest with you. In my opinion, the Avalanche is one of Chevy's best takes on stock height suspension. While the Z71 version for this model exists, I think other Chevy trucks do extreme off-roading better – including Colorado.
In any case, let's start off with the stock/OE-style aftermarket suspension on both the 1500 and 2500 Avalanche.
Stock height Avalanche setups
*
Plenty of brands exist: Bilstein, Monroe, Gabriel, ACDelco, Detroit Axle, etc.
The biggest face-off here is between value for comfort and budget. Depending on your preferences (and $$$), the best contenders here are Bilstein or Detroit Axle.
As I pointed out earlier, the Bilstein 4600 is king when it comes to stock suspension. Iconic with their yellow-on-blue design, the 4600s are firmer than OE shocks, but not uncomfortably so.
Several design improvements shoot them over competitors. The strut boots are sturdier, the lubrication capacity is higher, and handling over potholes is a total breeze. The 4600s are simply the pinnacle of stock height convenience.
–
Options like this Detroit Axle kit focus on affordable suspension with no frills.
The ride is slightly bumpier and the rebound rates are worse than 4600s. However, for an Avalanche that's going to be used mainly for commuting or highway driving, these are great.
An added bonus here is the convenience of installation. The Axle guys take care of this and as I've noted in other DA-focused articles, they're ahead of the usual Chinese knock-offs.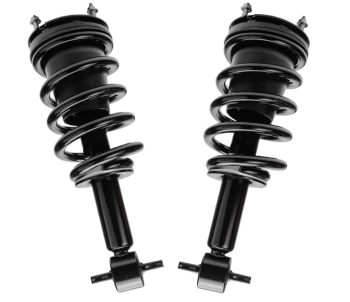 Detroit Axle OE-Style

A cheap take on aftermarket Avalanche suspension. Outsourced in China or Mexico, but at least the assembly is in the US. No-frills design and decent ride feel.
Lifted Avalanche options
*
In all honesty, the Bilstein 5100 is the most optimal pick here. Sure, you can go Ranchos too (or even Rough Country if on a budget), but both are subpar.
The 5100 shocks (check reviews) are simply too well-balanced in terms of price and performance. They're less likely to be affected by rusting/corrosion compared to the Rancho's RS9000. This is due to the zinc coating and improved debris/dirt protection.
At the same time, their rebound rates and valving tower above cheaper alternatives such as Rough Country or knock-off brands. Not to mention 5100s deal with heavier loads and heat resistance way, way better.
More expensive options include Fox 2.0, but as I said, I believe the Avalanche wasn't made for extreme off-road conditions. And slapping Foxes on a moderately modded vehicle is an overkill for your $$$.
Product
Image
Bilstein 5100

Zinc plated (not just basic coated) to improve heat resistance and extreme terrain capability.
Might feel stiff at the beginning, let them 'break in' for better comfort.
Great for moderate lifts and medium intensity off-road adventures.

Check Prices & Fit
Best shocks for Chevy Colorado:
Gen differences
The Colorado is a very interesting Chevy case – or the GMC Canyon, if you prefer its twin name.
Its first gen (2003-2011) was pretty much a very compact take on trucks. From 2011 onwards, the design moved onto prime mid-size truck beauty. This explains why Colorado models from the mid-10s sold extremely well.
This leads to some generational differences, however. Namely, I think more ambitious off-road shocks work way better with the 2nd or 3rd gen Colorado than they do for its 1st gen.
Anyways, let's get the stock height options done first.
Takes on stock Colorado
*
The best option for stock height Colorado echoes my Avalanche shock recommendations:
Yes, it's the Bilstein 4600 again. This one fits older Colorado (2004-2008 LT; 2006-2012 LS etc); for 2015-2021 Colorado/Canyon check out this 4600 set.
My sentiments are the same: the 4600s provide an improved, firmer handling over potholes. At the same time, their impressive quality assurance leads to longevity and flexibility both on-road and in mild off-road conditions.
Basically, all the perks of 4600 shocks shine even more on bigger Chevy trucks.
Product
Image
Bilstein 4600 (Colorado)

The improve in ride comfort and load support is even better felt on Colorado.
Strut boots and other hardware being better quality helps out with bigger Colorado setups.
Pretty much the best price-to-performance ratio among aftermarket shocks.

Check Prices & Fit
Budget options are slightly trickier on the Colorado/Canyon. Detroit Axle is an option again, as is TRQs distributed by 1A Auto.
However, I dig Gabriel's Load Carrier option the most. These are an alternative to Monroe's Load Adjusting series and rival ACDelco's air shocks I talked about in my Suburban shocks review.
The thing is, Gabriel's application on Colorado specifically makes more sense price-wise. These are some very affordable shocks for penny-pinchers.
At the same time, they deliver a stable ride feel, with improved-over-OEM handling. Not to mention they help out with heavier loads on the rear.
For somewhere around sub-$50 per shock in general, the Load Carriers are fantastic.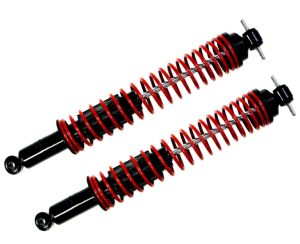 Gabriel Load Carrier

Cheap, but not crap. Helps out with ride handling and provides a nice, moderate support at the rear. Way ahead similarly priced competitors in terms of durability.
Unleashing the lifted Colorado
*
Now we're talking. While nowhere a full-blown Silverado beast, the Colorado can conquer extreme terrain with ease. Especially if we're talking about the post-2011 Z71 and ZR2 Colorado options.
My general recommendation here is a set of Bilstein 5100 for well-rounded off-road enthusiasts. For crazier extreme adventures, consider Fox 2.0 shocks or even the very expensive King shocks.
Cheaper options such as Rough Country shocks (an example) can work, but in my opinion, are inadequate for a proper off-road experience.
So, the Bilstein 5100s. With their zinc plating, they tackle moderate extreme terrain well, especially on bigger trucks.
Right off the bat, they might feel stiff. Give them a couple hundred miles to break in and they'll give comfortable handling over rough terrain.
What Bilstein 5100 does better than Rough Country and other cheaper counterparts is body sway reduction. These beasts keep things in check (and control) and aren't afraid to get dirty with their extra durable shock body.
Ultra-extreme off-road terrain, as well as higher lifts (4"+) might require something even more hardcore. We're talking Fox 2.0 (check example) or King shocks territory.
From the more premium take on Colorado suspension, the Fox 2.0 offers the best overall value. Unlike the 5100s, these are full-blown aluminum for even better heat dissipation.
Lighter, with longer travel, and even better lubrication capabilities, the 2.0 is an off-road monster.
Almost twice the price, too. Considering the application specifics, though, you won't go much cheaper than that.
In case you want something fade-free, resistant to debris and gravel, and a 'grippy' over-the-ride feel, that's your best bet.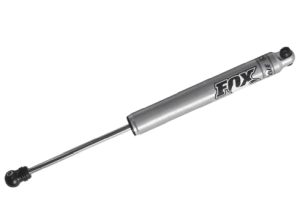 Fox 2.0 Shocks

A more luxurious take on off-road suspension. Debris and heat are not a concern with the Fox and its improved design and hardware components. Price might be, however.
Replacing your shocks:
Is DIY viable?
Yes, it is. Thankfully, neither the Avalanche nor the Colorado is a tough nut to crack. Well, at least compared to some other truck models (non-Chevy specific).
Here's a quick video of a dude changing his 1st gen Colorado (2004) front shocks. Keep in mind he has a 4WD version. As expected, the shocks he uses are Bilstein 4600s: