MOOG vs ACDelco: Comparing Two Aftermarket Classics
Stylethority is reader-supported. When you buy through links on the site, we may earn a commission.
MOOG and ACDelco are two pillars of the American automotive industry, that's clear. Each of them has been around for a hundred freaking years.
That's…two full generations of my family, put in perspective.
Yeah, outsourcing production has impacted their quality a bit. Both are still aftermarket staples, though. There's plenty to appreciate about their parts still.
Here's how I approach the usual MOOG vs ACDelco talk:
With ball joints, MOOG is the better choice. The reason lies in the integrated dust boots in models like this ball joint. Aside from this design factor, both brands' parts are pretty much identical.
With wheel bearings, I'd go ACDelco if you own a Chevy or GMC vehicle. Often, the Delco bearings are a buffed-up OEM version that fits and runs better. There's also the GM Genuine line for exact OE fit/feel. For other car makes, it's a toss (but I prefer MOOG).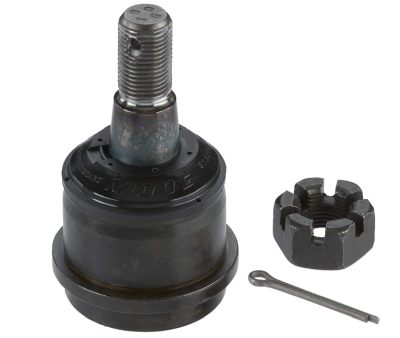 MOOG Ball Joint

Reinforced powder-coated metal for extra durability. A special feature is the neat dust boot that keeps contaminants out and helps with grease retention. Great quality overall.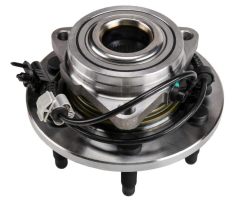 ACDelco Gold Wheel Bearing

A perfect upgrade for GM vehicles with a shot wheel bearing. Spectacular sealing capabilities, durable high-carbon steel, and multi-lip design for optimal functioning.
I'll be giving some pointers regarding control arms and other parts, too. But first, I have to discuss something that many people don't get right:
The difference in product lines both MOOG and ACDelco have.
Frankly, there's the good part, and there's the complete crap in both companies' product portfolio. And sometimes it's not a matter of ACDelco vs MOOG; but rather Product Line A vs Product Line B.
Let's see what's that all about.
Explaining the product lines:
ACDelco Gold vs Silver etc.
Some of you might have heard about ACDelco's two-tier system. The company used to divide its parts in two:
The ACDelco Professional line focused on premium products and better quality (here's an example). At the lower tier, the ACDelco Advantage line featured budget-oriented parts.
MOOG also sticks to two tiers. You have the standard parts, and then the premium Problem Solver series (check some top-rated parts).
In early 2021, ACDelco did a complete rebrand of its system. There are now three tiers and the MOOG vs ACDelco product lines look like this: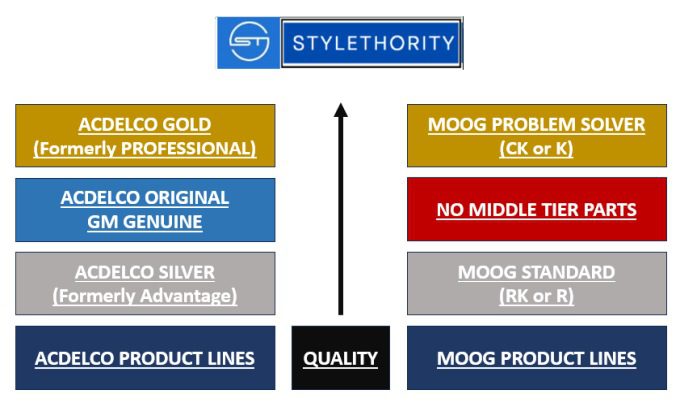 ACDelco Professional is now 'Gold', while Advantage is 'Silver'. The mid-tier includes exact OEM replacements for GM brands (GMC, Chevy, Buick, Cadillac) – the boxes are colored in blue.
The easiest way to identify MOOG's premium Problem Solver parts is the lettering. The standard MOOG line has RK on the control arms and (rarely now) R for the ball joints.
Should the control arms have a CK lettering, and the ball joints a K lettering, you're looking at a Problem Solver part.
My advice: Try to steer away from ACDelco's Silver lineup, or MOOG's standard products. A dozen bucks cheaper isn't the way to go for suspension parts. There's a significant difference between Silver vs Gold and Standard vs Problem Solver.
MOOG vs ACDelco ball joints:
A quick take
As I pointed out earlier, in many ways the ball joints these two put out are identical. They're a step ahead of cheaper competitors (like TRQ, for example) by doing the following:
Introducing a forged housing (ACDelco) or powder-coated metal (MOOG) for a tougher, more durable ball joint.


–

Putting some extra coating for better corrosion/dirt resistance.


–

Ensuring optimal greaseability with some body design updates.
Delcos used to not be properly serviceable/greaseable a few years back. This has been fixed and especially the Gold lineup fares great in this regard.
What MOOG excels in are those juicy dust boots they slap on the ball joints. The grease stays in, any contaminants stay out – this 'shielding' approach is what makes MOOG's ball joints the best option.
Some people skip over this and decide to go with Delcos because of the GM affiliation of the brand. That's fair too, if you own a Chevy truck, for example.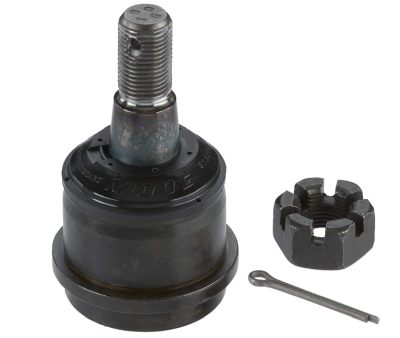 MOOG Ball Joint

Reinforced powder-coated metal for extra durability. A special feature is the neat dust boot that keeps contaminants out and helps with grease retention. Great quality overall.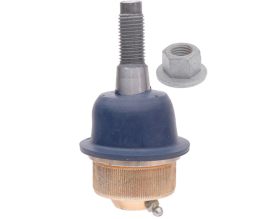 ACDelco Gold Ball Joint

Resilient forged housing for longer replacement part life. Fully greasable, and also extra coated for rust/dirt/corrosion resistance. Slightly below MOOG equivalents.
Control arms:
Some notes to consider
As long as you stick to MOOG's Problem Solver or ACDelco's Gold parts, both companies' control arms are kickass.
Several factors help them tower over their own budget lineups or cheaper competitors. The most important points are:
Extra coating that deals with corrosion and rust. Perfect if you're located in the Salt belt states or Canada.


–

More meticulously tested steel (impact + wear and tear) compared to the materials used in regular control arms.


–

Better greasability due to the advanced design process used.
It might be purely anecdotal, but I've heard MOOG's control arms run slightly quieter.
The brand does point out that their bushings are higher-grade to minimize noise. ACDelco doesn't mention this, so I guess it's an extra feature for the Problem Solver.
Product
Image
ACDelco Professional Control Arm

Rigorously tested for wear & tear and impact resilience.
Extra coated to keep corrosion and contaminants away for a longer time.
Greasable (like MOOG) to help out with long-term durability and responsiveness.

Check Prices & Fit
Product
Image
MOOG Problem Solver (KS)

Vastly minimized friction due to carbon fiber-infused bearings. Extra durable, too.
Quiet and smooth operation thanks to the improved bushings.
Extra layer of coating protects from corrosion and various contaminants.

Check Prices & Fit
ACDelco vs MOOG:
On wheel bearings
It gets slightly trickier here. I'd like to start with the warranty terms because ACDelco can be a complete hassle in this regard.
So, as I've mentioned in other articles, MOOG puts a 3-year warranty (or 36k miles) on their wheel bearings. This warranty is on a whichever-comes-first basis and isn't half-bad.
ACDelco's warranty on their wheel bearing and hub assemblies is so frustrating due to the re-branding!
The ACDelco Original/GM Genuine line (see a top-rated example) supposedly gets a Limited Lifetime Warranty. ACDelco Gold gets 24 months, and ACDelco Silver a mere 12 months.
In any case, I stick to my preference for ACDelco on GMC/Chevy vehicles. Yeah, the ABS cord is slightly clunkier but in most other regards, Delcos live up to MOOG's quality.
The biggest considerations here are the material quality (high-carbon steel), convenience (multi-lip design), and sealing capabilities (extra heat-resistant sealing). Both brands fare well in these regards.
Delco's benefit here is you have three tiers to choose from. Take the ACDelco Original/GM genuine bearings like this top-rated one. Marked in blue packaging, they're for those of you who want the exact OE fit and feel.
MOOG will always have the tinge of an aftermarket feel and might be clunkier to install on some specific GMC/Chevy/Cadillac vehicles.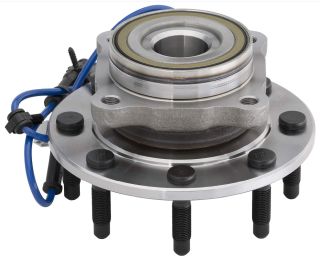 Moog 515058

A popular option that features a sturdier ABS-cord. Fantastic stud bolt coating for keeping things intact. Depending on which Delco you pick, MOOG's 3-year warranty might be better.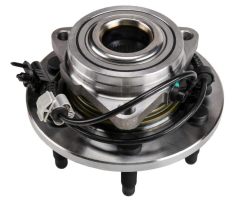 ACDelco Gold

A perfect upgrade to GM vehicles with a shot wheel bearing. Spectacular sealing capabilities, durable high-carbon steel, and multi-lip design for optimal functioning.
What about other aftermarket parts?
I can't cover all product lines, so I'll stick to a few cursory notes on some specific parts.
People inquire about MOOG vs ACDelco tie rod ends quite often. In all honesty, I haven't seen much difference here. Either one works, once again as long as you stick to the premium lines. Don't overthink it.
ACDelco does have a lineup that MOOG skips on offering much: shock absorbers and steering stabilizers.
In all honesty, they're a great replacement on a tighter budget. I've recommended them as an aftermarket shock option for the truck-based SUV classic, the Chevy Suburban.
Additionally, ACDelco's Genuine steering stabilizers are a decent mid-level option for any 2500HD truck.
ACDelco also has an extensive line of brake pads and rotors. In some cases, they're great (the OE-fit line or the upgraded and updated Gold lineup). While not as performance-ready as higher-grade Powerstop or EBC brakes, the Delcos stick to OE-style performance.
Once again, this is a component MOOG doesn't have in its catalog.
It's tough to cover everything, especially if we're talking about two giants like MOOG and ACDelco. Not only do they have a lot of history, but they also feature extensive product lines and tier differentiation.
Considering how vast the topic could be, I hope I could help out even by a little bit. Remember, often it's not a matter of ACDelco vs MOOG parts, but rather an intra-difference between their own product lineups.
Personally, I like Delcos' re-branding efforts, but they also made things more confusing. I'd also like to see MOOG introducing a mid-tier line at some point.
For higher-end wheel bearing and hub assemblies specifically, you can consider other brands too. I have a post on SKF and Timken as options, and how they improve on some features.
Unfortunately, both ACDelco and MOOG have been somewhat impacted by both the COVID-19 logistic disruptions and outsourcing. Quality has declined a bit according to what I read/hear on discussion boards.
Then again, some of these quality decline reports I see are related to the 'bottom line' of both companies' catalogs.
As usual, I'm raising a call to, er, arms for all of you using either brand's aftermarket parts. Let me know about your experiences and observations – it'll help out Stylethority's readers too. 🙂