Wrangler Round-up: 936 vs 13mwz vs 47mwz Jeans
Stylethority is reader-supported. When you buy through links on the site, we may earn a commission.
Cheap, sturdy, and packing a great future fade for those raw denim enthusiasts. That's how I'd describe Wrangler's jeans if you asked me. Popularity is a prize to be earned, and the brand has earned it well.
Here's the deal, though. I've seen many conflicting, if not outright mistaken articles on Wrangler's most popular jeans.
In the name of accurate info, I'm writing this post on Wrangler 13mwz vs 47mwz vs 936 jeans. Basically, the holy trinity of the brand's denim clothing.
Heads up: If you're too busy to read me rambling on for hundreds of words, here's a quick outline of their differences.
Product
Image
Wrangler 13MWZ

Classic original fit jeans.
High rise, with convenient, easy to use pockets.
Great price to durability ratio.

Check Price on Amazon
Product
Image
Wrangler 936

Tighter slim fit jeans.
High rise design, similar to 13mwz.
Makes short legs appear longer, but tighter around the ankle area.

Check Price on Amazon
Product
Image
Wrangler 47MWZ

Regular fit jeans, spacier around the waist.
Mid rise fits well any body type or leg length.
Improved front pocket design & more durable ring-spun denim.

Check Price on Amazon
With that out of the way, let's dig deeper into the differences between these three takes on denim goodness.
Wrangler 936 vs 13mwz vs 47mwz:
Core differences
First things first: as you saw in my comparison tables above, these have a fundamentally different fit.
The 936 jeans have a slim-fit design. The 13mwz is as original and the 47mwz is regular.
Now, everybody has fit preferences. I dislike slim jeans, for example. But fit alone won't ensure the denim suits you and feels comfortable.
What matters equally is the rise. The rises on these jeans aren't designed the same either. While 13mwz and 936 feature a high rise, the 47mwz are essentially mid-rise jeans.
What does that mean?
Well, the 47mwz jeans are the best pick if you want something standard-fitting. Mid-rise jeans are compatible with any body type and any leg length.
If you are very tall or have a bigger butt, the higher the rise the better. Same if you're short but also wider at your midsection. The high rise 936 also makes shorter legs appear longer.
I've compiled a short info sheet on other important design differences:

You should consider leg opening too. Being slim fit, the 936 has a narrower leg opening which means the jeans will be tighter around your ankles.
Looking for sturdy cowboy jeans for ranch work or riding? No worries, all three jeans fit properly over boots so you won't be fumbling around when working on your everyday tasks.
Another important factor I'd like to cover is the pockets.
It's no secret Wrangler has absolutely magnificent pocket design. But to what extent do you plan on using the pockets in your daily life?
I'm asking you because due to their design, the Wrangler 936 jeans have tighter pockets. If you'll put stuff back there, consider the 13mwz or 47mwz. Both have more flexible, easy-to-use pocket areas.
However, the 47mwz feature the best pockets and I'll explain why in the next section.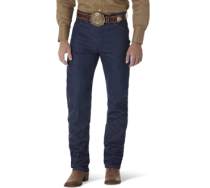 Wrangler 13MWZ

The most classic take on denim jeans you can get from Wrangler. Cheap and sturdy.
Wrangler 47mwz:
Is it really that much more premium than 13mwz?
So a decade ago Wrangler got the 47mwz jeans out. Lots of marketing speak about premium quality, massive improvements over the classic 13mwz rigid denim…
To what extent is it true?
Well, to a decent one! Now, both the 47mwz and 13mwz use broken twill denim that's 100% cotton. The '20% longer lasting' slogan is rooted in the fact that 47mwz jeans have been extra ring-spun for added durability.
Back to the pocket thing from before. While the back pockets are similar, the 47mwz improves over the 13mwz on the front.
The updated jeans have front pockets with a larger scoop. Essentially, you can carry more stuff inside. The 13mwz front pockets were a little too small for the modern man, be it cowboy or urbanite.
You also have a wider watch pocket that can now fit either your phone or some gadget you'd need for outside work.
With improved seams, better ring-spun denim and these pocket design improvements, the 47mwz is actually a well thought-out product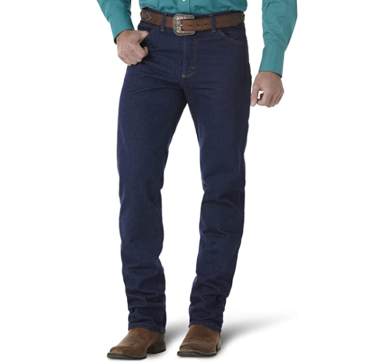 Wrangler 47MWZ

Well worth the upgrade. Spacy pockets, tougher denim, made for the modern day cowboy or workwear fan.
Do the Wrangler 936, 47mwz, or 13mwz fade well?
I admit sometimes the true enthusiasts go overboard for my personal taste…But fading is important when it comes to jeans. There's something about faded denim showcasing the hard work you've put in while wearing this specific pair of jeans.
Among other things, Wrangler denim is great because of the amazing fading you get for an affordable pair of jeans.
Raw and rigid, comfortable and cheap, and fades well? That's a good piece of denim clothing if you ask me.
Here's what user kelso_boy has showcased in this Reddit thread. This is a brand new pair of Wrangler 13mwz compared to the fade of a 2-year 13mwz: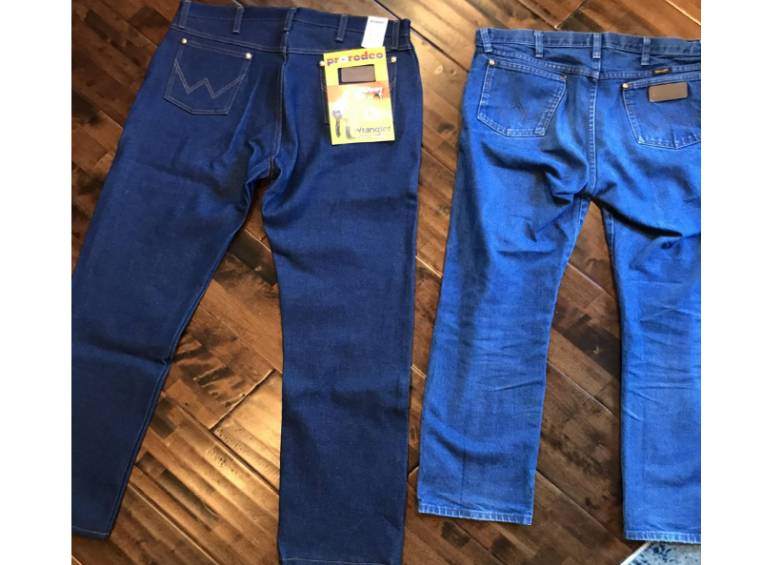 These have been worn 3 days per week and washed once weekly. So if you have a more intensive regime and more ranch work in the sun, you'd see even more advanced fading results.
So is there a best pair of jeans between the Wrangler 936 vs 13mwz vs 47mwz?
Obviously, the improved materials and pocket design of the 47mwz look the best. However, it all boils down to your preferences in terms of fit, rise, and tightness around the ankles.
While 13mwz and 47mwz are very similar, some people actually prefer the classic feel of the 'older' 13mwz. Obviously, the price is also better.
If you'll be doing a lot of tough-n-dirty yard work, tasks around the ranch, etc. you might prefer the 13mwz as you'll go through them pretty quickly. Keep in mind that both the 13mwz and 936 also have fantastic pre-washed versions I've covered separately.
If you want something really, really cheap you can consider Rustler jeans too.
They're produced by Wrangler as I've written in my Rustler vs Wrangler post. Very cheap and, honestly, at a rather lower quality than any of the three jeans I talk about here. Perfect for dirty outside work, though.
I believe this post clarified some misconceptions about these three pieces of Wrangler denim clothing. If you have any additional questions, just let me know in the comments. I'll do my best to help out!