Rustler vs Wrangler & Who Makes Rustler Jeans
Stylethority is reader-supported. When you buy through links on the site, we may earn a commission.
It's a bit funny how this article on Rustler vs Wrangler came to be. A few weeks ago I had a friendly argument with a person close to me on the topic of work jeans. He insisted that Rustler is a stand-alone company and a direct competitor to Wrangler.
He wouldn't budge until we thoroughly checked who actually makes Rustler jeans.
It's a bit of a rabbit hole so let's go through the details together. I'll also discuss why I think Rustler jeans like the Classic Regular Fit are a better choice sometimes.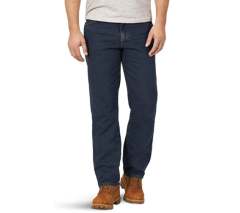 Rustler Classic Regular Fit

Cheap, yet well-made straight leg jeans. No-frills, just pure denim for the working man.
The quick answer would be Kontoor Brands, but that's not where the story ends. Thought you've heard the name before?
You probably have, as Kontoor Brands is also the manufacturer of Wrangler jeans. Going further, if you check out Rustler's site, it's a subdomain of Wrangler – rustler dot wrangler dot com.
But Kontoor Brands isn't a stand-alone entity. The company is a spin-off from VF Corporation, and a pretty fresh one at that – the spin-off happened in 2019.
Kontoor has an exclusive focus on denim apparel. Aside from owning Wrangler and Rustler, they are the company behind Lee and Rock & Republic.
The mothership VF Corporation has a hold on several other leading workwear brands. They acquired Dickies in 2017, and Timberland shoes also fall under their umbrella. VF is also active in the outdoor segment, where they own two leading merino wool brands – Smartwool and Icebreaker.
Now that is a handful of acquisitions, ain't it? Here's a quick chart I drew up to illustrate the connections better: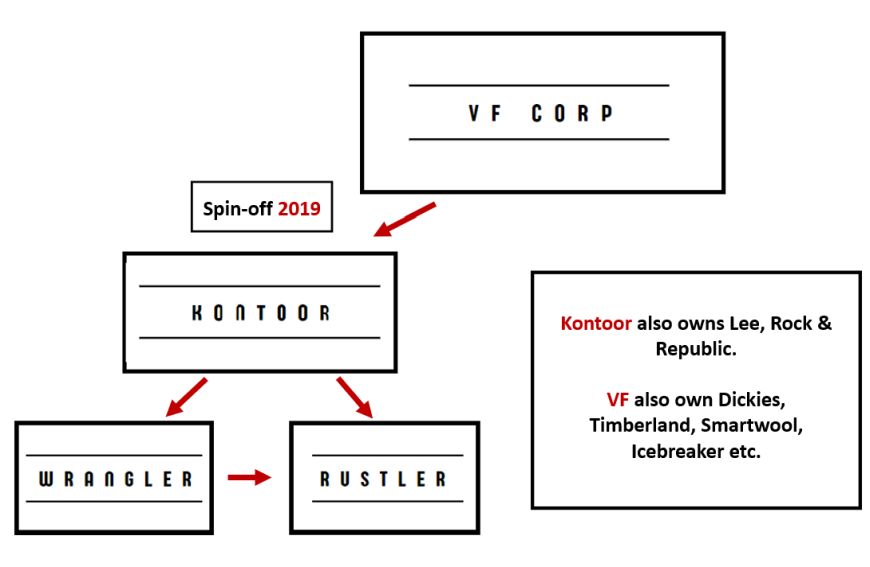 So in short, both Rustler and Wrangler jeans are owned by the same company.
Fun fact: Kontoor is a word play on contour, as their brands try to accommodate your body in the best way. Another fact of trivia: VF Corp also owns several outdoor brands for merino wool, including Smartwool which I have a review on.
Now let's see how they compare to each other.
Rustler jeans vs Wrangler:
Which brand is good for what?
Let's be honest here: neither of the two jeans brands is in the premium denim segment. Both are affordable choices that focus on cowboy-cut jeans or classic, clean denim.
I mean, everybody knows Wrangler's 13mwz cowboy jeans – they're basically an institution by now.
You'll most probably use both Rustler or Wrangler either for ranch work, some tough battles with backyard maintenance or just to be comfy in simple regular-fit jeans.
Personal recommendation: I really like the Wrangler Authentics line and specifically, the classic 5-pocket regular fit jeans. They're a step above the usual (cheaper) Wranglers and very, very comfortable.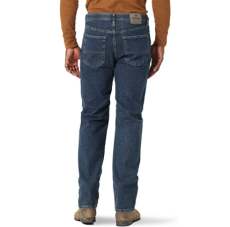 Wrangler Authentics Regular Fit

Best bang for your buck Wrangler jeans. 5-pocket design, slightly stretchy denim for added comfort, and better cotton materials.
Back to Rustler…to some, the brand's jeans are stupidly cheap. Some refer to them as 'Wrangler's lower tier' even.
Which, obviously, raises the question of whether they're any good.
My answer would be: good for what?
I've always thought of Rustler as a great pick if you know things are going to get ugly and dirty at the ranch or at your job.
You'd use them for some time and then discard them after all the wear and tear gets to them. They're cheap enough to make it worth it.
Wrangler is better for lighter ranch work or for casual socializing where you want to have a basic, but presentable pair of jeans.
Cheaper than some other denim brands, Wrangler blue jeans nevertheless look good and are very comfortable. With some updated models (like the newer 47mwz jeans I've discussed here) you also benefit from convenient pockets with extra space.
One big difference between the Rustler jeans fit compared to Wranglers:
Rustlers are slightly tighter at the waist. Keep this in mind if you prefer to have more space. I know some people prefer a tighter fit, but this never worked for me.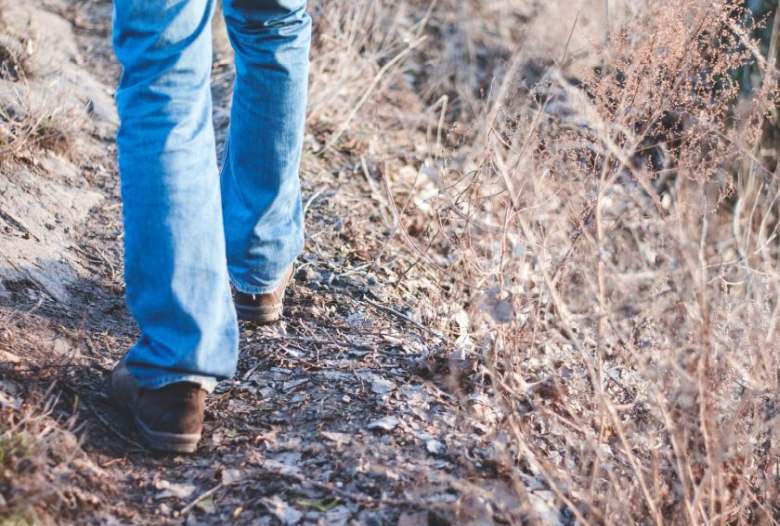 Are Rustler or Wrangler jeans made in the USA?
For Rustler – that's a straight no. Maybe a few years ago (read: a decade) some of their production might have been local. With economies of scale and at that price, you're getting Mexican or Chinese manufacture.
(Mostly Mexican in recent years, considering the impact of COVID on far-away logistics).
Things are slightly different with Wrangler, though.
Some of their jeans actually involve local manufacturers like the Wrangler Rooted Collection – you can check their top seller Bootcut Jean.
Wrangler Rooted features denim made of locally grown cotton (in Texas) which also comes from sustainable agriculture. Probably not all parts of the manufacturing process are made in America, but at least you know you've got quality materials as the base.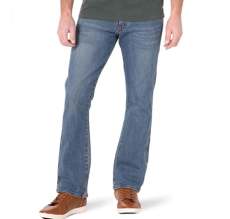 Wrangler Texas Rooted

For the fans of local-made jeans. The premium Wrangler collection, featuring Texas-grown denim for a durable, yet comfortable experience.
Where can I buy Rustler jeans?
Rustlers are very easy to get on both Walmart and Amazon. Both storefronts have diverse jeans lineups  – the Amazon collection has significantly more customer reviews though. You can check the Rustler collection here.
If you're not fond of either, you'll probably find some pairs of Rustler blue jeans at your local Kmart.
Crazy to think that an evening argument with a friend can turn into a full article. I hope I could help you out with, arguably, pretty important questions such as:
Who makes Rustler jeans and are they good? What's the Rustler brand history?
Is there a better jeans brand between Wrangler vs Rustler? In what situations?
Is any of the two actually made in America?
At the end of the day, both specialize in basic blue jeans. I've always thought of denim as boiling down do utility. And when something's utilitarian, you don't really want to spend too much on it, right?
If you've had experience with both brands, do let me know in the comments. Which ones did you get, did they fit you well, did they last long enough – stuff like this.
Cheers!