MSD Ignition Coil vs Stock: Worth it or not?
Stylethority is reader-supported. When you buy through links on the site, we may earn a commission.
You'd be surprised at the number of people who have asked me this exact question:
Is it worth it to go for MSD ignition coils over stock?
Most often it's a Mustang, Charger, or a 'Vette owner, like ~80% of the time.
As long as you run performance boosts, it's worth it for the few extra ~8-11 HP and better throttle response.
If your car is light on mods or you're keen on stock setups, you don't really need MSD.
Don't expect too much in terms of performance boost. Yes, even if you get the classic MSD Blaster 2.
More on that later. First, let's take a look at the two main types of MSD coils. They differ a bit:
Product
Image
MSD Blaster SS

Slightly weaker voltage ceiling at 40,000 max volts.
Makes up for that with better resistance (.355 OHM) for a hotter spark and extra power.
Compact & easier to install than canister-shaped coils.

Check Prices & Fit
Product
Image
MSD Blaster 2

Up to 45,000 voltage for raw power.
Lower peak current at 140 mA, however; worse resistance at .7 OHM too.
Slightly trickier to mount on some engines compared to the MSD SS.

Check Prices & Fit
In general, I'm more of a fan of the Blaster SS.
It's a newer type of MSD ignition coil, great for LS engines, Dodge or Ford muscle cars, or even Honda sports vehicles.
The SS helps run a hotter spark, is more durable due to the improved brass terminals, and the Rynite housing keeps it intact for longer.
MSD got some bad rep for some of its older coils that would misfire etc. They have stepped up production in recent years, though. This is why you see them gain popularity ahead of competitors: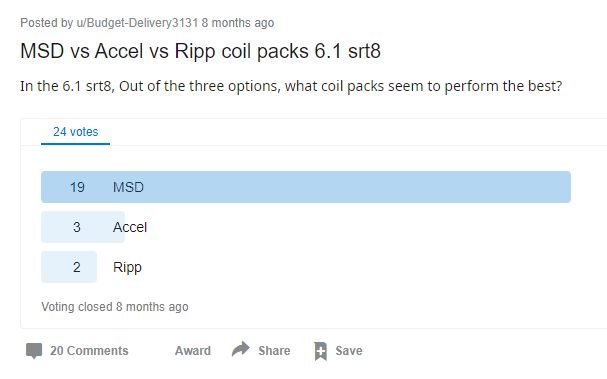 Taming your expectations:
MSD ignition coil vs stock performance
I know, I know. MSD ignition coils are red. They're branded as the mighty 'Blaster'. And, they have performance plastered all over them.
Naturally, this makes some people think you're getting some monstrous boost just by plugging them in.
Well, not really.
In general, expect around 8-11 HP boost over OEM in most applications. By most, you should assume the following conditions:
–
Measurement at higher RPMs where the MSD coils show their worth.


–

Presence of performance-oriented mods/boosts that pave the way for high output coils.


–

Fundamentally, you're looking for a hotter spark for your setup.
But let's be even more concrete with a specific vehicle application tested in practice.
Here's an example video from the boys over at Dynomite.
The test is performed on a 2006 Dodge Charger, with a ~9 HP boost detected on the vehicle when using MSD ignition coil over the OEM equivalent:
But why did I mention high RPMs and the existence of mods?
When going at higher RPMs, your vehicle's engine consumes way more energy. This calls for an ignition coil with a higher output that can 'jump the gap' and deliver optimal performance.
Stock stuff doesn't quite cut it here. So while yes, they're expensive, for such setups the MSD coil packs can be a viable performance boost.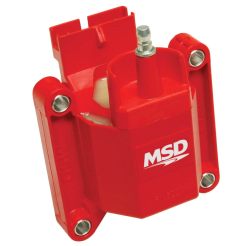 MSD High Performance for Ford

Classic MSD coils for Ford TFI ignition. 44k voltage, .680 OHM resistance for a mildly hot spark on your Mustang, F-150, Bronco etc.
MSD Blaster SS vs Blaster 2
Quite a few people prefer the Blaster SS over the traditional canister-shaped Blaster 2.
Why? After all, the Blaster 2 peaks at 45,000 volts compared to the weaker SS at 40,000.
The reason is simple: balance between enough performance and convenience.
The Blaster SS is way more convenient to mount, especially in engines with little wiggle room.
It goes beyond the compact shell design, too. The SS is designed so you can mount it sideways, right side up, or upside down. The decision depends on you – and your engine specifics.
The SS still goes up to 300ma, double the Blaster 2 with its 140ma. At a sexy .355 OHM resistance, the SS can also send more energy to your plugs.
In other words: more power, baby.
In comparison, the Blaster 2 coil has a .7 OHM resistance so it ends up being the lesser choice in terms of pure power.
A common point between the two MSD ignition coils is that they feature better heat dissipation than stock coil packs.
Where the MSD Blaster SS goes beyond are the brass terminals and reinforced Rynite housing.
This makes it more durable and less prone to misfires like older generation MSD ignition coils.
Product
Image

Better MPG & smooth throttle

MSD 6-Coil Set

A tamer take on MSD coil packs, focused on optimizing mileage.
Great for milder boosted setups or even close-to-OEM vehicles.
Fits most Chrysler, Dodge (Durango, Charger, Challenger) & Jeep (Wrangler, Cherokee, Grand Cherokee) vehicles between 2011-2021.

Check Prices & Fit
Who actually makes MSD ignition coil packs?
Alright, so that's a piece of lesser-known trivia it seems.
The owner of MSD is none other than Holley. Yes, the same Holley that makes carburetors for classic vehicles, among others.
Coincidentally, Holley also owns one of MSD's direct competitors in terms of performance ignition coils. Yes, I'm talking about Accel!
This performance-oriented family is joined by the mighty Flowmaster, another brand I've reviewed.
The acquisition by Holley happened back in 2015, two years after MSD was initially bought out by a capital investment firm named Z Capital.
In any case, the actual location of manufacture hasn't changed. MSD coil packs and relevant ignition components are still made and assembled in El Paso, Texas. Pure American-based performance parts.
How to install your new MSD ignition coils
Alright, so first things first: what's in the package?
Generally, your package should include:
The ignition coils, obviously.
The vibration mounts and hardware needed.
Male faston connectors.
Usually, an MSD spark plug boot + dual crimp terminal.
At least on paper, this is what you should get when grabbing a new set of MSD coil packs.
As far as the installation itself goes, MSD has a quick guide online. This is the guide – the instructions are easy to follow through and written in layman's terms.
As a whole, MSD packages are slightly more generous than lower-priced alternatives such as TRQ coil packs or others. Still, the kits might vary from vendor to vendor; always make sure to check things beforehand.