Thrush vs Flowmaster Mufflers: Full Comparison
Stylethority is reader-supported. When you buy through links on the site, we may earn a commission.
When you combine the history of both Thrush and Flowmaster, you get a full century of muffler action.
Isn't that crazy?
And while the legendary Woodpecker (Thrush) has the upper hand with 56 years on the road, Flowmasters ain't a new kid on the block either.
So then: which is the better, louder, and more durable among Thrush vs Flowmaster mufflers?
Summed up in short before I continue with today's post:
For its price, the Thrush Welded is the best bang for your buck. Retro sound like the muscle cars of the 70s, with less resonance inside the car too. Get it if you dig the old-school muffler rumbling.
Keen on going full pedal to the metal? That's the playground of Flowmaster Super 10s. Loud, deep, and visceral growls with modern anti-drone technology. The 10s last longer too due to their stainless steel body.
Product
Image
Thrush Welded

Best bang for your buck option.
Retro sound with balanced acoustics.
Less resonance inside the vehicle itself.

Check Price on Amazon
Product
Image
Flowmaster Super 10

More premium take with drone-reducing design.
Flowmaster's most aggressive top-notch sound.
More durable body due to stainless steel construction.

Check Price on Amazon
There's more to these two brands, though. In today's post, I'll be further covering aspects of their product line-ups such as:
An important manufacturing difference
Thrush mufflers vs Flowmaster: sound performance
Thrush Welded vs Flowmaster 40
What's the loudest Thrush muffler out there
Let's get to it. You can also navigate the Table of Contents:
An important manufacturing difference
Let me be clear: neither brand is a premium experience that you might find with mufflers like Corsa or Borla.
They don't need to be either, though. Thrush and Flowmaster focus on the mid-range market, with Flowmaster being priced slightly higher.
Why?
There's a very simple manufacturing detail that makes Thrush cheaper: aluminized steel.
Thrush makes its welded mufflers with aluminized steel instead of Flowmaster's stainless steel material:
Aluminized steel might be lighter, but it's also less durable than stainless. Once the coating peels off (and it does eventually), the muffler will start corroding.
If you'll ride your vehicle in more extreme road conditions, consider getting a Flowmaster for this added durability. Keep in mind that a Flowmaster will always be heavier because of its construction materials.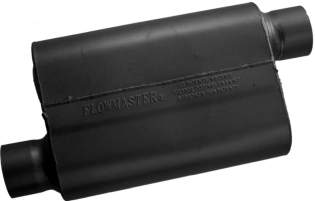 Flowmaster Super 40

Durable, won't corrode easy, won't rust easy either. Anti-drone improvement over the classic 40s. Balanced growls.
Let's move on to what interests you the most: sound.
Thrush mufflers vs Flowmaster:
Sound performance
So, both brands have extensive line-ups with at least 6-7 muffler products out there. I'll cover some of them, but I want to be clear:
Throughout their line-ups, both Flowmaster and Thrush have peculiar and unique acoustics, each brand for itself.
Thrushes keep it old school. I've heard some people describe them as a blast to the 70s past, with the lower-pitched, throaty growls of blazing muscle cars. No rasp whatsoever.
You won't find any of the 'tinny' sounds you can hear from several Flowmaster muffler types. As I said, it's retro roaring all the way.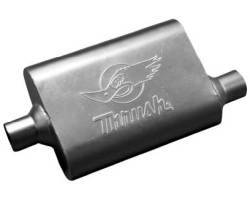 Thrush Welded

A Thrush classic. Zero rasping. Throaty growls in the veins of retro muscle cars blazing through the road. It's Back to the Future time, baby.
Flowmasters are also deep, but their sound is more…modern, in a way.
Is it deep? Yes, it is. Also, the upper end of Flowmaster mufflers is way louder and more aggressive than any Thrush.
(As expected, considering the brand's owned by Holley – the mothership of other performance brands such as MSD).
They do resonate more inside the vehicle, though. You'll feel the rumble, and that really is a personal taste. Some people hate that, while others have to feel the bassy growls inside for a full muffler experience.
Keep in mind that higher-end Flowmaster mufflers (the 'Super' line) have anti-drone tech. Their lower-end mufflers might drone more than any Thrush, though.
Here's a very extensive video comparing the sound of the classic Thrush Welded and the Flowmaster 40 muffler. Two timeless models.
Thrush Welded vs Flowmaster 40:
The same?
Quite a few people make the mistake of thinking the Thrush Welded and the Flowmaster 40 muffler are the same.
Do they look the same?
Yes, design-wise, they're pretty much the same classic welded muffler at a glance.
The devil lies in the details, as always. Here are the three main differences between them:
Flowmaster 40s are more durable. Remember the aluminized vs stainless steel materials I talked about earlier.
Thrush Welded drones less than the classic Flowmaster 40. If you get the Super 40s (reviewed here), though, you'll hear as little droning as possible due to the different baffles.
When revving up: The 40s might sound ricier than the Thrush.
Basically, these are the main differences. Well, that, and the price. While I dig the Super 40s the most, they are more than two times the price of a Thrush Welded.
Product
Image
Flowmaster 40

Stainless steel makes it more corrosion resistant and ready for long-time usage.
Drones more than the Thrush Welded (or the improved Super 40).
Can get ricy while revving or at higher RPMs.

Check Price on Amazon
Product
Image
Thrush Welded

Aluminized steel means higher corrosion risk in extreme conditions.
Not as resonant inside your car; less droning too.
Extremely cheap for its general performance, to be fair.

Check Price on Amazon
What's the loudest Thrush muffler?
Another thing some people don't know about is the actual loudest muffler from the raging Woodpecker.
No, it's not the classic glasspack.
A few years ago, Thrush introduced a muffler called the Rattler. Basically, it's like an improved glasspack: single chamber, straight through design for ultra loud and aggressive tone.
The difference lies in its heat resistance due to its aluminized construction and cooling coating.
You can check some Rattler reviews if you want.
Loud as it is, it doesn't get as loud and growly as the Flowmaster Super 10, which is the most aggressive Flowmaster.
Here's a full chart of Thrush mufflers, sorted from quietest to loudest: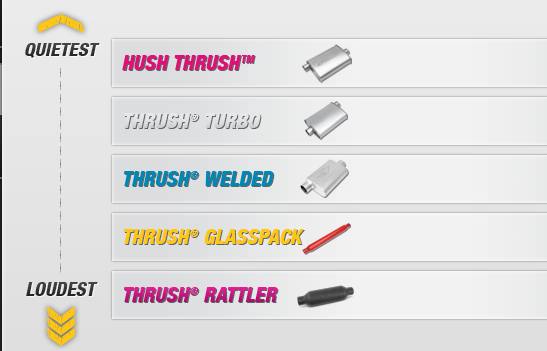 This is an important chart because I get people insisting Thrush Turbo is louder than Welded all the time. To add to this re: Thrush Turbo vs Welded debate, the Welded is way more durable and flows significantly better.
There's a reason the Turbo is so cheap.
For those of you into mild, mellow sounds, I recommend the Thrush Hush muffler.
It's a very affordable take on neighborhood-friendly purring. The holy grail of quiet mufflers is the Flowmaster 50 Delta Flow, but that's almost triple the price of the Hush.
Remember to factor in muffler design too if you'll be installing a hitch. As I've written in my leading hitch brand comparison, on some muffler setups you will have to tinker around to accommodate your new setup.
Don't get me wrong, both of these are great brands. For its price range, Thrush is a direct competitor to the higher-priced Flowmaster when it doesn't come to Flow's 'Super' series.
In fact, cheaper as it is, I believe the Thrush Welded will be preferred by muscle car enthusiasts or those of you looking to relive the spirit of the 70s/80s.
In the truly aggressive performance segment, though? I'd put Thrush right there to how Cherry Bomb performs vs Flowmaster. Close, but no cigar when compared to beasts like the Super 10 muffler for example. Especially when it comes to more modern V6 engines.
Even at their quiet line-ups, where the Thrush Hush muffler battles with Flowmaster 50s, the drone-reducing technology will deafen unwanted noise. A huge quality of life improvement.
It's common sense, though. Those Flowmasters are up to triple the price of a Thrush! Of course they'll outperform.
If you've run any of the Flowmaster or Thrush woodpecker mufflers, let me know. Which one do you prefer? What's your muffler or exhaust setup?
Always looking to hear from car enthusiasts who tinker around with their vehicle's exhaust system.