Flowmaster 40 vs Super 40 vs 50: A Comparison
Stylethority is reader-supported. When you buy through links on the site, we may earn a commission.
Let's be real here. Flowmaster mufflers are great, but having 15 variations of them is pretty darn confusing. There's a certain point after which you're overdoing it.
I'm starting a series of posts (with charts and sound) to tackle this confusion. Today, we'll be looking at Flowmaster 40 vs Super 40, as well as how the 40 Series compares to the 50 Series.
Right off the bat: The Flowmaster Super 40 is the most fun to have muffler. It has a deeper, aggressive roar that doesn't drone inside the cab. Its rich bass profile is what makes a street vehicle feel complete.
Product
Image
Flowmaster Super 40

Achieves a deep, richer and bassier tone than the regular 40.
Aggressive power on the outside; more balanced sound inside the cab.
Aimed at street performance setups and hot rod beauties.

Check Prices & Fit
You are in no way limited to just the Super 40, of course.
The loudest option is the Flowmaster 40 Series. It's aggressive both inside and outside, with a loud rumble that will rattle the streets.
For milder applications (passenger cars/commuters) there's the 50 Delta Flow. Gentle inside the cab, it packs a moderate punch with a gutty, balanced growl on the outside.
Here's a quick chart comparing Flowmaster's 40 and 50 Series contestants: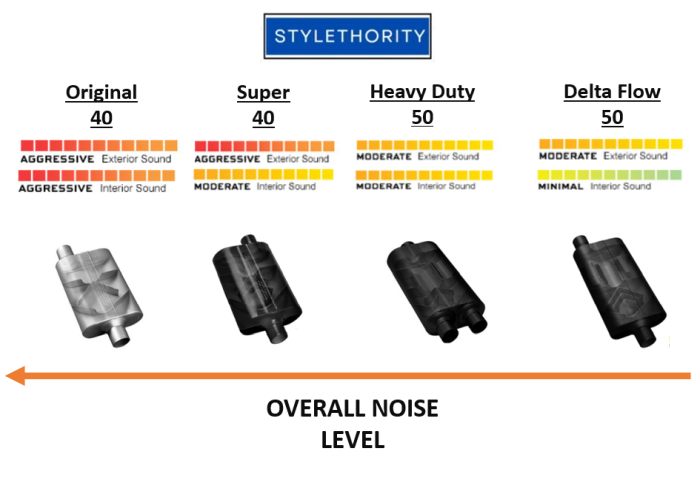 There's been a lot of debate between the two 40 Series mufflers. Plenty of people prefer the balls-to-the-wall aggressiveness of the regular 40.
I'm in the Super 40 camp, but it's always best to check for yourself. Here's a short, but clean video that compares how both of them sound on an older stock Chevy Silverado.
Flowmaster 40 vs Super 40:
Is there such a thing as too loud?
The classic 40 Series was always a staple for the Flowmaster lineup. This muffler is designed to pack the biggest punch among the market's mid-range muffler options.
High performance to the max, the Flowmaster 40 is targeted at people who want it LOUD. The aggressive bite of this muffler is unrivaled. Angry roars that will let the streets know you're on.
The issue lies inside the vehicle, though. Aggressive as it is, the regular 40 can get…well, tiring. Its high noise levels cause it to drone quite a bit inside the cab. At one point, this can get irritating.
The Flowmaster Super 40 improves on two factors.
First, it retains the 40's aggressiveness but its design achieves a deeper and richer tone. Equally powerful, it simply sounds more mature and fuller.
Second, the design kills some of the interior drone you'd get with the classic 40. Toning down the noise levels makes the Super 40 suitable for loudness enthusiasts who still want to be comfortable inside the cab.
There's a reason why I've recommended it in other muffler-related posts.
Price-wise, the Super 40 is some 20-25% more expensive than the regular 40. Both are fully MIG-welded and you can get them either in stainless steel or aluminized steel.
In other words, they both share the same durability and quality construction. The difference lies in the interior sound levels and the exterior sound maturity.
Product
Image
Flowmaster Super 40

Achieves a deep, richer and bassier tone than the regular 40.
Aggressive power on the outside; more balanced sound inside the cab.
Aimed at street performance setups and hot rod beauties.

Check Prices & Fit
Flowmaster 40 vs 50 Series:
What does a 10 above mean?
So, what's the biggest difference between a 40 and a 50?
First of all, the number of chambers. Flowmaster 50s follow a 3-chambered design compared to the 40's 2 chambers.
Basically, this means that any Flowmaster 50 muffler will be quieter. That's a good thing if your area is clamping down on decibel levels…
…or if you're looking for a muffler to complement your daily commute/cruising vehicle.
The 50 Delta Flow is a prime example of a daily driving-friendly muffler. Its moderate tone is gentle and rich. It has just the right amount of mild bass.
Product
Image
Flowmaster 50 Delta Flow

Mellower, more nuanced and balanced sound than any 40s muffler.
Perfect for daily drivers with its lower decibel levels inside the cab.
Increased flow capabilities, as well as intelligent anti-drone technology.

Check Prices & Fit
The biggest difference is inside the cab, where the deeper sound meets lower decibel levels. Very comfortable for a daily driver.
Here's a wonderful video that showcases how Flowmaster 40 vs 50 Delta Flow sound differs:
Flowmaster 50 Differences:
Delta Flow vs Heavy Duty
I already touched on how the Delta Flow version of the 50 Series performs.
Let's talk about one overlooked and underrated member of the Flowmaster 50 family: the Heavy Duty muffler.
This one's a total unit. Larger than other options, its primary purpose is to deal with large displacement engines and tone down their noise levels.
The Heavy Duty 50 Series (see the most popular one) is made with heavy-duty trucks in mind. It's specifically designed for Hemi engine-running Dodge beasts, be it gasoline or diesel.
The three chambers are present here too, wrapped in a heavier, bigger body.
The Heavy Duty 50 has a louder rumble inside the vehicle. It flows less and isn't as gentle as the Delta Flow. However, it's not as loud and aggressive as the 40 Series either.
All in all, it's a great take as a balanced, semi-aggressive muffler for a daily driver truck. It's comparable to the Super 44 I've also talked about, with the perk of being specifically designed for big trucks.
The drawback is that it's twice the price of any other 50 Series muffler due to its massive design and application purposes.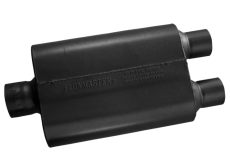 Flowmaster 50 Heavy Duty

Twice the price of regular Flowmasters. Specifically designed to deal with truck engines and balancing out aggressive power with nice-sounding rumbles.
Well, that's a portion of the Flowmaster line-up covered!
All of these are decent mid-range mufflers following the same design and manufacturing quality.
I complained about Flowmaster having too many mufflers, but there's a benefit to this too. The brand has nailed every single sound preference if you have some, but not much cash to spare. Flowmaster has more elaborate options than competitors like Thrush, for example.
If you've prepared the Big Bucks for your exhaust tinkering, Flowmaster might be too mundane for you. In this case, you can take a look at my post on Corsa and Borla. Significantly more expensive, their options take sound and durability to the next level.
As always with my posts, I'd be glad to hear about your own experiences. Let me know if you run any of the 40 or 50 Series Flowmasters and whether you're satisfied with their sound.