Superlift vs Rough Country: Key Differences
Stylethority is reader-supported. When you buy through links on the site, we may earn a commission.
My social circles are pretty big on lift kits. And while some guys can afford to show off their Rubicon Express or full-blown BDS kits, others just ride a good lift setup on an affordable budget.
Superlift vs Rough Country: both of these offer entry to mid-tier suspension options that will prepare your truck for lifted off-road action.
There are, however, several very important things to keep in mind. Not necessarily in the quality; both brands provide a great bang for your buck in my opinion.
The differences lie in several design aspects I'll discuss.
If you want a quick summary:
Get a Rough Country kit (

check all kits here

) if you want better blocks, shocks, and price. The N3 shocks coming with some RC setups ride way better than the stiffer Shadow shocks Superlift kits have.


–

Get a Superlift lift kit (

check all setups here

) if you want better welding construction and better springs on higher lifts like 4" or 6". The bump stops are separate so you can swap out the in my opinion generic shocks for something else. This also can make Superlifts more expensive though.
With these quick notes out of the way, let's dive deeper into the Rough Country vs Superlift suspension review.
Superlift vs Rough Country lift kits:
What RC does right:
#1 Rear block design
—
Interestingly enough, as a rather new kid on the block, Rough Country gained popularity exactly because of their blocks.
This is the first – and to some, a very important difference in how their lift or leveling kits are manufactured.
Most RC suspension setups come with fabricated blocks for the rear. Unlike other brands in this affordable price range, these blocks are made with an anti-axle-wrap design.
What does that achieve?
Basically, way better control of your rear axle. With how usual blocks are designed, you might have issues with the axle wobbling around or moving back and forth.
Rough Country has both changed the shape of their blocks ('wrapping' fit) and put some bonus clamps on the rear for better, firmer control over the axles.
You'd expect something like this from higher-end lift kits, but for an entry-level, cheaper suspension setup? That's a big thing indeed.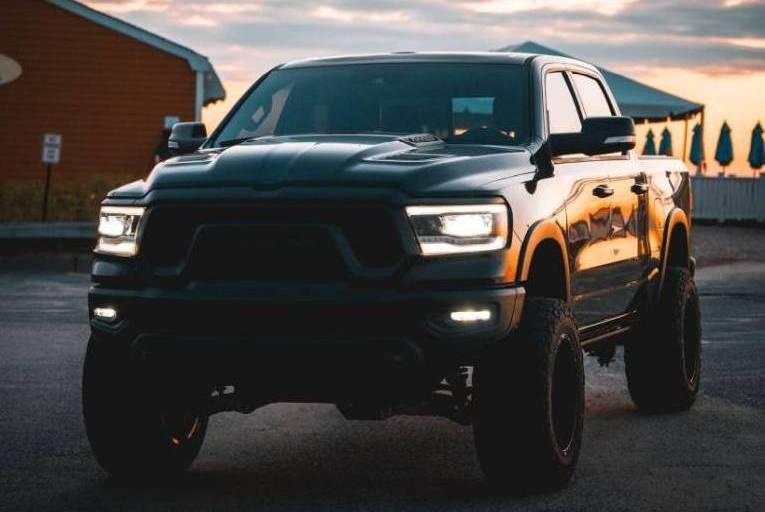 —
#2 Supplementary shock absorbers
—
Another good thing about RC kits is the shocks. Granted, not everybody cares about having new ones with their lift kit, but plenty of us do.
Rough Country supplies some of its lift kits with N3 shocks. They're no Bilsteins, but for a kit supplement, they really go above and beyond in terms of performance and durability.
N3s are your otherwise usual 54mm nitrogen-charged shock. They cool off quickly and come with a generous 10-stage variable valving.
Even better: RC includes these with their leveling kits too.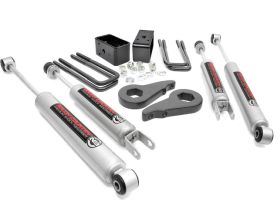 Rough Country 1.5-2'' Leveling Lift Kit

Best seller due to the easy bolt-on installation and diverse hardware included on a great price.
These are a very balanced middle-ground for both off-road and on-road driving. Compared to the Shadow shocks coming with Superlift kits, the N3 ride smoother, adjust to road conditions better, and the natural rubber bushings allow for long-term durability.
Here's a quick showcase video:
The whole N3 shock experience will be especially valuable if you want to do just enough on-roading alongside your off-road antics.
Some of Rough Country's highest-rated lift kits and leveling kits:
Superlift lift kits review:
When is Superlift a better option?
#1 Better for more extreme conditions
—
With close to five decades of history and a limited lifetime warranty: it's easy to see why Superlift has a slightly higher price tag than Rough Country.
I mentioned this previously, but with Superlift you'll notice an overall better welding construction. This is similar to other higher-priced brands (for example, ReadyLift's beefy spacer design). However, Superlift extensively focuses on off-road applications.
If you plan on installing a higher lift kit and your idea for off-roading involves some really extreme terrain conditions…Well, the more expensive Superlift options will perform better and stay durable for longer.
The welding is supplemented by a great leaf spring design. At lower lift levels – 1" to 1.5", you can simply grab Add-a-Leaf rears and bump your ride, especially if you've been towing a lot and it sagged.
At higher lift levels – 4" and above, you'll start noticing why properly manufactured leaf springs such as these make a night and day difference in terms of off-road driving.
If you're looking for flex with your Jeep, specifically, Superlift kits provide a better overall flexing experience too.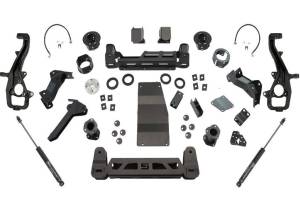 Superlift 6'' Lift Kit

Clears 35'' tires without any trimming and provides 100% secure welded construction for elevated off-road adventures.
#2 Some flexibility on components
—
It doesn't have to do with extreme conditions, but with a lot of lift kit setups, Superlifts include an adjustable track bar compared to only brackets included in the RC package.
This depends on the size of the lift, type of kit, and the applicable vehicle, though.
Regarding the shocks, there is something very important to note too. As I mentioned, Shadow shocks don't really ride as great as Rough Country's N3 shock absorbers.
However, the bump stops with Superlift are separated. Effectively, this means you can swap out the shocks from your lift kit further down the road and install new ones pretty easily.
RC's N3 come with integrated bump stops. In case you want to change them, you'll need to do a bit more work.
Last but not least, Superlift inches closer to the mid-tier of lift kits in terms of pricing and options. This means in some packages you'll get more comprehensive components.
Some of Superlift's highest-rated kits:
Rough Country vs Supertlift suspension:
Summary
There you have my thoughts on the whole debate whether Rough Country or Superlift are good lift kit brands. I've outlined a few differences which can make it or break it for different groups of off-road enthusiasts.
Generally, I do believe Rough Country kits offer tremendous value for their price. Jeep lift kit options like this one make RC very popular with the Jeep crowd – both JK Wrangler and the 1997-2006 TJ classics.
For people tired of their OEM shocks, the N3 included in the Rough Country setups will make a huge difference. They're still not as good as some Skyjacker alternatives, true – but for their price, N3s offer great value.
On the other hand, true hardcore enthusiasts looking for more expensive, mid-level lift options might prefer Superlift. The better welding construction can be seen (and felt) in higher elevated lifts like this one.
I know I've seen a few more extreme Chevy Silverado/GMC Sierra people running a Superlift. From the Ford F150, F250, or F350 crowd, I'd say I've seen a mixed crowd of Rough Country or Superlift users.
The same seems to apply to owners of 2nd or 3rd-generation Dodge Ram vehicles specifically.
Which brand have you done some off-roading with? What were your impressions? Drop a comment and let me know!