ReadyLift vs Rough Country: Fundamental Differences
Stylethority is reader-supported. When you buy through links on the site, we may earn a commission.
ReadyLift vs Rough Country: two established brands in the aftermarket suspension scene.
As you've probably seen, there's a big price difference between their kits.
What's not so obvious are the reasons. Are you overpaying for ReadyLift's name? A little bit, yes. But this isn't the only factor behind the gap in pricing.
Let's take a look at the main differences by segment.
➥➥ Leveling kits: ReadyLift (see top seller kit) often features bigger, monolithic 2" spacers (vs 1" spacer + 1" collar with RC).
This allows for easier assembly – you don't need to disassemble your struts/shocks. ReadyLift spacers are also designed to be closer to stock geometry.
➥➥ Lift kits: In general, ReadyLift rear components are beefier and more solid. On some applications (check this example) the rear also provides a higher lift than Rough Country equivalents.
I recommend ReadyLift if you're looking for a 3.5-inch lift kit or above. On lower lifts, a Rough Country kit like this one will work fine. Bonus points for RC's options with added N3 shocks, great bang for your buck.
A few popular setups before I dig in deeper:
Product
Image
ReadyLift 2.5'' Leveling Kit

Comes with track bar relocation brackets for seamless DIY experience.
Great for tires up to 35'', OEM-style ride feel and geometry.
Enhanced sound isolators between spacer & springs for quiet vehicle operation.

Check Price & Fit
Product
Image

Great pick for the budget-minded

Rough Country 2.5'' Leveling Kit

Standard entry-level kit for suspension beginners.
Quick and easy bolt-on installation, should take only an hour or two.
Comes with shock extension brackets, but lacks further components.

Check Price & Fit
➥➥ And some quite popular lift kit options…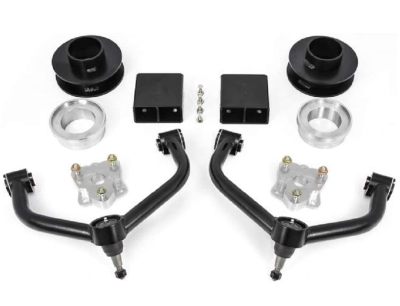 ReadyLift 3.5'' Lift Kit

CNC-welded front spacers and beefier rear spacers for tougher truck applications. Kit includes sturdy control arms, and achieves great clearance on bigger tires.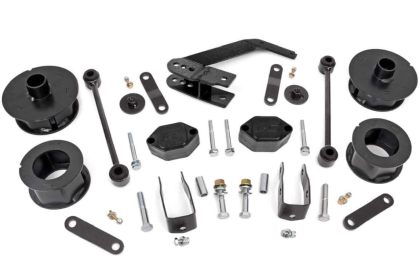 Rough Country 2.5'' Lift Kit

Affordable package with extra hardware included. Leaner, thinner construction for lighter vehicles. Great for bigger tires too, but might encounter rubbing with 35''+ tires.
All in all, Rough Country is firmly set in the entry-level aftermarket suspension considering the price. ReadyLift kits slide between entry-to-mid-level depending on their applications.
For heavier trucks and more extreme setups, ReadyLift's component durability and OE-specific geometry will add extra reliability to your vehicle.
ReadyLift vs Rough Country leveling kits
Let's get one thing straight first. I've heard a lot of rumors and speculations that the kits from both companies differ in terms of materials.
When it comes to their leveling kits, that's not true. Both ReadyLift and Rough Country leveling kits are made of billet aluminum. The T6061 alloy contains magnesium and silicone, to be exact: easy to weld, sturdy enough, and common in mid-tier automotive applications.
Some ReadyLift kits have the billet aluminum being CNC welded for extra durability.
While the fundamental material design is the same, there are two core distinctions functionality-wise.
First, the stabilizer bar spacers in ReadyLift leveling kits are closer to stock. Their design geometry was built to emulate OE applications with a slightly modded twist.
Second, quite a few ReadyLift kits feature bigger spacers. At 2", they differ from the Rough Country combo of a 1" spacer and a 1" collar as separate components.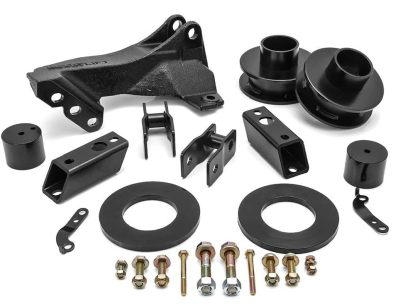 ReadyLift 2.5'' Leveling Kit

Extra sound isolation, more heavy-duty spacers, and optimal large tire clearance. Great for more aggressive and extreme truck modifications.
Effectively, this means that with a lot of ReadyLift spacers you don't need to disassemble your shock absorbers or struts.
Furthermore, a lot of ReadyLift kits also include sway bar brackets and extra components.
On most budget Rough Country setups (check the most popular), you don't receive any sway bar brackets in the bundle.
However, sway bar brackets aren't a must-have in any way. And additionally, some people prefer a lower price instead of the convenience of ReadyLift's spacer design.
If you don't care about strut disassembly or extra parts in your leveling kits, Rough Country is a great entry-level pick.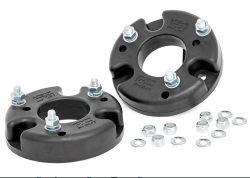 Rough Country 2'' Leveling Kit

A very barebones kit with spacers. Doesn't include rear lift blocks or extra hardware. Great for a basic leveling job on a budget.
Rough Country vs ReadyLift lift kits
Again, let's be clear about one thing: the front-end design of both brands is very similar. I'd go as far as to say it's the same.
Where things differ are their rear components.
So for example, on 3" or 3.5" lift kit applications, you'd get the same height at the front.
Looking at the rear, though, ReadyLift SST setups like this one usually provide slightly more lift. Where a Rough Country will give you a 1" bump, an SST will give you 2".
Additionally, there's the component manufacture factor too. If you put them next to each other, you'll see ReadyLift kits featuring a heavier, beefier, more solid construction. They're bigger.
Effectively, this means that even on applications where both brands offer the same rear lift, you'd be getting more solid suspension with ReadyLift. If you prefer leaf spring-based kits, though, I've explained why Superlift is the optimal alternative.
Again, do the stronger/beefier parts warrant twice the price? For some people, absolutely. Others won't be too impressed and will go for a cheaper Rough Country option.
My personal suggestion: on sub-3" or 3.5" lift kits, choose whatever you wish. RC can be extra convenient as their lift kits often feature added shock absorbers on a great price.
On higher 4" or 6" lift kits: try to go for ReadyLift SST options. The higher the lift, the more wear, and tear to your truck suspension. Solid components will make sure your setup lasts longer.
Product
Image
ReadyLift 4'' Lift Kit

Kit includes high-end upper control arms too.
Lift height is 4'' at the front and 2'' at the rear.
Awesome clearance and full support for larger (35'') tires.

Check Price & Fit
Product
Image
Rough Country 3.5'' Lift Kit

Knuckle-based kit design that's easier on upper ball joints.
Convenient bundle that also includes a set of N3 shock absorbers.
Fabricated, not CNC-welded blocks so not as tough as some other setups.

Check Price & Fit
Alright, so with the current economy and prices, an increasing amount of people have been DIYing their suspension.
It's hard to pinpoint an estimated time, but on most leveling kit setups, you should expect 2-4 hours of work. On lift kit it gets trickier, as it depends on the lift height and extra components.
Say, you've got a 4-inch Rough Country lift kit for a Toyota Tacoma or a Chevy Silverado with the shocks. That might take you 6+ hours depending on the year of your truck and your mods.
The same applies to some Ford F150/F250/F350 gens where lift kit DIY work is a bit more of a hassle compared to previous years. Especially if it's a, say, 6-inch ReadyLift lift kit.
As leveling kits are more popular and common, here's a quick guide to installing a Rouch Country 2" leveling kit for 2007-2021 Chevy Silverado/GMC Sierra:
Firmly rooted in the affordable (Rough Country) to slightly expensive (ReadyLift) categories, both brands offer perks and disadvantages, depending on your modding needs.
As I pointed out, I prefer having a more reliable, tougher construction on bigger trucks with highly elevated suspension. Basically, anything above 4".
I don't like Rough Country when it comes to coil spring-based kits. ReadyLift has some good setups there, but another mid-grade possibility is Skyjacker.
For leveling kits – especially the basic spacer ones, it's not that big of a dilemma. If your truck will be a highway/city street ride, the cheaper Rough Country levels things out neatly.
I do like the extras that come in some ReadyLift setups, though. The monolithic spacer design is more secure and (possibly) lasts longer on workhorse trucks.
Hopefully, I helped out at least a bit with my post. Keep in mind that both brands evolve and feature a lot of possible kit setups I can't possibly cover. I've discussed their most common/top-seller bundles. 
Let me know about your experiences and if possible, also point out the exact product you used. It'd be nice if we could get a small sample of reader-feedback going on.