Best Aftermarket Headlights for '01 Dodge Ram & 2nd Gen
Stylethority is reader-supported. When you buy through links on the site, we may earn a commission.
So, your 2nd gen Dodge Ram's future is looking a bit dim. The OEM headlights are getting weaker and weaker; getting too dangerous for road conditions.
Or maybe you'd just like a brighter, more modern take on your '01 Ram's headlights.
I've got you covered with three awesome aftermarket headlights for 2001 Dodge Ram. Unlike the usual plastic junk, they actually work fine. They also cover all 2nd gen 1994-2002 Rams.
Here are they in short – I'll review them thoroughly later on:
–
Most popular: AmeriLite headlights. These come in three styles (Black, Chrome, or Factory) and their plastic housing is higher quality compared to others.


–

Best warranty: Headlights Depot's model. There's a 1-year warranty on these (rare for such aftermarket parts). The manufacturer is also an American small business.


–

Cool look: Spec-D's headlights. Stylish black housing and a local business too. These don't come with pre-adjustable screws though.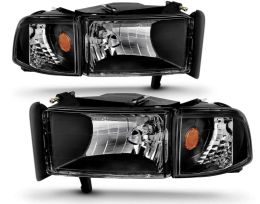 AmeriLite Headlights

Comes in three possible styles for your custom preferences. Improved housing over other models, includes bulbs too. Great bang for your buck.
As I mentioned, all of these aftermarket headlights will fit all 2nd gen Ram series. Specifically, this means they will be fine as:
94-01 Dodge Ram 1500 aftermarket headlights
94-02 Dodge Ram 2500 or 3500 replacement headlights
I'd say most Ram enthusiasts who I see looking around for replacements have had a 2001 Ram 1500 or were looking for 98 or 99 Dodge 2500 headlights.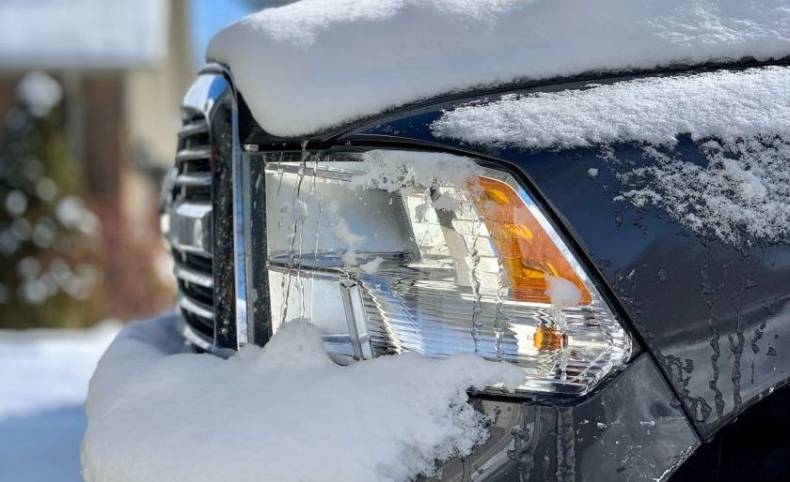 Please note: None of these will work for 2nd gen Ram with Sports package.
Enough talk, let's take a closer look at the three main contestants here.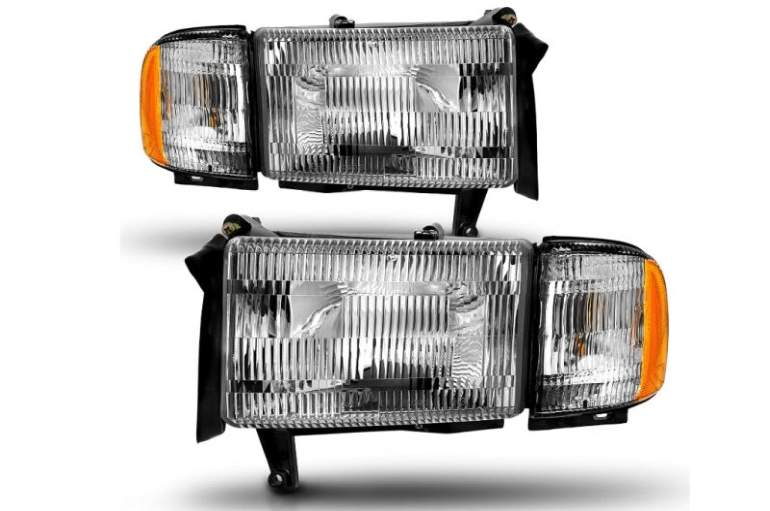 As I pointed out earlier, the AmeriLite sells like hot bread. There are a few particular reasons for their popularity.
First, they're the only aftermarket manufacturer flexible with headlight style. Their replacement product comes in Black, Chrome, or Factory style which looks just like your OEM headlights did.
It's good to not be limited to only one design. After all, tinkering around with your 2nd gen Ram means doing things the way you want them to be. I dislike the chrome headlight look, for example.
Obviously, pure looks won't get you too far if the replacement parts' quality is shoddy. Therein lies another factor for AmeriLite's popularity. Their headlights are:
Tested in harsher conditions: They've been put up against temperature, humidity & dust.


–

Wrapped in reinforced plastic housing: More durable than similar aftermarket brands.


–

Supplemented by corner lights & pre-installed adjustable screws: Many others don't include either!
I'd like to mention something else regarding the housing.
In some aftermarket headlights for Dodge Ram, the manufacturer doesn't apply proper sealing. AmeriLite has even sealed the turn signal housing – a part of their preparation for more severe weather conditions.
There's a reason why their product meets or exceeds all regulations in the USA or Canada.
The mounting bracket is also well-designed. It's actually bigger than other options, allowing for a better fit across models.
My only nitpick would be the lack of side marker bulbs. For the affordable price, though, AmeriLite definitely deserves the popularity vote!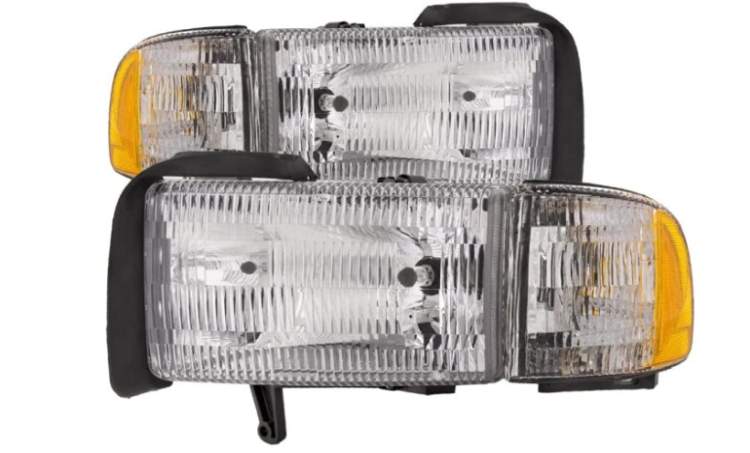 Headlights Depot is something to be fond of; it's always good to have an American family-owned business providing great quality aftermarket parts. Family-owned also means a small business, which makes post-purchase support easier.
Maybe that's why Headlights Depot gives you a 1-year limited warranty. A guarantee that's way longer than usual replacement part options.
This particular headlight replacement for 94-01 Ram 1500 (or 1994-2002 Ram 2500 & 3500, of course) comes only in chrome.
The lens is crystal clear here, and you're looking at some bright halogen action. The dual beam bulb's factory number is 9004 – the right fit for 2nd gen Dodge Rams.
Much like AmeriLite, this product is both DOT and SAE-stamped. It's in line with any US/Canada regulation and you're guaranteed brightness, quality, and long-lasting durability.
Unfortunately, you'll need to use your OEM marker light bulb as these don't come with turn signals included in the package.
The plastic housing and overall manufacturing quality are as they should be. These headlights aren't as sturdy as AmeriLite, but not everybody needs something for a harsh climate. I believe the 1-year warranty more than makes up for that!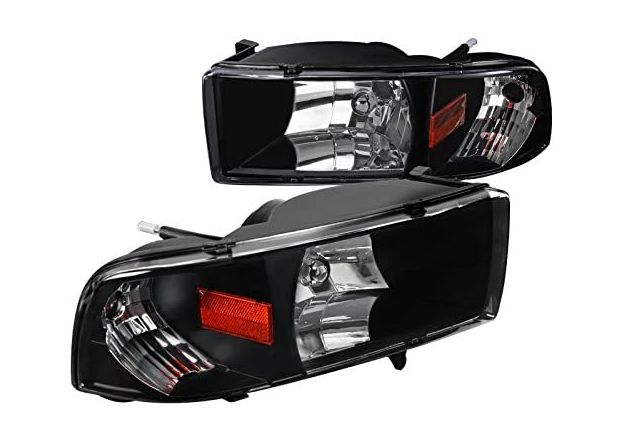 With Headlights Depot you had a choice of only chrome; Spec-D has their replacement headlights in black. The product looks sleek and slightly aggressive in the curves of the manufacture. I dig it.
Once again you have a clear lens for a crystal headlight experience. The warranty is somewhat shorter at 90 days, but this is within the acceptable levels for such aftermarket parts.
The good news is that you get a very neat amber corner reflector too. The bad news is that you don't get the pre-adjustable crews, though.
Spec-D is somewhat popular in the local DIY communities. The brand's aftermarket products are a little more expensive than some competitors, but the high quality makes up for that.
One thing I'd like to mention: these are great if you decide to run a LED headlight later on for your 97, 98, 99, or 2001 Dodge Ram. The front piece here can be detached easier than usual so you can replace it with the LED bulb of your choice.
A thing some of you might have an issue with is the rigidity. These 2nd gen 1500, 2500, or 3500 Dodge Ram headlights aren't really as adjustable and that could be a pain in the ass.
For those willing to make some sacrifices for cooler looks and LED-readiness, though…that might be pretty much OK. You'll be able to turn these into the brightest lights for Dodge Ram.
How to do a headlight replacement & installation on 2nd gen Dodge Ram?
The headlight removal process on 2nd gens isn't actually that hard. Basically, you just have to remove the 3 screws there, and also get rid of the gasket part. Once you've detached both, just gently pull the headlight out.
This applies for literally all 2nd gen models – from a 2001 Ram 1500, to a 99 Dodge Ram 2500, etc.
Sports package Ram models might have a different removal process. I've heard you'd do better to remove the bumper there, while with 'standard' 2nd generation Ram you don't need to touch the bumper.
As far as the actual replacement and installation go, I believe having a video would make for an easier explanation. Here's a very good video showing headlight replacement on 94-02 Ram 2500.
Similar logic applies to a 01 Dodge Ram 1500, or a 2nd gen 1500 from any year.
As I pointed out, there's a lot of cheap aftermarket junk floating on the market. Flimsy plastic housing that breaks in a month or two. Headlights that lack any sealing and get taken over by inside moisture, thus reducing their lighting capabilities…
The models I listed are truly the best aftermarket headlights for 2001 Ram. They extend beyond that, though – as they cover all 2nd gen models, from 1994 to 2002.
Normally, I'd advise you to do what the kind souls at Ramforum mention in this topic on replacement headlights:
Make an effort and do your own sealing on the aftermarket lights you've bought.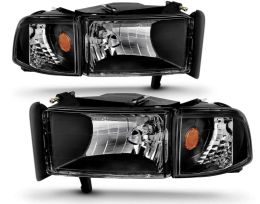 AmeriLite Headlights

Comes in three possible styles for your custom preferences. Improved housing over models, includes bulbs too. Great bang for your buck.
However, with any of the three brands I mentioned, this shouldn't be an issue. It never hurts to confirm they're properly sealed, but the brands I listed perform their own security process to ensure longevity and optimal performance.
Thanks for reading the article. Let me know what worked (or didn't work) for your own 2nd gen Ram beast!
Also, in case you'll be doing some off-road shenanigans, check out my guide to Ram 2500 steering stabilizers. Alternatively, for fans of older gen Dodge makes, I have this guide on NV4500 clutches too.