Pro Comp vs Rough Country: Is Entry Level Enough?
Stylethority is reader-supported. When you buy through links on the site, we may earn a commission.
Alright, let's be real. Neither Pro Comp nor Rough Country is up there at the top when it comes to aftermarket suspension.
However, both are very appealing to entry-level enthusiasts on a budget. Among their kits, there are some good deals.
Here's my take:
Rough Country excels at lift kits up to 4" – this one is a great example. RC has more solid rear blocks and a wider portfolio of vehicle applications. The price-to-performance ratio is better, especially on kits with shock absorbers included.
Pro Comp is a decent rival when it comes to budget leveling kits. Where PC shines brighter are sturdier leaf springs like these 5" springs. Durability put aside, the upper-grade leafs flex better and ride significantly less stiff than their RC counterparts.
Product
Image

Respectable leveling option

Pro Comp 3''/1'' Leveling Kit

Comes with all the hardware needed; 3'' front/1'' rear level.
5-year/60k miles warranty.
Generally great with up to 33'' tires, relatively simple to install/align.

Check Price & Fit
Again, keep in mind that both brands are pretty much entry-level options.
If you want something more substantial (read: a higher lift), consider alternatives such as ReadyLift. For the premium stuff, there's always BDS or Zone.
Let me expand more on the slightly outdated, but still relevant Pro Comp vs Rough Country debate.
Pro Comp vs Rough Country:
Lift and leveling kits
In general, leveling kits are less taxing on your vehicle and also 'simpler' in terms of manufacture/getting things right. Which is why I think both brands can be an option here.
Rough Country has more community feedback and vehicle applications. However, Pro Comp also does the leveling job well for its price range.
Lift kits make it a bit more complicated. Lower lift kits (up to 4" – see popular examples) are Rough Country's territory. Three reasons for that:
Anti-axle wrap design on the rear blocks. Less wobble, more stability. Not to mention they're more solid than what PC has.


–

Better performance for your $$$. This is economy of scale kicking in, as RC is pretty much the go-to entry-level brand for aftermarket suspension. The guys can afford to lower their prices more than Pro Comp without sinking overall performance.


–

Wider portfolio of vehicle applications. This involves more customer feedback – photos, videos, troubleshooting, guides etc. Pro Comp has been dated for a while, with way less resources for the post-purchase conditions of your kit.
As I pointed out, things get stretched even further in favor of Rough Country if you include their lift kits with the shocks included.
What would I choose for higher lift kit options?
Realistically, neither. 5'' or 6'' lift kits (or higher) require sturdier manufacture, way more detail to their components, and put outstanding stress on your truck.
I'd go for a brand with more attention to quality and detail. ReadyLift, and even Superlift are both balanced options. Premium players like BDS or Zone are even better – but their $$$ tag can be too much for many.
If you're hell-bent on picking between Pro Comp and RC, just make sure that you're looking at Pro Comp's Stage 2 lift kits. The older, classic Stage 1 is…disappointing to say the least.
Rough Country doesn't differentiate their higher lift kits among product lines.
As a whole, remember that blocks/spacers (which both brands rely on) are not too great if you go for higher lifts. On a 2" lifted truck it'll be fine, but a 4"+ lift will be more optimal with coils or leaf springs.
It's not a coil-based kit, but Custom Offsets do a great job at breaking down a 6'' Pro Comp kit in this video:
Rough Country vs Pro Comp:
Leaf springs and shocks
I'm a sucker for leaf springs. They ain't for everyone, but on some trucks (especially Ford's heavier line-up) they make or break a proper lift kit.
Maybe something's happened with your existing suspension setup and now you just need a set of leaf springs. In this case, Pro Comp's leafs definitely are a tad better than the rigidity and stiffness of the usual Rough Country options.
With great ground clearance, powder-coated for extra durability, and versatility in applications (1" to 6" depending on the product), the Pro Comp leafs would be my go-to pick.
Product
Image
Pro Comp 5'' Leaf Springs

Overall spectacular flex capabilities; significant improvement over OEM leaf springs.
Perfect as a complement to an already existing higher lift kit.
Great load rating too, at least compared to original springs on Ford trucks.

Check Price & Fit
What about shocks?
Pro Comp has their ES3000 and ES9000 shocks. Out of these, I'd kinda recommend the ES9000 as they're a cheaper imitation of Rancho's adjustable valving shocks.
Basically, the absorbers 'react' to what you drive on. This translates into a smoother ride both off-road or on the highway, and an increased longevity.
A few years ago, I'd have said the ES9000 shocks are better than Rough Country's Nitro absorbers.
After RC bumped up their manufacture and shifted to N3 shocks (see top-rated examples), I'd say RC is a better choice.
Especially considering the number of lift kits including them at a bargain price.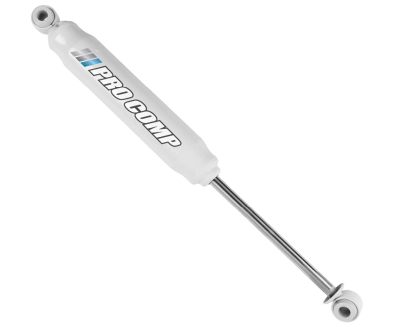 Pro Comp ES9000 Shocks

Pro Comp's higher grade shocks. Decent performance on a budget, with adaptive valving to tackle changing road conditions. Can ride stiffer than expected on some applications.
Product
Image
Rough Country N3 Shocks

Affordable take on off-road nitrogen shocks.
Improved rubber bushings over the previous N2 shocks.
3-year warranty and great compatibility with RC lift kits.

Check Prices & Fit
Neither brand excels at shock absorbers, though, if I'm to be honest. At a similar price range, you can consider some Skyjacker options.
In particular, I'm talking about the Black Max with its heat dissipation tackling harsher off-road conditions.
There's always Bilstein or Fox if you bump your budget and go for established higher-grade suspension players.
In all honesty, it's a bit of a shame how Pro Comp has fallen out of the spotlight. In the early 00s – heck, even up to 2010ish or so, you could see them being name-dropped all the time.
Since then, Rough Country has ramped up its marketing/community involvement, including blasting a lot of helpful guides and content on social media. The brand's been pretty much dominating the entry-level suspension scene over the past decade.
I know social presence doesn't translate into the quality of a suspension brand. However! It tremendously helps out with gauging what other truck owners have experienced with a particular brand. That means both the positive and negative aspects.
Lack of popularity and discussion doesn't mean subpar quality, either. Pro Comp is still decent in some departments like particular leveling kits or leaf springs.
As pointed out earlier, though, both brands focus on modest setups. If you plan on serious off-roading or some more intensive, monstrous setups – you better look elsewhere.