Koni vs Bilstein: A Comprehensive Comparison
Stylethority is reader-supported. When you buy through links on the site, we may earn a commission.
I've got to hand it to these two. While many other suspension brands outsource to cheap factories, Koni and Bilstein stick to quality in-house manufacturing.
This is why they cover more demanding applications, with sports cars and RV shocks at the helm.
Newsflash: I don't think there's a better choice per se between Koni vs Bilstein. I'll explain which one makes sense when, but let's start with a quick snapshot.
For sports car/track shocks:
➥ KONI Sport has the most 'sporty' feel valving, can be adjusted externally, and achieves the closest tire-to-track contact.
➥ Bilstein Yellow is the overall best value for a semi-sports ride. Non-adjustable and not supportive of spring mods, B6 nevertheless adds a nimble, 'springy' feel over OEM.
➥ KONI STR.T is the budget take on track shocks. Good for lowered springs, but rides less comfortably than the previous two picks.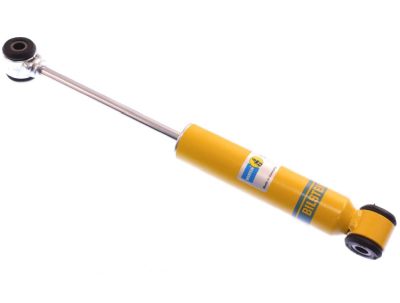 Bilstein B6 Yellow

The rational choice for balanced muscle cars or tamer track enthusiasts. Great ride and feel for the price, semi-sporty compression rates, and options for lowered springs available too.
For RV shocks:
➥ If you want the best price-to-performance ratio, grab a set of Bilstein B6 HD. These heavy-duty shocks are great for off-road adventures and heavy hauling but might feel too firm on light-loaded RVs.
➥ For a luxury take on RV suspension, check out KONI FSDs. Perfect for any load, these exhibit less body roll than Bilsteins and achieve smooth control with tight damping over the road.
Product
Image
KONI FSD

Unique FSD approach to damping makes them smooth for passengers; firm on roads.
Comfortable regardless of load capacity; especially great on interstates.
Exhibits less body roll than competitors.

Check Prices & Fit
Product
Image
Bilstein B6 HD

Silver is Bilstein's HD line of B6 motorhome shocks.
Made for heavy hauling, extreme terrain readiness and long-lasting usage.
Balanced ride feel, but might be too firm if you run a light-loaded motorhome.

Check Prices & Fit
KONI vs Bilstein RV shocks
Both brands are market leaders in the RV/motorhome segment. One of the reasons is the higher barrier to entry in this niche due to the stricter suspension demands RVs have.
Let's start with the KONI FSD shocks – the more expensive, premium take on RV dampers.
FSD is short for Frequency Selective Damping. This is a strictly proprietary tech for KONI; no other brand has this design.
Passenger comfort inside the cabin is guaranteed by soft, minimal damping frequencies. At the same time, FSD shocks keep firmer, strict control over external road irregularities.
Here's a quick illustration of these frequency distinctions: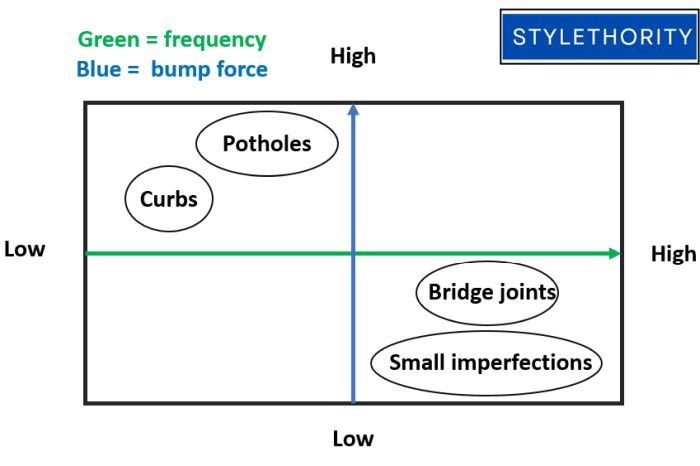 Depending on these frequency + bump force factors, KONI FSD adjusts the severity of its damping levels.
This makes FSD shocks perfect for both light-loaded and heavy-loaded RVs on both interstate roads or off-road environments.
The main drawback is that FSD shocks are almost twice the price of their Bilstein competitor.
Product
Image
KONI FSD

Unique FSD approach to damping makes them smooth for passengers; firm on roads.
Comfortable regardless of load capacity; especially great on interstates.
Exhibits less body roll than competitors.

Check Prices & Fit
What about Bilstein's B6 shocks for RV?
Priced more modestly, these are the favorite of any RV enthusiast looking for the best bang for their buck.
The silver B6 (check prices here) is the HD version. I recommend you get this if your RV/motorhome is 26′ or bigger. The HD version is calibrated for heavy hauling and tremendous off-road performance.
Bilsteins ride significantly firmer on lighter loads. On interstates, they won't be as smooth as FSD, but they won't be that rigid either.
If your RV is bigger, heavy-loaded, and sticks to extreme terrain, I'd say the B6 HD is even better than FSD.
As I've pointed out in my best motorhome shocks post, Bilstein B6 is the best overall value pick for the RV lifestyle. A fantastic price for the performance you get out of them.
Sports suspension overview
Bilstein B6/B8 vs KONI Yellow Sport
Alright, let's start with the two yellow shock absorbers here. That would be the Bilstein B6/B8 vs KONI Sport.
First of all, the KONI Sport. Now, this is the best track performance option – these shocks have the sportiest, springy feel.
Not only that, they are externally adjustable. This means that you can re-calibrate their damping without disassembling them from the car. The control knob you can use remotely stiffens them when turned counter-clockwise.
Their compression range is quite generous too: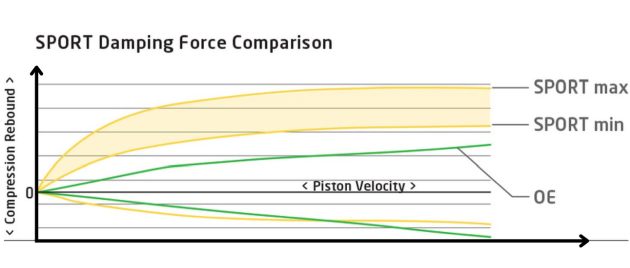 I'll be honest with you: no Bilstein sports shock has this external control feature. This alone makes them shine, and it gets even better when you factor in the full spring support.
From OEM to performance-lowered springs, the yellow KONI can be fitted into varied configurations on-track or off-track alike.
Last but not least, the KONI Sport is re-buildable. You can slap these on future tuning/custom vehicle setups with no issues.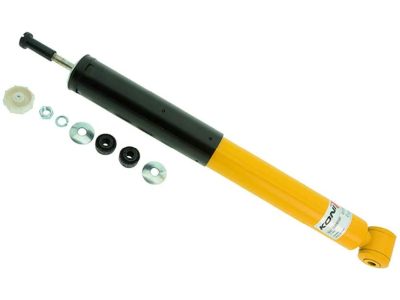 KONI Sport Yellow

The premium KONI take on pure sports suspension. Re-buildable, easy to adjust their damping, and great for mild track or heavy-modded setups alike.
So where does that leave the Bilstein Yellow?
OK, first, let's get one thing straight. Damping and valving-wise, there's no difference between the Bilstein B6 and Bilstein B8 Yellow shocks.
The only difference is that B8 is shorter and supports lowered spring tension. B8's shorter body avoids the risk of your piston bottoming out if you run sportier, low springs.
Bilstein B6 shocks are a balance-in-value option. On one hand, you get significantly more damping than any OEM sports car suspension. The high-pressure monotube design takes care of that.
At the same time, the B6/B8 is not balls-to-the-wall sportsy as KONI. Think of this as a shock that gives you some track suspension feel while retaining some of the OEM ride characteristics.
As I said, if you don't plan on any spring changes, go for the B6. If you'll be lowering your springs, grab the B8 so you don't hit the road in the wrong way.
Also, keep in mind that highly pressurized shocks aren't the best for lighter sports cars. Think Miata levels of light rides. In this case, a softer, lower-pressure shock like the KONI would work better for track performance.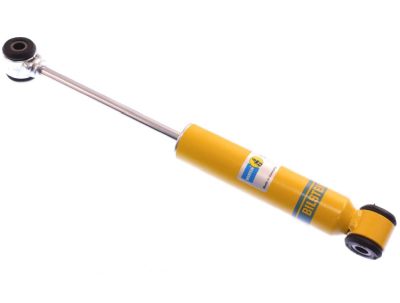 Bilstein B6 Yellow

The rational choice for balanced muscle cars or tamer track enthusiasts. Great ride and feel for the price, semi-sporty compression rates, and options for lowered springs available too.
As I pointed out earlier, the KONI STR.T is a budget take on sports car suspension. This is a low-pressure twin-tube shock that is OK for lighter vehicles and has decent performance.
In no way is STR.T comparable to Bilstein B6 or the KONI Sport shocks. The price tag reflects this gap in terms of performance too.
STR.T shocks aren't adjustable at all and are what I'd describe as semi-sporty. They're a notch below B6 in terms of sportiness, and way less 'track feel' than KONI Yellow.
The compression rates here are similar to the lowest setting on KONI Sport. This is a budget track shock that will feel uncomfortable on a daily driver, in all honesty.
The STR.T feels bumpier than Bilstein B6. On a tighter budget, though, these shocks still outshine the competition for BMW, Volkswagen, etc.
Product
Image
KONI STR.T

Great budget pick for sports car enthusiasts.
Semi-sporty feel for the right amount of OOMPH! out of your vehicle.
Damping rate is comparable to the lowest settings on KONI Sport shocks.

Check Prices & Fit
Both of these brands have a Limited Lifetime Warranty on their shock absorbers.
Yes, this includes both their heavy-duty RV shocks, as well as their suspension products for sports cars.
How come?
Well, this confidence in KONI and Bilstein products circles back to what I mentioned at the beginning of the article. Yes, it's the fact that both of these brands do not outsource their production.
Bilstein has factories and assembly lines in both Germany and the US. For their US operations, Bilstein produces things in their Ohio plants.
KONI, on the other hand, only sticks to European manufacture. Their production is centered in the Netherlands, from where the brand originates.
There are some logistic differences when it comes to how these two distribute their shocks in North America. Bilstein has a more hands-on approach.
KONI, on the other hand, works with a more limited number of representatives or distributors. I've heard they're very strict with who they pick. One of their more famous distributors is Safe T Plus – the leading manufacturer of RV steering stabilizers.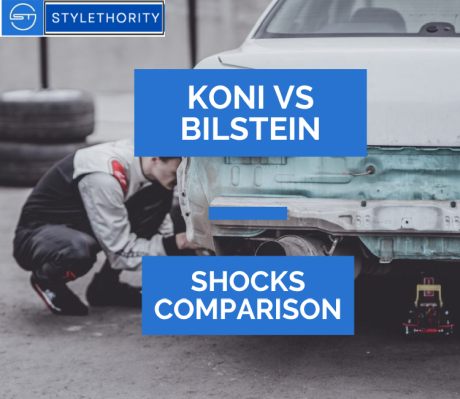 Probably my post would have been shorter, but both KONI and Bilstein have extensive line-ups of shock absorbers for different applications.
And beyond that, both brands have a very specific way of approaching vehicle suspension. That's why you'll see them targeting two very demanding and niche applications – RVs and sports cars.
You'd never see other big suspension players like KYB or as another example, the generalist king Monroe venture into these suspension sectors as much.
Ultimately, KONI prices its shock absorbers higher due to several proprietary tech improvements. For some, these factors could be a must-have. For others focused on the price-to-performance ratio, Bilstein alternatives can make more sense.
I've outlined the fundamental differences and specifics so you can make a maybe tough, but hopefully now well-informed decision. Let me know which one you went for – and how the shocks performed on your specific vehicle.