Flowmaster Super 10 vs 40 vs Super 44: The Noisy Trio
Stylethority is reader-supported. When you buy through links on the site, we may earn a commission.
Today's a great day to continue analyzing Flowmaster's lineup. Among their dozen or so products, we'll focus on comparing and listening to…
The Noisy Trio, the brand's most aggressive mufflers: Super 10 vs Super 44 vs the Original 40 Series.
These are three nasty mufflers that pack an aggressive punch. There are some critical differences between them, though.
Straight up: If you want the meanest sound of raw aggression, it's the Super 10 Series. Pretty much a racing muffler, it's as loud as Flowmaster gets.
Product
Image
Flowmaster Super 10

Flowmaster's most aggressive sounding muffler.
Nasty, noisy, pretty much a balls-to-the-wall racing grade beast.
Can be too loud inside the cab and lacks deeper bassy tones.

Check Price & Fit
However, the Super 10 is very loud inside the cab. I mean it. On street vehicles (non-modded too), it can also drone and sound slightly hollow in its rawness.
I suggest the Super 44 Series if you want something with a deeper tone. Powerful on the outside, its interior sound has less resonance and more mellowness.
Perfect if you want your daily driver to be more aggressive or you ride a moderately modded muscle car.
Here's Super 10 vs Super 44 on a beautiful Monte Carlo:
The Original 40 Series (see top-rated examples) is a notch below the Super 10 in terms of mean acoustics. Due to it not being Delta Flow, there can be some drone and crackles, though.
The bigger, two-chambered design of the 40 will achieve a slightly deeper growl, if you're into that.
Here's a sound clip comparing the Super 10 vs 40 on an older Chevy Blazer:
I'll be completely honest: I'm a big fan of how proportional the sound profile and tonality of the Super 44 series are.
This is a versatile muffler rich in acoustics, one of the latest in terms of Flowmaster design improvements.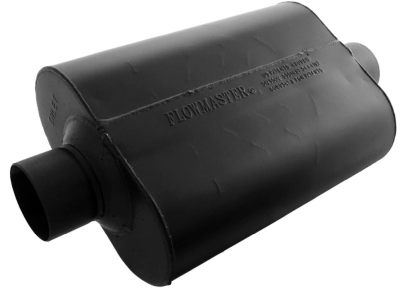 Flowmaster Super 44

The most balanced of the Noisy Trio. Deeper, richer acoustics and flexibility in applications. From muscle cars to daily driver trucks or SUVs, it sounds GREAT.
Flowmaster Super 10 vs 40 Series:
Is raw the right way?
Alright, so we're talking about Flowmaster's top two loudest mufflers here. The fellas even mark both of them as aggressive both inside and outside the cab.
How come there's a variation, then? What makes the Super 10 muffler that mean?
First, here's a very quick sketch of how the line-up fares on the noise scale: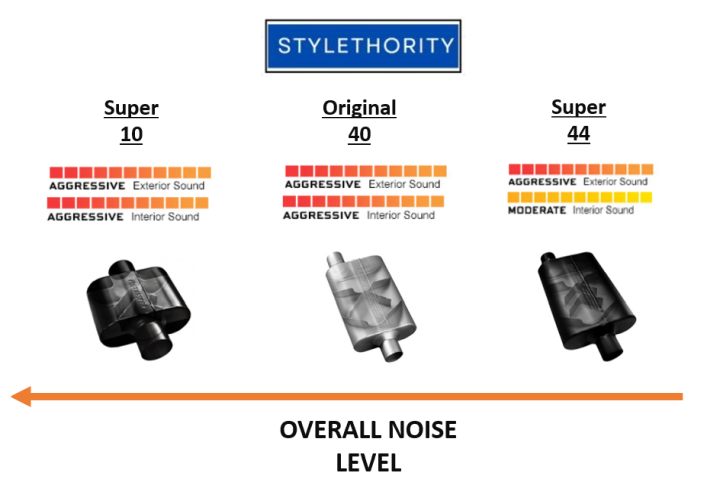 In any case, the nasty growl you have with the 10s comes from the single-chamber design. This compact buddy has its internals designed to growl like an angry beast.
The Flowmaster Super 10 is ~30% smaller than both the Original 40 and the Super 44, too. This allows the sound to distill its acoustics in a mean way.
The drawback is that the single chamber design doesn't give it a deeper, bassy tone. I know quite a few people who prefer to have these lower aggressive tones in a muffler. The Super 10 ain't it if you're looking for that.
In this case, better go for the Original 40 Series. Keep in mind that not being Delta Flow, it can drone slightly more.
Product
Image
Flowmaster 40

Flowmaster's poster child of noisy, angrily growling mufflers.
A sound beast at both idle and higher RPMs.
Not Delta Flow, so it can drone a bit more than Super 44, for example.

Check Price & Fit
Flowmaster Super 10 vs Super 44:
A balanced take on aggression
The Super 44 muffler is the most mellow product out of these three. Don't worry – the milder sound doesn't equal a dull, boring way to let your vehicle express itself.
The 44 Series has exactly the same external design as the Original 40. Meaning, it's ~30% bigger than the Super 10s.
By bigger I mean its length, not width. At 19'' overall length, it's a standard Flowmaster muffler. The Super 10 clock in at 12.5'' which is the most compact product the brand has.
Essentially, it once again boils down to a double-chambered muffler (44) vs a single-chambered beast (10).
The Super 44 sounds great at idle. It's gentle and you can feel the gradually increase in acoustic aggression when you start getting to higher RPMs.
So why is the Super 44 deeper and richer in tone than the Original 40, then?
Well, the Super 44 Series has some important internal design upgrades. The improvement in terms of torque, lack of internal packing, and other internal changes achieve three things:
It has a bassier, lower-pitched tone that enhances the sound profile of its growls.


–

Its resonance and drone inside the cab are minimized to a minimum.


–

It's perfect for daily driver trucks or muscle cars alike, modded or non-modded.
Much like Flowmaster's other updated mufflers, the Super 44 is also Delta Flow.
The double-chambered take on Delta Flow really works by reducing inside noise and giving more diversity to its tonality.
Product
Image
Flowmaster Super 44

The bassiest muffler in the Noisy Trio. Deep, rich, diverse growls.
Perfect for daily drivers or non-modded vehicles with its balanced acoustics.
Not much more expensive than either Super 10s or Original 40s.

Check Price & Fit
(Still, some people prefer running a Super 10 on some retro classics: a Chevelle running a 396 big block is a fitting example).
Considering other options
This is my second series in having a go at Flowmaster's lineup. As I've pointed out before, these guys have more than a dozen mufflers; each comes with its peculiarities.
If the sound clips have proven to be too much noise for you, don't worry. Head over to my comparison of the 40 vs 50 Series. Some of these feature a more mellow sound and are better suited to highway driving or daily commutes.
(Though I think the Super 40 Series is very similar to how the Super 44 sounds and was designed from the ground up).
As far as other brands go, Flowmaster has always been a direct competitor to classics like Thrush. The latter has a less diverse line-up, but their mufflers are significantly cheaper.
And, of course, if you decide to go the premium way, there's always the Corsa and Borla mastodons. Each of these brands is a jewel in the aftermarket exhaust system scene, they do cost a pretty penny, though.
Take your pick and let me know what you decided to run on your vehicle. I'd be interested in which of the Noisy Trio you've put on your truck, muscle car, or strip racing beast.