Best Carb for 454 Chevy: Key Performance Picks
Stylethority is reader-supported. When you buy through links on the site, we may earn a commission.
The Chevy 454 engine is referred to as Big Block, but I have another name for it: Big Beast.
Its early 70s iterations specifically are powerful, classy and a total joy to rebuild and ride. The beast needs a fitting heart, though. Without a proper carburetor, this engine won't roar as it should.
Here's a quick overview of the best carb for 454 Chevy:
➥➥ Best carburetor for stock to mild 454: For more oomph! and step-on-the-gas feel, get the Edelbrock 1407 Performer with its mechanical secondaries.
If you want a 'set and forget' solution, the Holley 4160 Classic delivers a balanced performance. Its vacuum secondaries make initial calibration easier.
Note: Both are 750 CFM, which is optimal for stock-to-mild applications.
➥➥ Best carb for racing/strip Chevy 454: Get an Edelbrock 1913 Thunder Series if you want the more modern AVS2 type of carb. Crisper throttle response @ 800 CFM, no flat spots between idle to open throttle, etc.
A performance alternative is the Holley Double Pumper Series. Slightly more old school, but at 850 CFM it delivers great action on the track. The mechanical secondaries only add to the pedal-to-the-metal feeling and raw power.
Product
Image

Easier to setup from the get-go

Holley 4160 Classic

750 CFM is perfect for stock to mild modded setups.
Crisper than standard throttle response.
Vacuum secondaries and electric choke for easier calibration & control.

Check Price & Fit
Realistically, any 650 CFM to 900 CFM carb can work. In my humble opinion, though, anything below 750 CFM means you have to be very vanilla with your 454 Big Block and its RPMs.
Conversely, anything above 850 CFM is reserved for the very top end of street performance. 750-850 CFM is the sweet spot for most Chevy 454 owners.
Let's elaborate on a few important details first, before I move on to the carbs themselves.
A few important things to note
First of all, Edelbrock and Holley aren't the only choices on a 454 engine. They are, however, the easiest to get, tune, and re-sell down the road if you need to do that.
The classic Quadrajets are nice too, but in most cases, you will have to re-build the carb from the ground up. It's pretty hard to stumble upon one that's good enough to be used straight out of the box.
Regarding the bore pattern:
The majority of 700+ CFM carbs are a square bore. This means you'll need an adapter if your engine has a spread bore manifold (the Q-jet type).
Some lower CFM carbs like the Holley 4175 650 CFM are spread bore. You won't need any adjusting/adapters with it.
However, as I mentioned, unless you plan to stick to true vanilla stock performance and limited cruising, it'll be too weak for a 454. The Big Block, unlike its smaller block cousins, requires more CFM for optimal performance.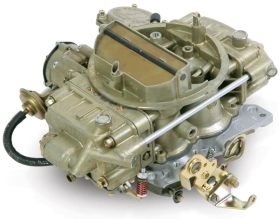 Holley 4175 (650 CFM)

Spread bore carb (no adapters needed) for vanilla stock setups or low RPM 454 engines. Not recommended for higher RPMs or more ambitious performance.
Best carb for stock & mild Chevy 454
As I pointed out, the sweet spot for most people here would be a ~750 CFM carburetor. A more powerful carb means worse fuel economy and potentially choking the engine. Nobody needs that.
In this case, we're looking at the Edelbrock 1407 Performer on one hand, and the Holley 4160 Classic on the other.
Here's a quick comparison between these two:
Product
Image

Great for those keen on tinkering

Edelbrock 1407 Performer

Mechanical secondaries for a stronger full-blown-oomph! feel.
Manual choke for tinkering enthusiasts.
Carb design minimizes possible leaks (no gaskets below the fuel bowl).

Check Price & Fit
Product
Image

Easy to setup & beginner-friendly

Holley 4160 Classic

Vacuum secondaries allow easier calibration and setup. A bit less oomph! feel.
Electric choke equals a 'set and forget' carb experience.
Overall, the best beginner carb for any stock or mild 454 engine owner.

Check Price & Fit
As far as fundamentals go, these differ in terms of their secondaries.
The Edelbrock 1407 features mechanical secondaries. These are usually preferred by racing strip enthusiasts, but the design also finds applications in milder setups.
Mechanicals simply means your engine gets the fuel dumped in before it needs all of it. On the other hand, vacs need to be signaled by the vacuum inside your engine – only then will they open up.
Mechanical secondaries are a bit more of a pain in the ass to calibrate and set up initially. That's why if you want an easier way to just get your Chevy 454 going, I'd recommend you the 4160 Holley Classic.
This difference aside, both carbs deliver similar performance and are equally durable in terms of construction. Both are lightweight, sturdy aluminum carburetors designed to hold their tune and last long.
Best carburetors for street 454 Big Block
On racing setups, you want your 454 Chevy engine to be fueled by higher CFM levels.
While there are people who go all in and run 900 CFM beasts, 800-850 CFM is a very reasonable setup for regular strip action.
As such, the main contenders here would be the Edelbrock 1913 Thunder Series or as an alternative, the Holley Double Pumper.
Here's an outline of some ways in which they differ:
Product
Image

Modern design & intuitive operation

Edelbrock 1913 Thunder Series 800 CFM

Updated AVS2 design: richer calibration and no 'flat spots' when switching from idle to throttle.
Electric choke for easy, automated control over the carburetor.
Shiny aluminum looks.

Check Price & Fit
Product
Image

True power & harder to master

Holley Double Pumper 850 CFM

Dual acceleration pumps for a classic, powerful initial acceleration feel on the track.
Manual choke for perfecting your tuning experience.
Gold dichromate looks for old school carb vibes.

Check Price & Fit
The biggest difference between these lies in how modern their design of operation is.
As I pointed out earlier, the Edelbrock 1913 is an AVS2 carb. This is the brand's latest tech in carbs which features significantly enhanced calibration levels.
In short, you benefit from improved fuel metering and atomization. These two tackle the flat spots you might sometimes encounter when you switch from idle to full throttle.
On the other hand, Holley Double Pumpers have remained a classic due to their dual acceleration pumps (hence the name). These allow you to revv it to the max at initial acceleration and really feel the track when strip racing.
Keep in mind that the Edelbrock 1913 has an electric choke, while the Holley relies on a manual choke.
They share some similarities too:
Both are 4-barrel carbs compatible with 454 Chevy Big Block.
Both come with mechanical secondaries for maximum track performance.
Both feature a square bore pattern.
The Holley is 850 CFM to Edelbrock's 800 CFM. If you plan on more track action, these 50 CFM will make an improvement on more ambitious 454 engine setups. Especially if you pair them with a lightweight mini starter with hi-torque capabilities.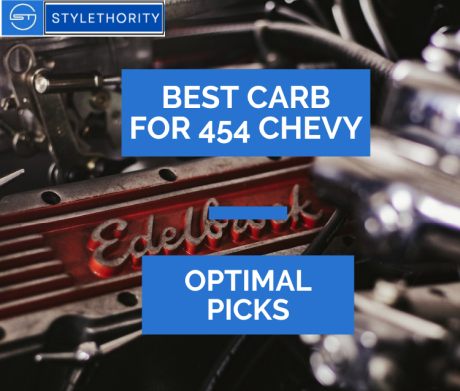 I have nothing less than respect for our Big Boy – the 454 Chevy. Since its initial appearance 5+ decades ago, it's been a staple among muscle car or truck enthusiasts.
Ultimately, your preference for a big block engine carb depends on:
What ride are you looking for – there's a big difference in CFM and design requirements between a daily cruising 454 Chevy or a drag/strip racing engine.
How much do you want to play around with calibration, tuning, and other intricate details around the initial setup?
Your preferences when it comes to cosmetic looks. Some people dig the shinier looks on most Edelbrock carbs; Holley has an answer with some dichromate-tinted carbs.
Hopefully, this post helped you out a bit. I'm not sure if you're looking for a complete 454 engine rebuild, but I also have a guide to Chevy big block spark plugs. Give it a read if interested, as I outline some historical trivia too.
For brake setups on big blocks, there are several options. Some people prefer to go for Wilwood, make sure you read my post on this particular brand.
Best of luck with your engine setup! Let me know if you have a brand preference when it comes to your carburetor – and what your experience with calibrating it was.