Wilwood vs Brembo Brakes: A Few Notes
Stylethority is reader-supported. When you buy through links on the site, we may earn a commission.
Alright, so Wilwood vs Brembo is a bit of a battle of the giants. Some might say with both brands you're overpaying a bit because of the name. That's somewhat true.
Still, these two are a solid choice for brake pads, calipers, or BBK altogether.
For calipers, both Wilwood and Brembo are great. Can't go wrong with either, though Wilwood offers slightly cheaper setups (check a popular one).
Brake pads are trickier. If you're looking for track/drag action, Wilwood's better. The BP-10 brake pads are a staple for mid-grade performance, with low dusting and low noise levels.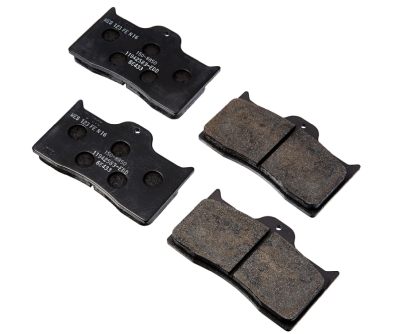 Wilwood BP-10 Pads

A popular choice for casual racing with muscle cars or tuned vehicles. Street use OK, with low dusting. Not great for high temps, reduced braking capabilities on dirt terrain.
High-temp street racers should look at the tougher, high-end Wilwood BP-30 or BP-40.
Brembo's NAO brakes are great for more casual drivers.
These softer organic pads are easier on the rotors and come with anti-squeal shims. Perfect for cruising around the city, and for Brembo's own rotors which I prefer over Wilwood's.
Product
Image
Brembo Rotors

OEM for luxury German brands; great price/performance ratio.
Fit well with Brembo NAO brake pads for less wear-and-tear.
Generous coating for rust resistance and improved longevity.

Check Price & Fit
Wilwood vs Brembo:
General overview
OK, so the problem with brake brands is there are so many applications. Size of the brake pads, thickness, friction levels, not to mention preferences towards BBK…
I can't cover everything, but I can provide you with a general overview.
First things first, Brembo's a better-known brand. This stems from them providing leading luxury car brands with OEM brakes.
You can see the red (or sometimes light-green) Brembo brake pads/calipers on Audi and Porsche. Mercedes' higher-end models also used Brembos until recently.
Brembo also has great options for GM vehicles (check some): including more street-oriented Pontiac, Corvettes etc.
So if Brembos are that respected by luxury brands, why do we get to this situation:

(Poll taken from the Fiesta forums, this thread).
What upper hand does Wilwood have?
A part of the answer deals with the price. Wilwood brake pads and some of their BKK options are more affordable than Brembo alternatives.
The other half deals with classic/retro cars and street performance. Wilwood started with drum brake support for these older vehicles, such as Chevy 305-fueled muscle cars, etc.
To this day, the maker still has the most retro car applications. Better clearance with their calipers, great stopping power, and decent dusting too.
When it comes to high-end street performance, Wilwood's options are far superior to Brembo's. Let's see why.
Wilwood vs Brembo brake pads:
Usage differences
Not a lot of people are familiar with the different catalogues of brake pads the two brands have.
With Wilwood, you're looking at their BP pads or their Polymatrix brakes. The BP is segmented into four series – 10, 20, 30, and 40.
Generally speaking, the BP features Wilwood's latest SmartPad technology. An intelligent approach to friction dynamics, four-blended compound materials for more resilience and greater stopping power, etc.
Out of these, the BP-10 Series has been a hit with casual track action enthusiasts: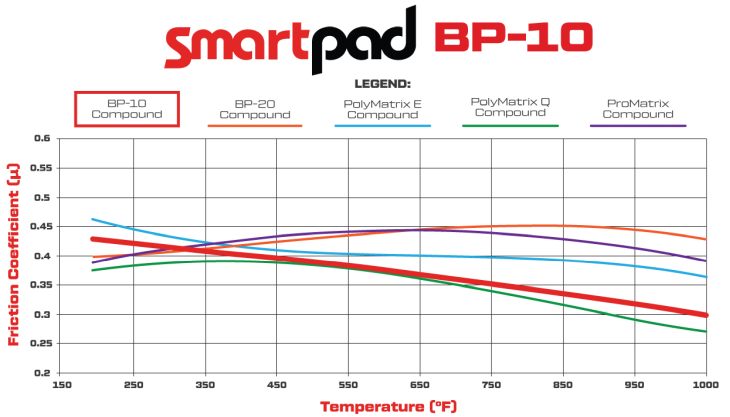 If you're looking for extreme, high-temperature drag racing, consider the BP-30 or BP-40. I've seen some monsters running a 454 big block going for these.
As I pointed out earlier, Brembo is a great pick for moderate applications. If you're looking for daily driving, cruising, or not-as-heated track use, the Brembo NAO brake pads fit the bill.
Yes, that's the famous red Brembo pad. NAO stands for Non-Asbestos Organic. Being organic, these brakes are softer, go easier on your rotors, and don't dust much.
The compounds involved here range from fiberglass to rubber or even Kevlar. The NAO pads are a great pick for higher-end, sporty cars and fit well with any Brembo rotor or Big Brake Kit.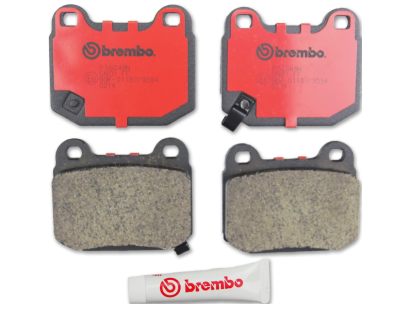 Brembo NAO (Red)

The most popular Brembo option for street use. Great stopping power, kind on your rotors for extra longevity, and features anti-squeal shims. Great bang for your performance buck.
Keep in mind that on some more niche-style vehicles the Brembos might need specific spacers or a change of rims. This will allow for optimal fit, clearance, and feel.
Brembo vs Wilwood BBKs:
Are they even worth it?
Alright, I'm a bit torn on the topic of Big Brake Kits.
Sure, it's fun to measure for them, assemble them, and get that fat juicy BBK on your car.
The biggest benefit is the immaculate resistance to any brake fade. Well, and if you see overheating problems while on the track a kit will help out with that.
(Though if you pick the right brake pads, overheating shouldn't be too much of an issue).
Plus, they look cool, yeah.
Product
Image
Wilwood Calipers

The perfect foundation for a shiny BBK.
Optimal for trucks, be it retro or modern models. Massive performance improvement.
Might need a little bit of grinding to accommodate some applications. Easy for GM trucks.

Check Price & Fit
However, I don't think a BBK is needed in most situations. It can add too much weight to your car – if you're running lower HP setups, this added weight will jeopardize how your ride feels.
And if you're looking for casual street driving, there's absolutely zero reason to grab a BBK.
If you have a few thousand $ to throw, though, getting a BBK setup is flashy as hell. Just make sure you do the proper measurements. Here's a great video on that:
Wilwood and Brembo are both viable choices, with each of them making more sense in specific applications.
To sum it up, I'd recommend Wilwood for:

Cheaper setups for racing/tuned vehicles
High-temperature drag racing
Retro/classic cars
Brembos jive well if you focus on:
More upscale car makers
Modern vehicles focusing on street driving
Brake pads that are easier on your rotors
If you want a similarly performing alternative, you can consider StopTech vs Wilwood or Brembo. Their calipers and rotors rival both other brands and in some applications can be an even better bargain.
StopTech's ST60 calipers are legendary but don't underestimate their rotors either.
I appreciate any reader feedback. Let me know what setups you used to run – or run now. Any good or bad experiences with either Brembo or Wilwood brakes? Any other alternatives (aside from Baer, for example) you've tried out and liked?
I'm listening!