Merino Tech vs Smartwool: A Few Important Notes
Stylethority is reader-supported. When you buy through links on the site, we may earn a commission.
The first time I saw Merino.Tech was around…4 years ago, I believe? Back then, the brand was pretty much unknown – a few dozen reviews online, and that was it.
Things have changed drastically. Currently, MT is one of the leading budget merino wool brands with thousands of reviews.
If we were to compare Merino Tech vs Smartwool, the veteran in merino clothing, what would the verdict be?
The answer is…nuanced. I and my SO tested out some MT staples like their long sleeve base layers (check women's examples; for men it's this one). Decent stuff for the price: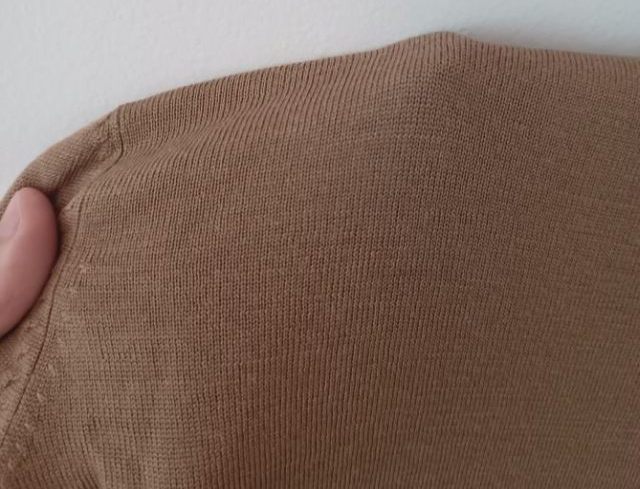 We still prefer Smartwool for more challenging situations, but MT could be good for casual use. Some key differences:
Merino.Tech has a very limited assortment and covers mostly base layer options.


–

Smartwool's merino wool is less itchy and the clothes (especially the fantastic bottoms) feature better stitching.


–

Smartwool has more vibrant designs. A lot more accessories (beanies like this one, scarves etc.) too.


–

Merino.Tech is significantly cheaper but is limited to mostly 165 and 250g/m2 density.
So, based on our experience, our recommendations would be…
For casual base layers (home, milder weather, cheap), Merino.Tech fits the bill with these: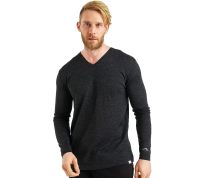 Merino.Tech Base Layer Shirt

Inexpensive option for casual/home setups or milder weather. Acceptably smooth - and you get some basic freebie socks too.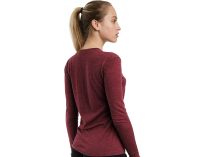 Merino.Tech Long Sleeve

Cheap and decently snug option. Lots of colors to choose from, but they're all rather plain. Great for casual use.
Smartwool is the choice for a more active, outdoorsy lifestyle with its gorgeous, softer, and more durable clothing. SW leggings are the best out there, as are their socks which come in way more 'cuts' than MT.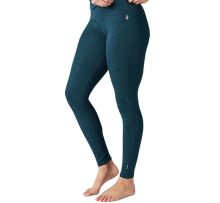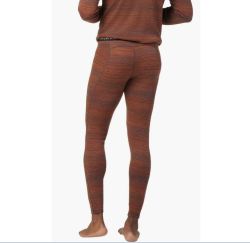 Smartwool Leggings

Comfy, warm, more durable than Merino.Tech options. These leggings are the creme de la creme of their niche. Vibrant, unique patterns for those into stylish clothing.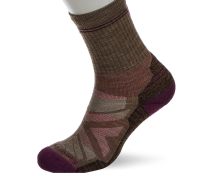 Smartwool Socks

Warmer, more durable, and significantly outperforming any budget merino options in cold weather. The perfect hiking sock companion - which also looks kickass!
Merino Tech vs Smartwool:
Key observations
OK, so there are several crucial points to discuss here, namely:
How rich/diverse the product catalog of these two brands is.


–

How do they approach the designing process (quality and appearance).


–

Difference in practical applications (this involves merino density, what situations are they most suitable for, how the material feels etc.)
Let's start with…
Differences in product line-ups
As I mentioned earlier, we tested Merino.Tech's long-sleeve base layers. The brand actually exclusively focuses on base merino wool options. There are some mid layers, but nothing heavier or outer shells like the Smartwool jackets (check an example).
MT sticks to only a few options for men and women – long sleeves, T-shirts, polo shirts (men), and bottoms. From the accessories, they only have classic hiking socks and neck warmers like this one.
This scarcity is a bit disappointing. Compared to Merino.Tech, other budget brands like Meriwool (read our review) feature way more merino options, including accessories.
As a veteran in the niche, Smartwool has everything from base layers to heavy layers; from crews to fleeces/zip hoodies; from beanies to gloves or balaclavas.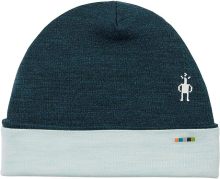 Smartwool Beanie

The staple beanie for cold winters. 100% merino wool. Breathable, extra warm, and plenty of sizing/color options to pick from.
You get outer shells and jackets, too: heavier, extreme-ready garments to protect you from harsh winters.
We're huge fans of SW accessories. This neck gaiter, for example, has been a staple during tough winters for us.
Even in the underwear department, Smartwool goes above and beyond in terms of options. From bikinis and thongs for women to boxer briefs or shorts for men.
Approaching the design process
We weren't that impressed with how Merino.Tech stitching played out. Some thinner Smartwool products are also problematic, but in general, Smartwool does the stitching right.
This goes a long way in terms of durability even after active use/frequent washes.
Color and pattern options are also something important. Some people prefer plain designs, but for others, merino clothing is the perfect way to express their outdoorsy spirit.
Merino.Tech clothes offer many color variations, but they're all simple and plain. In comparison, Smartwool mixes classic looks with some more daring designs.
Some more interesting choices include women's Jade Marble leggings or the Twilight Blue biking socks for men.
Even plain-colored options are often mixed to achieve a more stylish feel.
Product
Image

Best base layer all-around

Smartwool Baselayer Crew

100% premium, non-itch merino wool.
Advanced stitching keeps it neat for longer.
Extremely warm despite its lightweight design.

Check Sizes & Fit
On applications, feel & practical concerns
Smartwool uses denser merino wool. Aside from being warmer, it's also less itchier than most budget options – and that includes Merino.Tech, too.
The denser merino used makes Smartwool a better option for true outdoor adventures. Merino.Tech might not cut it out in more challenging weather conditions.
MT has chosen an interesting approach. Most base layers that focus on the skin-thin experience are around 150g/m2. Merino.Tech's bases start from 165g/m2, and they go up to 250g/m2 which is classic mid-layer thickness.
This is both good and bad simultaneously!
It's good in the sense that casual users on a budget can get a 'thicker' option. It can be bad because some more active-oriented people (biking, jogging, etc.) would prefer an extra-thin, skin-feel option which 150g/m2 pretty much achieves.
165g/m2 base layers might be slightly off the mark for people looking for ultra-lightweight merino options.
The bottom line is, Smartwool clothing feels better and performs better in more extreme conditions (as in, the brand's catalog is more suited to pickier, more adventurous customers). Merino.Tech is great for casual urban use (or home use) in milder weather conditions.
Product
Image
Merino.Tech Women's Long Sleeve

Midweight option that is breathable and machine wash-friendly.
Comes with a cute gift: a free pair of socks (merino wool too!)
Great for casual use and trips during the colder months.

Check Sizes & Fit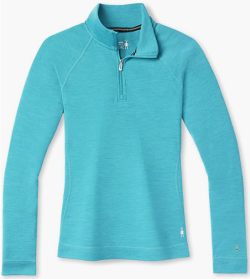 Smartwool 250 Zip Outerwear

Great for mountain hiking, trekking and other outdoor activities in harsher weather. Remember to layer it beneath an outer shell during winters.
Analyzing authenticity:
Is Merino.Tech a good brand?
Newcomer budget brands can be a minefield. There's been way too many of these popping up in the merino industry over the past few years. I'm sure you're aware of review bombing and, well, the general practice of fake reviews.
Sure, retailers/marketplaces try to curb this practice, but it never goes away.
Aside from me and my SO testing out some Merino.Tech bases, I decided to run a Fakespot analysis on a whim. The results look decent, with the adjusted rating being a B. Way better than the standard.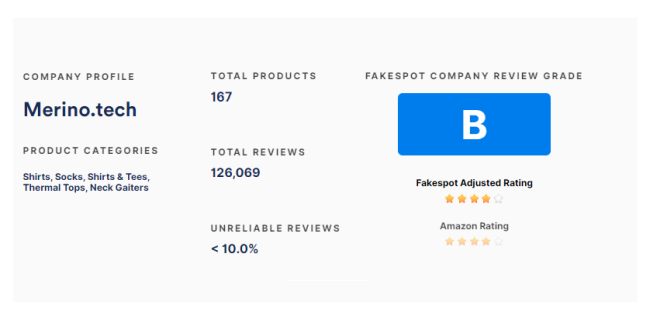 However, there seem to be some problematic product lines too.
The men's base layer (check it out here) seems to score a C, significantly below the average for Merino.Tech.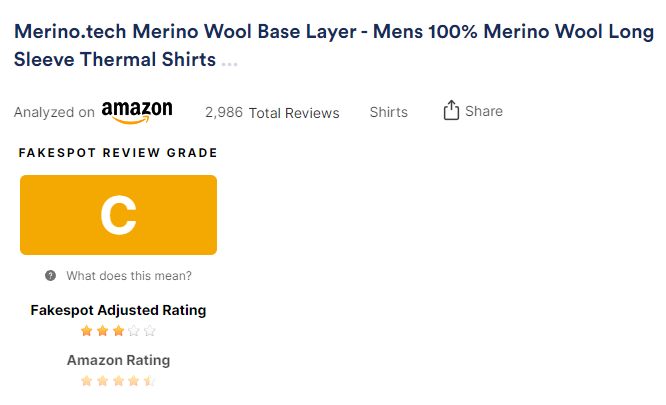 Fakespot isn't the end-all-and-be-all, but it's a nice tool to play with. Nevertheless, I do think that Merino.Tech is a good brand for the money. Let's discuss this in our final section 🙂
All in all, Merino.Tech is a decent budget take on merino clothing. The brand's products will satisfy the casual user who focuses on lighter applications. MT's designs are a bit bland for those into more expressive clothing – but I believe people focusing on utility wouldn't care about the plain designs.
It's no secret that Smartwool is significantly more expensive. However, the price does come with benefits – be it higher-quality merino wool, sturdier construction, or a more daring appearance.
The biggest difference between Merino Tech vs Smartwool is the sheer difference in product lines. For quite a few pieces of clothing, there isn't any room for comparison. Merino.tech just doesn't offer the clothes in question – like zip hoodies, outer shells, and even accessories such as beanies or gloves.
I'd like to see Merino.Tech increasing its catalog, much like Meriwool gradually did. The latter is reaping the benefits of attacking Smartwool's accessory department, as well as hitting the spot for budget shoppers when it comes to heavier layers too.
Have you tried any of these brands' products? Let me know in the comments below, I'd be glad to hear more about your merino wool experiences.
For more standard clothing, you can always check some of my thoughts on classic budget jeans like Wrangler or Rustler.
See you!