Best Pitman Arm Puller: Picks & Tips On Usage
Stylethority is reader-supported. When you buy through links on the site, we may earn a commission.
Sure, working on any vehicle's suspension system can be a challenge. But if you'd inquire about one DIY job that requires a lot of brute force?
That would 100% be pitman arms. These can be a nightmare to pull out, especially on heavier trucks.
If you don't want to see tool after tool breaking, I've compiled a concise list of the best pitman arm pullers. My picks are heavy-duty and they'll make this task as smooth as possible.
Product
Image
OTC 8150 Conical

Best for Dodge Ram 1500/2500/3500 & Jeep XJ, JK or WJ
Conical shape eases DIY on more specific center link bar designs like Cummins.
Centering point can be removed for optimal alignment.

Check Price on Amazon
Product
Image
Lisle 41900

Great for Ford trucks (F150/F250/F350) and Jeep TJ & YJ.
Fits well on most general trucks too.
Cheaper pitman arm puller that retains a durable construction body.

Check Price on Amazon
Product
Image
OTC 6496 C-Shaped

Designed specifically for GMC and Chevy 1/2, 3/4 and 1-ton trucks.
Reinforced by extra heat treatment & welding.
Comes with improved forcing screw for easier work.

Check Price on Amazon
Note: Each one of these can fit a variety of cars, but is optimized for the pitman arm dimensions of specific vehicles. Read on to find out my full list of fitments.
I believe OTC and Lisle offer the best durability for such a heavy duty task. I wouldn't use a Gear Wrench or Harbor Freight puller on anything that's a half-ton truck or above.
For compact cars or sedans? No problem.
For lighter pitman arm work on sedans or compact cars, check out this OTC puller. Works fine on Mustangs or muscle cars too.
My best pitman arm puller picks:
More precise vehicle fitment info
I don't think I need to elaborate on durability and manufacture much. I picked exactly these three pitman arm pullers because they are great for heavy-duty work.
In a standard environment they won't snap, they won't budge, and they won't warp either.
So let's see a more extensive list of what these pitman arm removal tools fit.
The 8150 here stands for its serial number. The smaller 8149 puller focuses on Ford Mustang and other lightweight applications.
This is a pure heavy truck pitman arm puller, though. It's highly probable it will fit any heavy-duty truck from Silverados to Rams or Raptors.
 As OTC elaborates, however, it's specifically designed for suspension work on:
1994-2008 Dodge Ram. Applies to Dodge Ram 1500, 2500, and 3500.
2019-2022 Dodge Ram 1500
1996-2001 Jeep XJ (though it should fit all Jeep Cherokee models)
2003 onwards Jeep Wrangler (though it should fit earlier Jeep JK makes too)
1999-2004 Jeep Grand Cherokee WJ
As you can see, this pitman arm removal tool is specifically geared for Dodge Ram and Jeep owners. The conical shape helps out with these applications more than your usual U-shaped/C-shaped pitman arm pullers.
Why?
Because many Ram trucks – and especially the Cummins family, have a more specific center link bar. Its larger diameter means you'll struggle with traditionally shaped pitman arm removal tools.
A conical tool, however, makes the task relatively simple.
You have a ~1.5'' wide cutout at the front side, with a depth of 1.25''.
Keep in mind that you can remove the centering point. This is helpful if you need to crook it a little off-center so you can align the tool with your pitman arms.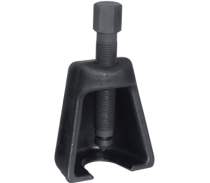 OTC 8150 Conical

Sturdiness without compromise. The best fit for Ram applications and messy center link bars.
Right off the bat, this isn't a vehicle-specific pitman arm puller. Nevertheless, it does fit most trucks – though you might need to make some light modifications for optimal work.
Thankfully, it's a simple task. You just need to grind a little of the material off the inside of your pitman arms on some car makes.
In any case, this puller will require minimal to no modifications on:
Jeep TJ
Jeep YJ
Ford trucks – F150, F250, F350 (2015+ models might need some grinding)
Want something from Lisle that's designed specifically for heavy Ford trucks?
Then go ahead and check the 41970 pitman arm puller.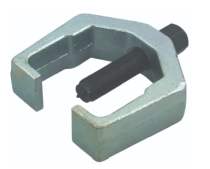 Lisle 41900

Classic C-shaped/U-shaped puller. Born for general truck use with a focus on Ford trucks. Cheap, but well made.
This one is quite similar to the Lisle 41970 in terms of heat-treatment improvements. Additionally, the pitman arm removal tool has an improved forcing screw for quicker, easier work on the steering department.
Once again, this can fit most heavy-duty pickups and half-ton, quarter-ton, and one-ton trucks. It focuses on 4WD vehicles exclusively.
As specified by OTC, the tool is specifically designed for:
1988-2011 GMC & Chevy trucks – all of their ½, ¾, 1ton trucks
This includes 1999-2010 Chevy Silverado 1500 2500 3500
Also includes GMC Sierra models
1992-2011 Chevy Suburban
1993-2014 Chevy Tahoe, GMC Yukon, Cadillac Escalade
1998-2005 GMC S10/S15 trucks, Chevy Blazer
The heavy truck pitman arm puller also fits some Ford vehicles too:
1998-2003 Ford Navigator
1997-2004 Ford F150 & Ford Expedition
All in all, a great, sturdy tool. Much like many other OTC tools, this one is made in Taiwan. A step above the usual made-in-China manufacture, as Taiwanese factories have stricter regulations on quality and product design.
Besides, I haven't seen a made-in-US pitman arm puller yet. All I know is that much like the previous tools I listed, the OTC 6496 is cuts above your usual Harbor Freight, NAPA, or local store crap.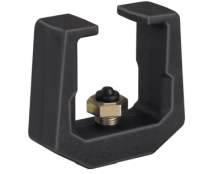 OTC 6496 Improved

The best puller for any GMC or Chevy truck's pitman arms. Improved welding for quicker, more effective DIY.
Pitman arm removal tips:
Can you heat it & other things to help with stubborn arms
As I pointed out, pitman arms require a lot of force used. Getting them off can be a pain – especially on older Dodge or GM trucks and four-wheel drive vehicles. The steering damper removal without any puller in F-250 trucks can be a total pain too, as I've outlined in another article.
While on some vehicles you can get away with a straight plug-and-pull, in some cases you need to approach things from a different angle.
Here are a few essential tips that might help you out:
–
You can heat up the pitman arm a bit. It does depend on your pitman arm manufacture (the quality of the steel) though. Don't overdo it, and for sure let it cool off after that. I personally haven't done this and I'm a bit wary of this, but I've seen people have success. Just be careful with your coolant system (drain it) and your lower radiator hose!


–

Do you need to keep the pitman? If you don't need the arm you'll be removing, just use a Dremel. Cut a slit down the side of the arm and then break the friction by prying it open. You can use a screwdriver (a tougher one) to help you with that.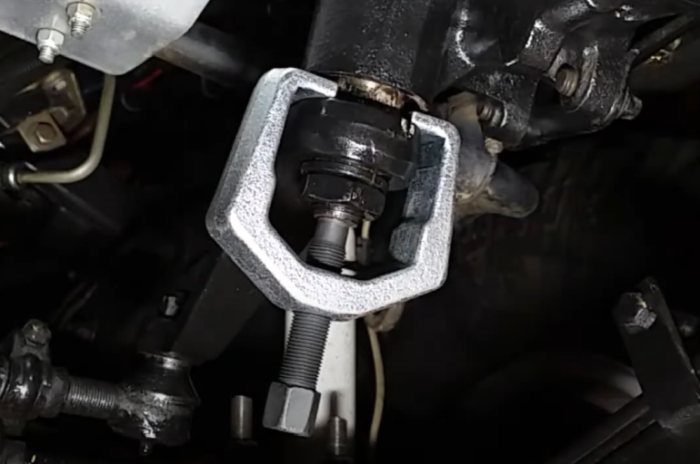 Using a hammer is perfectly OK. Be strategic with your hammering, though. If you go overboard, you might damage your steering box shaft or equally bad – the sealing.


–

Soaking with PB blaster (get one here) can work too. For optimal results, you should put some and then let it stay overnight so it soaks well.
Once it 'marinates', get to work: put tension using the pitman arm removal tool, and bonk the arm itself with a hammer. Hit both sides, and tighten your puller tool. You might need to PB blast it again and repeat the procedure until you can pull the arms out.
That said, in most cases, if you pick a heavy-duty pitman arm removal tool like the ones I recommended, you shouldn't jump through that many hoops.
How to actually use a pitman arm puller?
Here's a good video showcasing getting out the pitman arms on a 92-00 Chevy Tahoe. It's a moderately easy truck to do pitman arm work on:
While not the only choices you have, I believe the picks I listed are the best pitman arm pullers for specialized DIY work on heavy trucks and four-wheel drive vehicles.
As long as you go Lisle or OTC, you're getting the higher end of such tools. One of them bending is a rare case compared to cheaper sub 20 bucks equivalents.
If you don't want to DIY this, that's fair too. After all, it's tough work and way different than, say, changing your truck's headlights.
I've seen plenty of people going for an all-in-one kit too. OTC has this DIY service kit. It includes:
Two pitman arm pullers (one for large ball joints and one for smaller ball joint applications)
Three tie rod pullers
Two ball joint separators
All come in the usual OTC quality with durable construction and intelligent design to make DIY tasks simpler. A great value item if you plan on doing much more than pitman arm replacement.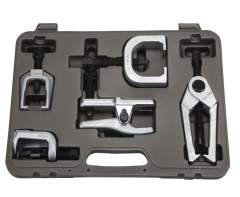 OTC Front Service Kit

A great value set for pitman arm, ball joint or tie rod end DIY work. Quality and versatile.
That would be the end of my article. I advise you to be very careful with heating your pitman arms if you decide to do so – it can mess up your overall vehicle balance. That's the only thing I'd be wary of in terms of the pitman arm removal process. Be careful.
If you used any of these pitman arm pullers, let me know how it went. Were they low profile enough? Were they easy to use and durable enough for your specific vehicle?
I hope the process goes well!