Cherry Bomb Extreme, Glasspack, Vortex & M80: What's Loudest?
Stylethority is reader-supported. When you buy through links on the site, we may earn a commission.
Cherry Bombs are awesome mid-tier mufflers. The brand has various products ranging from mild growls to beastly roaring that just feels nice.
There's not much easy-to-digest info on which is the loudest Cherry Bomb muffler. I've backed up my own observations with manufacturer testing data and YouTube sound test videos.
Heads up – in this article, I'll be comparing the following mufflers:
Cherry Bomb Extreme vs Glasspack
Cherry Bomb Extreme vs Vortex
Cherry Bomb M80 vs Glasspack
In short, you should get the Cherry Bomb Extreme if you want the loudest Cherry Bomb muffler. On measure tests, it clocks in at 88.6 DB at 2000 RPM, a much higher growl than any others.
Product
Image
Cherry Bomb Extreme

The most powerful muffler Cherry Bomb has.
Specific wing plate design allows for rich growls.
Fully welded for durability.

Check Price & Fit
There's a particular reason for that: the custom-tuned flow design and short wing plate body allow for optimal exhaust flow.
On the contrary, the classic Glasspacks have the lowest sound levels. Their sound, however, is rather rich in its mellowness. At higher RPMs, the Extreme can sound a bit shrieky.
Furthermore, the reversible design of the muffler allows for easy installation and better fitment to diverse vehicle models.
I'll talk about the Vortex and M80 too, no worries. Let's take a more in-depth look at these red muffler beauties.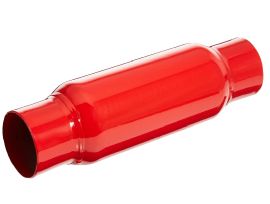 Cherry Bomb Glasspack

Cheapest muffler option from the brand. Lowest sound power, but resonates really well. More prone to rusting, however.
Cherry Bomb Extreme vs Glasspack vs M80 vs Vortex:
Sound comparison
As I mentioned, the problem with Cherry Bomb mufflers is that you're forced to dig deep for any relevant information on their sound performance. I'm lucky: I was able to observe/listen to some models due to my friends running them.
For others, though, gathering the relevant info is a nightmare.
Here's a quick chart on all four mufflers' decibels measured at a benchmark of 2000 RPM: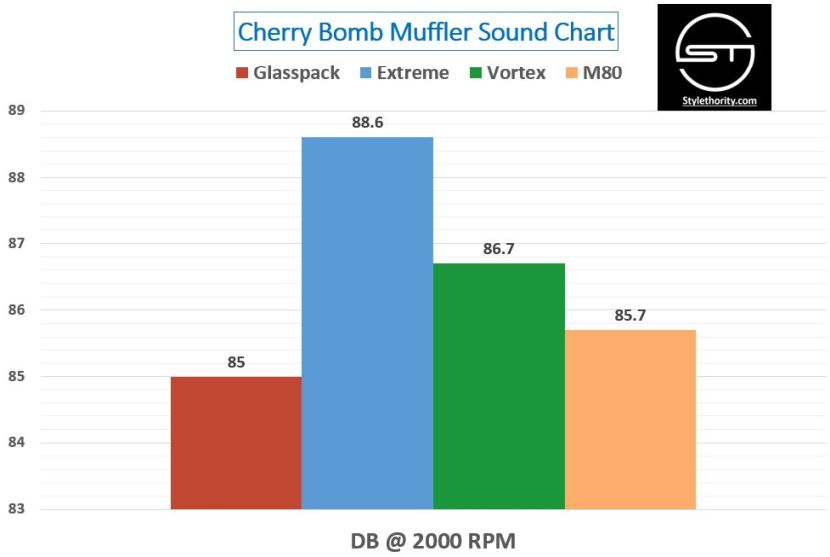 As I mentioned earlier, Cherry Bomb Extreme takes the crown, while Glasspacks are at the bottom.
I'm not surprised about the latter. There are some people who consider the red Glasspack more of a resonator, sold as a muffler replacement.
I wouldn't say that's bad. Not everyone wants the loudest Cherry Bomb muffler (or exhaust, for that matter). The compact design, easier fit, and classic looks of the Glasspack jive well with the more controlled growls of the muffler.
It's a top seller (check Glasspack reviews on Amazon) because of all these important factors. 
The second loudest Cherry Bomb muffler – the Vortex, has a peculiar feature:
There's fiberglass packing on the inside despite its design. This allows it to slowly build up its growl, resulting in a more gradual bark.
Much like the Glasspack, it has a reversible design for better fitment and simple installation. Pretty much what makes it a great choice for cars, SUVs, and trucks alike.
(Though as I've pointed out in my Cherry Bomb vs Flowmaster post, I prefer the latter for heavy-duty trucks due to possible rusting issues.)
If you're wondering how Cherry Bomb itself classifies them based on sound levels:
Sound level 4: Glasspack (85.0)
Sound level 5: M80 (85.7)
Sound level 6: Vortex (86.7)
Sound level 7: Extreme (88.6)
For actual sound tests, I really recommend you to check out the following video. It measures the Glasspack, Extreme, and Vortex, alongside the Turbo (which I don't recommend though).
The sound benchmark is done on this guy's 1999 Chevrolet Silverado Z71 (5.3L LM7 V8 inside):
Cherry Bomb muffler flow rates:
CFM test results
The Vortex has the highest CFM rating out of all current Cherry Bomb mufflers if we're talking muffler flow rates.
At 578, it significantly outshines the Glasspack (510), as well as the Extreme (500 CFM). Here's the chart: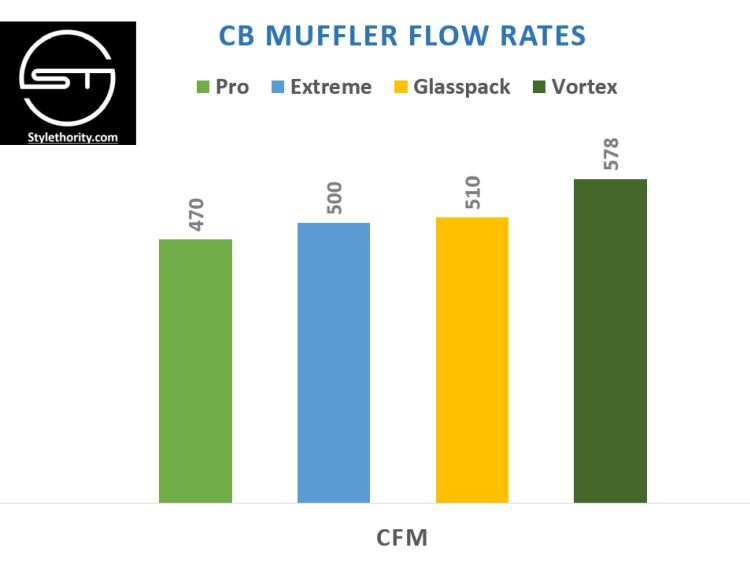 Note that the testing involved the 3'' inlet variety of all mufflers. Cherry Bomb further clarifies it used 20.3'' of water on Super Flow SF-1200 as a benchmark.
This is a flow bench standard, though, so I personally think these results are pretty objective and well-prepared.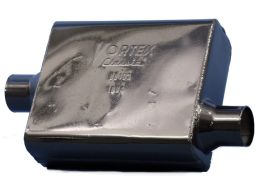 Cherry Bomb Vortex

Has the highest flow rates among the Cherry Bomb lineup. It's also the second loudest CB muffler after the Extreme.
Cherry Bomb mufflers:
Differences in design
I discussed some fundamental differences in the design of these four mufflers which results in diverse sounds and flow rates.
That might not be enough for some of you who are of the more scrutinizing type. I totally get you, though, when it comes to mufflers and exhausts it's better to see (and hear) more.
Here are the differences in design between Cherry Bomb Extreme vs Glasspack, as well as Vortex vs M80 mufflers.
Note how despite looking very similar, the Glasspack and the cute M80 have some internal design differences when it comes to exhaust flow.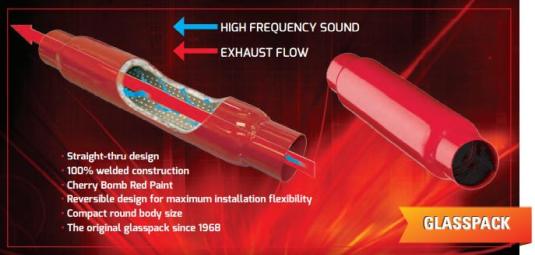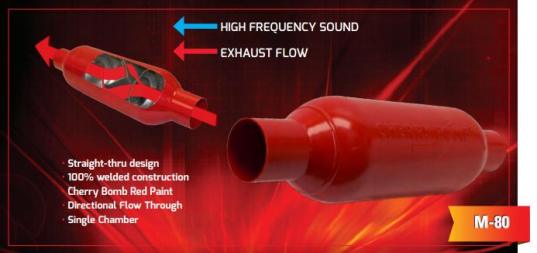 Both the Extreme and Vortex are completely different in terms of body design: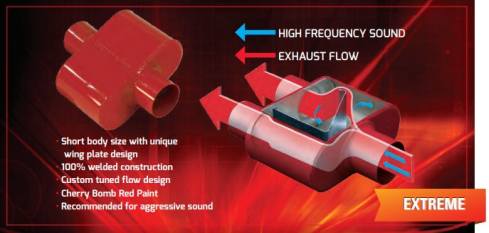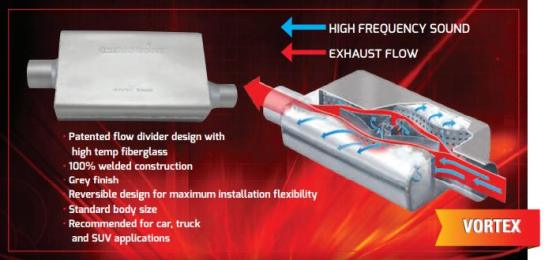 Thankfully, all Cherry Bomb exhausts are welded properly, resulting in durable, tight manufacture.
Well, I hope that was thorough and helpful enough! There are quite a few differences between these mufflers, but ultimately all of them are very good entry/mid-level of aftermarket muffler fun.
Personally, I'm not too aggressive with my sound preferences. A Cherry Bomb Glasspack is affordable, has that mellow and deep tone I crave, and looks cool. The classic design in sleek red is a brand of its own.
For those into more aggressive mufflers, the answer to what is the loudest Cherry Bomb is clear:
Get the Extreme and go roam the streets roaring all the way.
Here are some quick links for the other 3 Cherry Bomb mufflers on Amazon. These are for all car makes:
Pick the one that fits your car – it could be a modded Mustang, an F150, a 2nd Gen Dodge Ram, or a Chevy Silverado…many options, as Cherry Bombs are compatible with many vehicles.
Let me know in the comments whether you got a specific AP Exhaust muffler, a.k.a. the manufacturer of Cherry Bomb.
In case you have a more generous budget, you can also check my comparison between Corsa and Borla where I also discuss their aftermarket mufflers.