Best Carb for Yamaha Blaster 200: Stock & Modded Picks
Stylethority is reader-supported. When you buy through links on the site, we may earn a commission.
35 years after its first appearance on the market, the Yamaha Blaster 200 still remains quite popular. Decades change, but the Blaster stays the same: cheap, versatile, and one of the easiest entry-level ATVs to mod around.
Searching for a carb can be a hassle, though. I've seen many people get confused about what mm configuration do they need for their particular setup.
Here's a quick intro to the best carburetors for Yamaha Blaster 200:
–
For stock Blaster 200: This Mikuni 26mm carb. It's pretty much the closest to what stock Blasters have as an OEM carburetor. You might need to do a bit of jetting though.


–

For light mods: Best to go 28mm to 33mm. This PWK carburetor is cheap and has several mm configs to choose from. Check the dimensions and see what fits your setup.


–

Go big or go home: If you are heavy on the modded side, with big bores and everything – grab a Keihin PWK38mm Air Striker. A total beast for higher cc setups.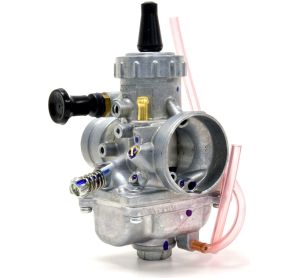 Mikuni 26mm Round Slide

Pretty much the closest to what your Blaster 200 had as stock. A versatile, well-manufactured carb that will last for long.
KYN Universal Carb

Cheap aftermarket carb that comes in 28mm to 34mm sizes for your convenience. Decent performance for its price.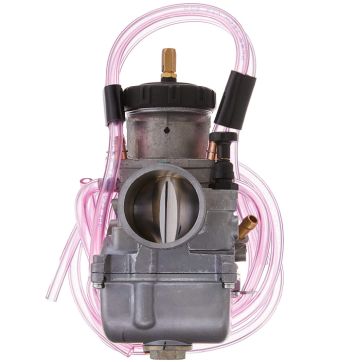 Keihin 38mm

The ultimate carb for jetting and modded Blaster setups. Marvelous throttle response and tough as nails. Keihin excellence.
Time and time again I've seen people misconfiguring their carburetor setups.
The best carb replacement isn't always the biggest model out there. Let me clarify a bit more on that.
Picking the right carb for your Blaster:
Stock setups
You can have one of the earlier Blaster series. You might be right in the middle with your 1998 Yamaha Blaster. Or you have a newer gen 2002 or 2005 Yamaha Blaster…
The rules stay the same: don't go overboard with the carburetor size.
If you have a stock bore, just stick to a 26mm one. If you have minor mods, don't go beyond 28mm.  Here's an example of a mod setup that warrants a smaller carb replacement (up to 30mm):
.20 cylinder bore
A boost bottle
Minorly upgraded aftermarket exhaust: one of the more basic DG exhausts
The airbox lid has been removed
A more modest Vitos crank (+3mm for example)
If you're looking for an easier fit and casual performance, just keep things as close to the stock as possible. If you're tired of being 26mm, just have a simple taper bore job and expand to 28-28.5mm.
The highest you should go with an internally stock Yamaha Blaster 200 is a 30mm carburetor like this Nibbi PE30. And that's stretching it a little.
My optimal recommendation still remains the Mikuni, though.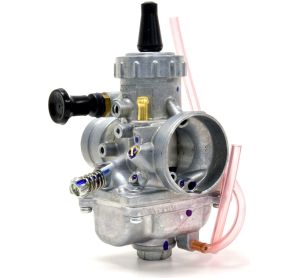 Mikuni 26mm Round Slide

As close to your Blaster's OEM carb as it gets. A versatile, well-manufactured carb that will last long.
Going the more extreme way:
Bigger carburetor setups
Have a big bore like one of those gargantuan Vitos ones? A more extreme take on how your exhaust is set up?
Then you can easily start looking at carbs 33mm and above. The most optimal setups I've seen involved either a 34mm Keihin PJ, any 35mm carb, or a Keihin PWK38mm for the big boys.
Note: Your pipe is an important factor here. If you have a low/mid pipe in your engine setup, a bigger carb (35mm+) will mess up your powerband's low end.
If your Blaster has a mid/high pipe, though, a 35mm or even 38mm carburetor will complement the setup beautifully.
Product
Image
Keihin PWK 38mm

A part of the performance-based Air Striker series.
Fantastic throttle response.
Perfect for jetting and modded Blasters focused on power.

Check Price on Amazon
Bigger-sized carbs are extremely fun to ride with. You get awesome throttle response, the fuel economy still looks decent at higher speeds, and you get the Blaster roaring all the way.
Just make sure you've ported your engine properly. Without more air or a better fuel-to-flow ratio, you'll have your Yamaha Blaster 200 choking instead of growling.
Obviously, a downside to bigger carbs is the price. If you don't want to splurge too much, there are cheaper aftermarket carburetors for the Blaster.
Be more attentive to their fitment details, though. Some of them aren't a truly direct fit.
This one is a better solution, you can also choose your carb mm setup:
KYN Universal Carb

Cheap aftermarket carb with balanced performance. You can pick from a 28mm to 34mm setup depending on your Blaster.
Cleaning your Blaster 200's carburetor
A new carb means nothing if you don't do periodic maintenance; it'll eventually get ruined. 2-stroke or 4-stroke, it doesn't matter!
The decline in quality will be twice more severe if you're riding your Yamaha in extreme conditions.
Now, I'm not telling you to do that obsessively. But generally, once in two years or so it's good to set up a more meticulous maintenance session.
The below video is great. It shows a comprehensive way to clean a Mikuni carburetor.
While it's a tutorial on cleaning the carb of a Yamaha Banshee, the Mikuni carb showcased in the video is very similar design-wise to what you'd use in a Blaster 200 too:
If you prefer an image tutorial, there's this helpful guy over at the Blasterforum who made an in-depth cleaning guide.
It's an old thread, but things haven't changed at all – especially considering the last Blaster series was produced in 2006.
I guess in the end, this post turned rather short. I hope it was concise enough, though, and I'd love to help you out if you have any questions.
In the end, just remember to not go overboard with your carb setup.
And I do know price can be an issue, but try not to go for those ultra-cheap $20 carburetors. Not only is it a gamble whether they'll fit at all, but you might also end up throwing them away in less than a year.
As far as purchasing goes, you can search for them at your local dealerships. Usually, there's not much choice, though.
I personally recommend either eBay or Amazon – though Amazon has stepped up their game inventory-wise compared to how things were 10ish years ago or so.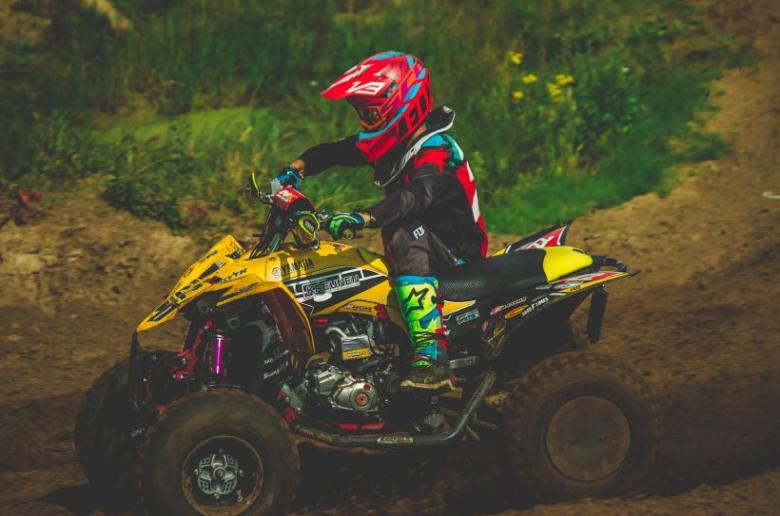 This post is a part of my classic vehicle carb series. Not sure if you're interested, but I also have a post on Chevy 305 or 327 carbs. A bit older than the Blaster, but still a timeless classic in the world of vehicle engines.
If it's about Yamaha vehicles, I'm currently doing a series of posts on their signature modern-day ATVs. This includes the Blaster successor (in a way) – the Raptor 700 and its exhaust options. Such a list can't exist without also including the fuel-injected monster YFZ450/R.
See you around!