Kicker CS vs DS vs KS: Crucial Differences
Stylethority is reader-supported. When you buy through links on the site, we may earn a commission.
Kicker isn't the best when it comes to explaining the differences between their three main speaker series.
Let's dispel the stereo woes away. First, try to think of the CS vs DS vs KS in terms of tiers:
I'll be comparing all three series by sound, power levels, and quality of construction.
➥ Generally, the CS speakers offer the best bang for your buck with better peak power handling, higher RMS wattage, and crisper low/high acoustics.
➥ The KS speakers fill out the mid-range better. You'll enjoy a richer, fuller sound profile compared to CS or DS. The higher price tag also has to do with better quality materials: the butyl rubber ensures the KS series lasts longer.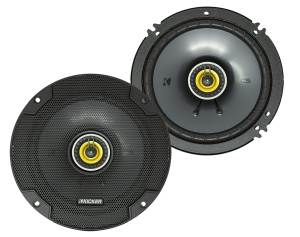 Kicker CS 6.5'' Speakers

Most popular with a reason: the best bang for your buck from all Kicker series. Sound quality, power & range all exceed the DS series at a similar price.
In general, I'd advise you to skip the DS series – except if you're on a tight budget.
Why?
In most cases, the DS is subpar. The CS speakers feature several crucial sound improvements at an identical price.
Let's analyze the Kicker CS vs DS first. Then, I'll continue with a KS series review and how it compares to the former two.
Kicker CS vs DS:
Three important differences
On paper, these two would look pretty similar to you. Same warranty, same 40-20k Hz frequency response, same four-ohm impedance. As far as manufacturing materials go, both have their woofers made of polypropylene.
The surround plugged in them consists of polyester foam.
Two of the differences between these speaker series deal with pure power in their standard sizes. For example, the 6 ½" CS speakers vs the DS model have these parameters:
RMS Wattage: Kicker CS goes up to 100, while DS remains low at 60.
Peak power handling: The CS handles up to 300W, while the DS caps at 240.
So while their construction is the same, Kicker CS is vastly superior in terms of the power output it can dish out.
The other difference between the Kicker CS and DS series of speakers has to do with customizability:
The DS series comes only in coaxial options such as the DS 6.5″ pair of coaxials.
With the CS, however, you can pick to either go coaxial or component. If you're looking for a custom-tailored car audio setup, you'll have an easier time with the CS speaker.
Product
Image
Kicker CS 6x9"

Handles powerful sound better than 6x9 DS speakers.
Classic Kicker coaxial, easy to fit into most car models.
Comes with EVC technology for optimized woofer performance.

Check Price on Amazon
Kicker KS:
How it improves over both CS and DS series
Designed as the premium option in the line of Kicker auto speakers, the KS is more expensive, but not shockingly so. Many other speaker brands have a wider gap between their product lines, with the premium sometimes doubling in price. You won't see that here.
Let's set one thing straight: the KS isn't a tremendous powerhouse compared to the CS audio speakers.
Its main improvements boil down to the quality of manufacture, fullness/richness of sound, and a more diverse lineup of sizes/fit.
Another set of four-ohm speakers, the Kicker KS series starts off with two neat improvements when comparing similar speaker sizes:
RMS Wattage: KS goes up to 125 compared to the 100 with CS. This also effectively means that this series has double the RMS the DS has (60) in comparably sized setups.


–

Frequency range: The KS ranges from 35-21000 Hz which is a minor improvement on the 40-20k Hz the other two speaker series have.
One of the more important differences between Kicker KS and both the CS and DS series is the foam surround manufacture. As I pointed out before, the latter two are made of polyester foam. It's UV-treated so it can cope with bigger amplitudes in weather conditions.
The KS goes a step further, though. Instead of foam, you have butyl rubber. If you're not familiar with what that is – basically, butyl is an elastomeric polymer. Think of it as a vastly enhanced rubber, with a shelf life of 5-10 years in most setups.
This change in foam surround ensures the KS series lasts way longer. This is especially important if you decide to go and make a complete car audio setup with bigger speakers (meaning a larger financial investment too).
Product
Image
Kicker KS 6.5"

Massive improvement in sound clarity compared to other Kicker series.
More durable foam surround for better longevity.
You can put them in an enclosure for even better surround sound quality.

Check Price & Reviews
Kicker KS vs DS or CS:
Sound & Fit
In terms of pure sound, in comparable sizes, the KS is actually slightly less powerful. The KS 6" x 9" speakers for example peak at 300W, while the CS model goes up to 450W.
The 6 ½" CS series caps at 300 watts, while the 6 ½" KS limits itself at 250 watts.
The difference lies within, though. With more intricate components (including tweeters built into the speaker), the KS achieves deeper, fuller sound.
The CS can be a bit 'screamy', with powerful highs, but not as refined mid-range and low-range sound.
Kicker KS achieves a mature, engulfing sound you would be able to find neither in CS, nor in the DS car audio speakers.
When it comes to fit, Kicker has designed the KS to be slightly more diverse in terms of options. Both the CS and DS car audio speakers start off at 3.5" and then go all the way to the huge 6" x 9" 3-way audio setups.
KS as a premium option goes even beyond that. The lineup introduces a 4×10" speaker size, as well as the very popular 2.75" model which is extra compact and packs a surprising sonic punch.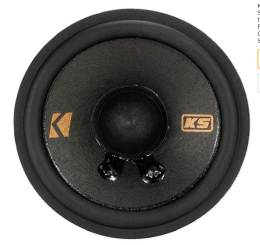 Kicker KS 2.75''

Perfect for mid-range applications. Features rich and clear sound despite its very compact size.
Well, hopefully, this little roundup could help you out. I'm pretty much partial to the KS lineup, as durability over time is a big deal to me. However, I realize that not everyone wants to go for higher-priced options.
If you want to improve over factory levels of car audio, I'd suggest you go with the CS over the DS. As I mentioned, the difference in price is negligible. The Kicker CS series is more powerful and while following the same manufacturer, it gives you more oomph for your buck.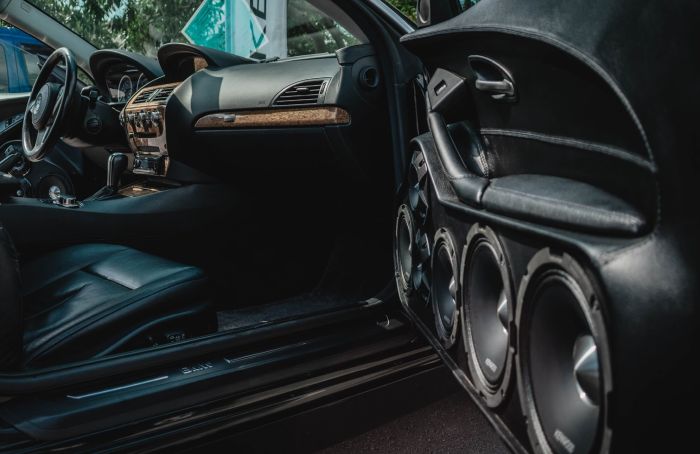 In case your budget allows it, the KS speaker series will just turn your car into a better stereo environment.
Even more so if you live in areas where it goes from hot to cold depending on the time of the day – or if it's so humid you'll be worried about the foam in your car speakers.
If you think Kicker can feel a little overpriced, head over to my Kicker vs Pioneer article for some more budget-friendly options. If you're not too keen on bass, though, I still believe the Kicker CS and KS are the most optimal solution for casual car audio enthusiasts.
What's your opinion? Which Kicker speaker series is any good in your experience?
Let me know in the comments if you have your own observations on how these have performed in your own custom car audio setup. Additionally, check my Kenwood vs JVC comparison if you're looking for a car head unit.