Harley Wheel Bearings & Axles: Ultimate Size Chart
Stylethority is reader-supported. When you buy through links on the site, we may earn a commission.
There's always some confusion around Harley's wheel bearing and axle sizes. I can kind of see why: several decades of history, new series every few years, several distinctive motorcycle lines…
For your convenience, I've prepared a comprehensive guide to all Harley Davidson wheel bearings, front axles, and rear axles.
Note: Harley went metric with their axle sizes in 2008. In other words, every model from 08 onwards – be it Touring, Sportster, or Dyna features 25mm sealed bearings.
Important: Do not mistake 25mm for being equal to 1"! 1" is 25.4mm, but believe me, these extra 0.4mm make a crucial difference.
In case you decide to DIY replace your wheel bearings, you'll also need a wheel bearing puller like this one. It'll make the process way faster and easier.
Onto the bearings by size charts now!
Wheel bearing size chart #1:
Harley Dyna & Sportster
Here are the wheel bearing and axle sizes for Dyna and Sportster. The Dyna series can be especially tricky, so pay close attention to the difference in front and rear axle sizes in the mid-00s models.
The Sportster is rather straight forward, as the front and rear axles match each other in size across all XL models, be it single disc or dual disc.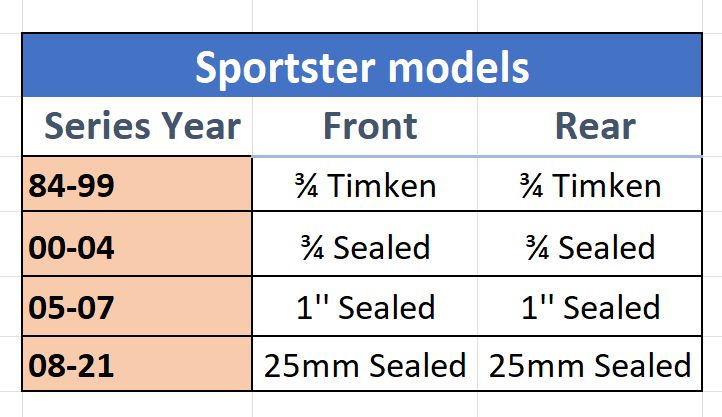 As I mentioned, keep an eye on the differences of Dyna FXD, FXDC, FXDB and FXDL models between 00 and 07. There are some nuances between the single disc and dual disc Dyna models too.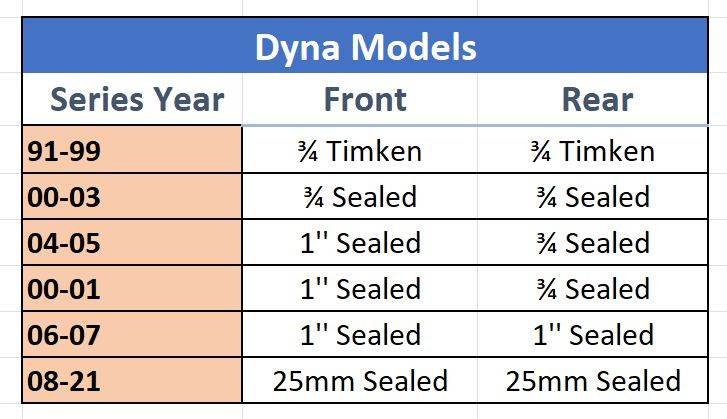 If you're looking for a great 1" replacement, I'm particularly fond of All Balls Racing. This set of bearings should fit most mid-00 Dyna models, FLHR Electra Glide between 00-07, most Road King models including FLHR, FLHRC, FLHRCI etc etc.
These are #25-1394 in terms of serial number; their diameter is 52mm and the OEM number is 9247. Double-check them to be sure.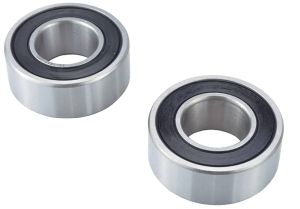 All Balls Racing Bearings

Affordable, quality & OEM fit for 1'' axles. Best value for price replacement with a 1 year warranty.
Harley Davidson Touring & Softail axle sizes
Thankfully, both the Touring and Softail are straightforward. Their rear and front axles generally match each other.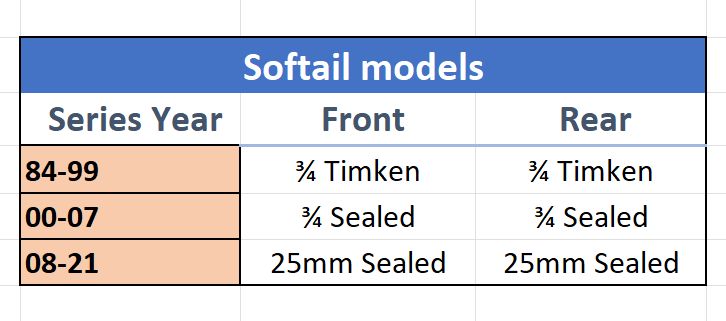 A notable exception would be the 00-01 Touring models where they differ.
Note that these wheel bearing sizes for Harley Touring apply to both the models with ABS, as well as the ones without ABS.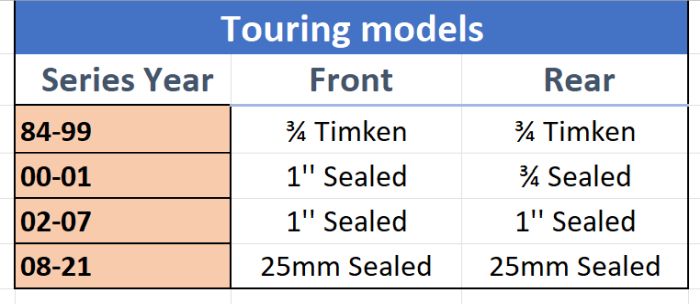 Harley VROD & FXR bearings by size
Last but not least, I've combined both the VROD and FXR into one table. These Harley series are the easiest to remember.
Not only do their axles match each other, but you also don't have that many variations of series by year.
Keep in mind that in the VROD chart, I've included both the VROD models with 18×8.50'' wheels (00-07) and the 08-17 Harley VROD with or without ABS.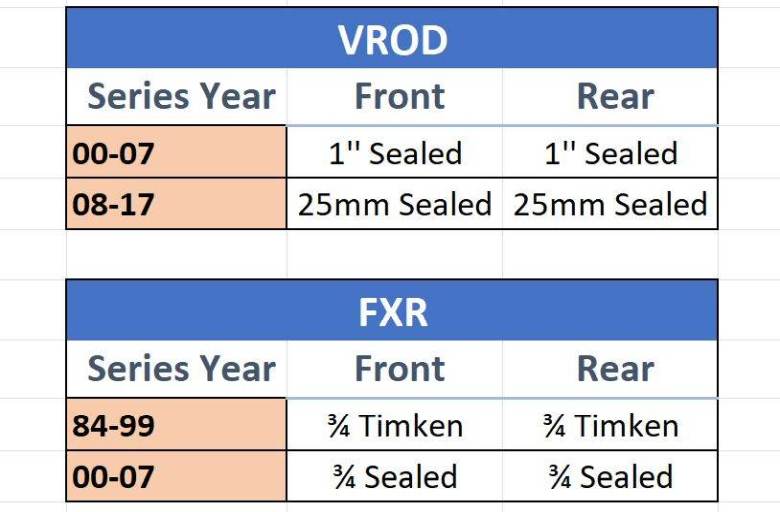 Once again, remember that 25mm isn't quite equal to 1''. The slight difference between the two wheel bearing/axle sizes can prove a pain to fix if you decide to swap the bearings for each other.
How often should I change Harley Davidson wheel bearings?
Well, motorcycle wheel bearings are a tough bunch. This applies doubly so for Harley's OEM bearings.
You should expect to get at least 70k miles out of a properly manufactured aftermarket wheel bearing, as well as the OEM ones coming with your motorcycle.
That said, if you ride across tougher terrain and put your Harley through dustier roads or other extreme conditions…you might need to swap them out by 50k miles or so.
In case you're looking for a replacement, you can check my recommendations for brands.
For general use, this one fits the bill: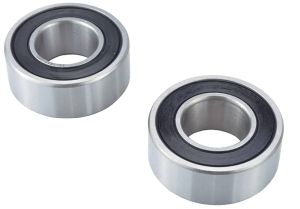 All Balls Racing Bearings

Affordable, quality & OEM fit for 1'' axles. Best value for price replacement with a 1 year warranty.
How do I actually install the new wheel bearings on my Harley?
Some say it's easy, others say you'd better go to a motorcycle shop.
I think it's ultimately your call, but if you're average at DIY jobs, you'll be able to do it by yourself.
Especially if you get a wheel bearing puller as I recommended beforehand.
Here's a very concise video on wheel bearing and front/rear axle installation. Keep in mind the video applies to the older 70-99 Harley Davidson model. These all use the older Timken wheel bearings:
Harley's wheel bearing, front and rear axle sizes can be a pain in the neck to figure out. Hopefully, I've provided you with a comprehensive size chart so you can swap out your OEM parts with new ones if the time has come for that.
You can check your local dealerships or aftermarket parts shops for their bearing inventory. Alternatively – and especially if you have Prime, you can check out Amazon's catalog with Harley spare bearings or axles.